Dr. Peter Maharaj named new Director of Information Technology Services
April 22, 2021

|
The San Diego Community College District (SDCCD) has hired Dr. Peter Maharaj as its new director of Information Technology Services.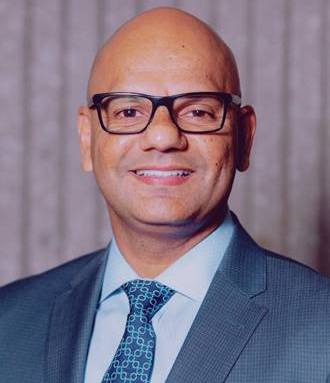 Dr. Maharaj comes to the SDCCD from Cypress College in Orange County, where he served as manager of Technology Services and Academic Computing. Dr. Maharaj has more than two decades of information technology and business-related experience and has a strong background in project management, business development, data center management, telecommunications, and process improvement.
"San Diego is one of the leading community college districts in the United States and I'm honored to be part of this team and this group," said Dr. Maharaj, who has been at the forefront of information technology advances at the community college level since he was a student at Long Beach City College. In his new post at the SDCCD, Dr. Maharaj is responsible for all Information Technology Services, including overseeing the planning, organization, and coordination of information systems and technologies to support instructional, student services, and administrative programs.
"My goals and objectives are to connect the people, process, and technology in helping our students be successful and to align information technology related support functions with the needs of the District, Colleges and Administrative departments," Dr. Maharaj said.
Dr. Maharaj has a bachelor of science degree in business administration, information systems, from California State University Long Beach; a master of science degree in educational/instructional technology and information systems from National University; a master of business administration from UC Irvine; and a doctor of education in organizational change, leadership, and innovation from the University of Southern California. His Dissertation, Leadership in an Age of Technology Disruption, was based upon qualitative, single-case research demonstrating the value of effectively adopting and managing technology to support student success.
Dr. Bonnie Ann Dowd, Executive Vice Chancellor for Business & Technology Services at SDCCD said, "Dr. Maharaj's experience at several California community college campuses along with his educational background have prepared him well to assume the District's Director, Information Technology Services position."
While working as an applications developer as a student at Long Beach City College, Dr. Maharaj created an online orientation program that was among the first of its kind in the California Community Colleges. After earning his bachelor's degree, he returned as a technical manager at Long Beach City College, where he developed, implemented and managed a student email and wireless network, making it among the first community colleges in the state with a student email and wireless system.
Dr. Maharaj's hiring completes a new leadership team for the Information Technology Services Department. The SDCCD recently hired assistant directors Jill O'Dea and Antoine Andari.