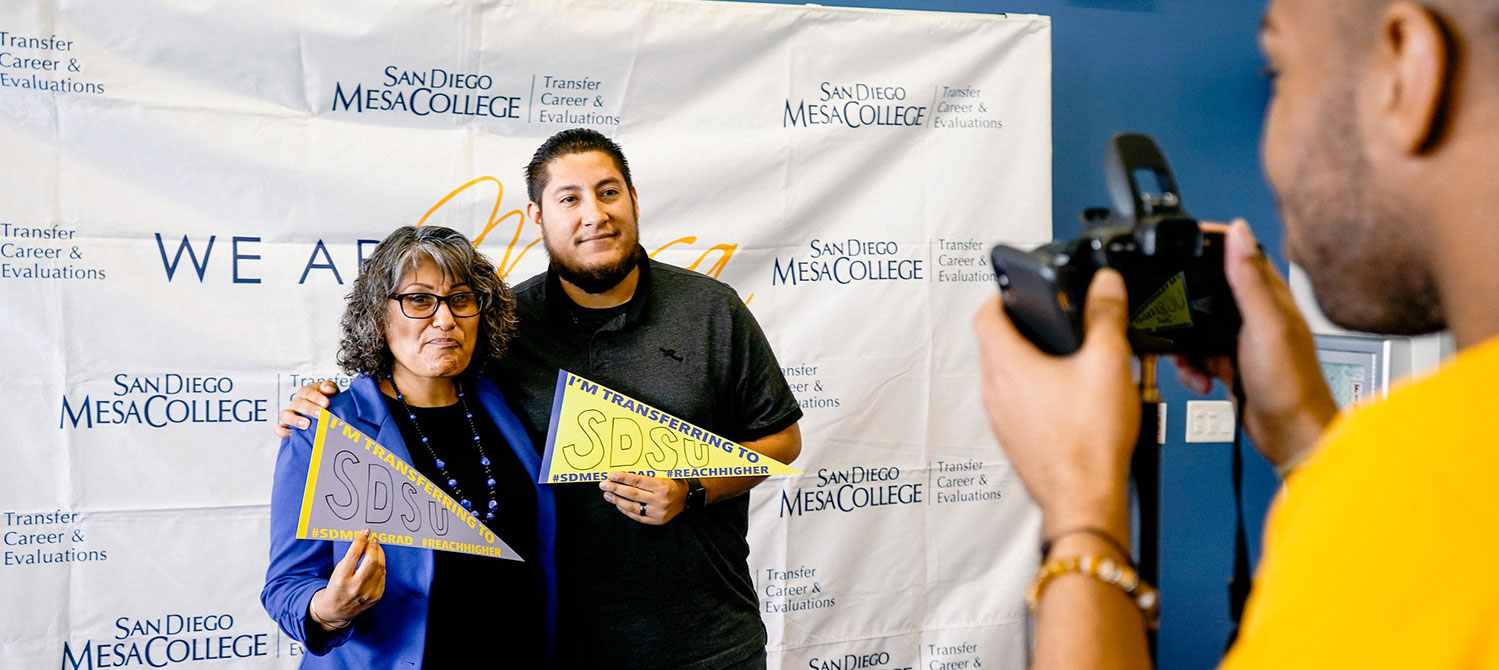 SDCCD students offered more options to transfer to SDSU
March 15, 2021

|
Students in the San Diego Community College District (SDCCD) are being offered expanded transfer opportunities to San Diego State University through a partnership offering new online bachelor's degree programs.
Students transferring from San Diego City College have the option of earning a bachelor of science degree in child development or a bachelor of applied arts degree in communication from SDSU. Mesa College students can transfer to SDSU for a bachelor of science degree in business administration or a bachelor of applied arts in communication without having to leave their home.
"This exciting partnership with San Diego State University is vital not only for our students, but for the larger economy," said Susan Topham, the SDCCD's Vice Chancellor of Educational Services. "If current projections hold true, approximately 40% of new jobs in California will require at least a bachelor's degree by 2030. By expanding opportunities for SDCCD students to earn a bachelor's degree, we are addressing a critical need."
The online degree programs include access to SDSU student success teams and other support services that are housed at City and Mesa colleges. Students also have access to SDSU-campus centered activities and facilities.
Formally known as the SDSU Degree Completion Programs through Microsites, the programs are being offered in cooperation with the SDSU Division of Student Affairs and Campus Diversity and SDSU Global Campus.
Admissions applications for the fall semester are due April 30. To apply, students must also complete the Free Application for Federal Student Aid (FAFSA) form.
Transfer requirements for community college students include a minimum of 30 general education units, prerequisite courses for their major, a total of 60 transferable semester units, and a GPA of 2.75 or better. Detailed transfer requirements can be found on the SDSU Global Campus site.
The SDSU Degree Completion Programs through Microsites grew from a pilot program introduced last fall at Mesa College. It is the latest effort to expand opportunities for community college students to transfer to a local university. More than 4,750 SDCCD students transferred to a four-year institution in the 2018-19 academic year – the most recent year for which statistics are available – and some 3,100 transferred to a California State University or University of California campus. Notably, SDSU is the top transfer school of choice for SDCCD students.
As part of an ongoing movement toward greater equity, SDSU recently announced that special admissions consideration will be provided for students involved in Umoja, Puente, CalWORKS, EOPS (an acronym for Extended Opportunity Programs and Services), and Hermanos Unidos Brothers United (HUBU). More information is expected to be shared soon.