Mesa College athletics trainer saves life of senior runner
September 22, 2022

|
On September 18, 2022, San Diego Mesa College Athletic Trainer Yuki Matsuzawa along with two students and a coach, helped save the life of a 66-year-old athlete, who collapsed on the field after his event during the annual Senior Games Track Meet held on campus at Merrill Douglas Stadium.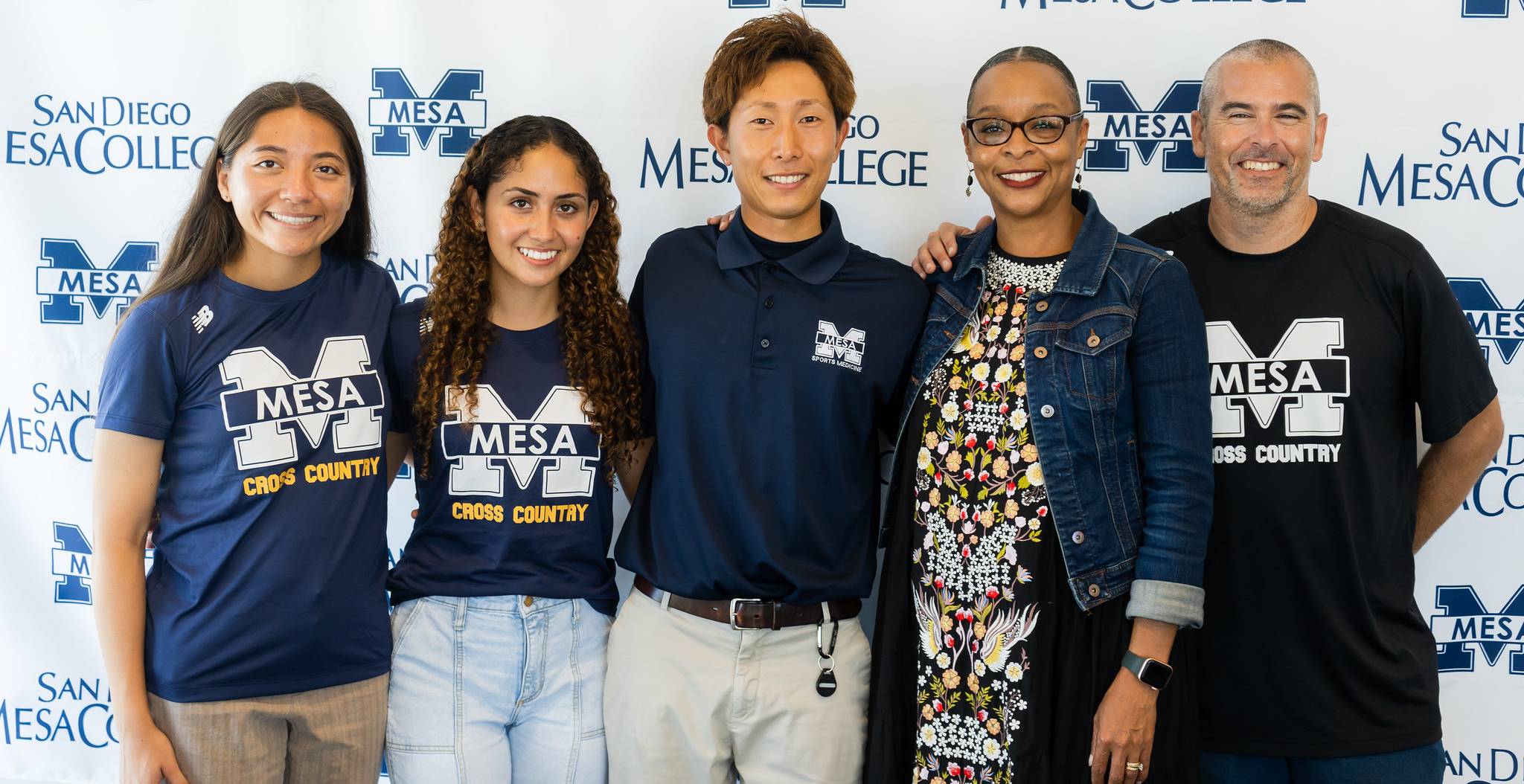 When the senior runner collapsed, Mesa student athletes, who were closest to the participant, ran over to help first. Student athletes Sidney Garcia and Azucena Hernandez immediately called 911, and ran to get Yuki Matsuzawa, the Mesa College Certified Athletic Trainer for the event, for additional medical aid. Upon arrival, Yuki checked for responsiveness and breathing. The man was initially breathing, but disoriented and barely responsive. While trying to get more information and communicate with the man, Yuki noticed that he had stopped breathing and no longer had a pulse.
Yuki immediately applied the automated external defibrillator (AED) and began chest compressions for CPR, and ensured that EMS personnel were on their way from the previous 911 call. Yuki continued CPR for one minute until the AED advised for a shock, which Yuki applied after ensuring everyone was clear of the patient. Yuki continued CPR for another minute until the man began breathing again and regained consciousness. Coach Sean Ricketts and others followed Mesa's Emergency Action Plan and helped guide the paramedics and firefighters through the gates and onto the track. The EMS crew took over from there and the senior was stabilized and recovering at Sharp Hospital later that day.
According to coaching staff, Yuki Matsuzawa's swift actions and emergency medical training as a Certified Athletic Trainer undoubtedly saved this man's life. The senior runner has recovered well and even earned a medal, placing second in the Men's 65-69 age group.
On Monday, Senior Games Commissioner, Gary MacDonald stated in a note to Trainer Matsuzawa, "You did an outstanding job coordinating the emergency care that he needed Yuki. I'm glad to hear he is OK. One of the EMT's told me that what you and the others did prior to their getting on-site saved this man's life! You are indeed a hero and life-saver! I am grateful that you were the Athletic Trainer for this year's Senior Games. Thank you for everything you did yesterday."
Yuki, along with the student-athlete volunteers have been commended and recognized by President Ashanti Hands for their quick response and the high-quality medical care provided during the event.
"Yuki, Sidney, Azucena, and Sean are shining examples of the beauty of doing the right thing, at the right time. The instinct and care they displayed speak to their humanity and is proof that as people, our presence matters. They were there with a purpose and their presence saved a life," stated President Hands. "They represent Mesa's commitment to excellence and we are so proud and thankful for how they chose to show up, in service of others on that day."
This situation, and Yuki's actions speak to the importance of having Certified Athletic Trainers (ATC's) present at all athletic events. ATC's are highly qualified healthcare providers trained in emergency preparedness and response, ready and willing to provide care and serve the needs of our students, athletes, staff and community.