Board Report: June 9, 2022
June 10, 2022

|
Special Report to the Public:
GEYSIL ARROYO
Trustee Geysil Arroyo thanked everyone who provided public comments. She reported on her attendance at the credit-college commencement ceremonies, as well as other celebrations of accomplishments such as the Management Association dinner and classified professionals recognition events, and thanked everyone for their hard work to put together those events. She welcomed the new Student Trustees. She also thanked presidents Kay Faulconer Boger and Pamela T. Luster for their hard work in the District, and welcomed Ashanti Hands and Tina King who will assume the role of president at Mesa College and College of Continuing Education respectively, in July.
MARY GRAHAM
Trustee Mary Graham also welcomed the new Student Trustees and reported on her attendance at the credit college commencement ceremonies, the Management Association dinner, and the classified award ceremonies, expressing how wonderful the events had been. In response to public comment, she stated that the Board did not choose to cancel the May 31 investiture event.
CRAIG MILGRIM
Trustee Craig Milgrim thanked everyone involved in the many events that occur this time of year, and noted that a highlight from Mesa College's commencement was when he spotted a graduate who was a former student of his from Grossmont College. He reported that the nation is experiencing an unprecedented level of hateful politics, with laws or statements by politicians which are affecting LGBTQ+ youth, criminalizing trans people, effectively robbing women of bodily autonomy, validating and advancing white supremacy and antisemitism, putting the right to bear arms ahead of the safety of children, and because of this asked that the Board speak up through a resolution that stands up against such hate.
BERNIE RHINERSON
Trustee Bernie Rhinerson thanked Trustee Milgrim for his voice and advocacy on behalf of the LGBTQ+ community and recognized the importance of his recommendation for a resolution to support such marginalized communities and issues of political hate. He reported that there is one more commencement ceremony for the College of Continuing Education on June 15, where, along with the SDCCD Board Members, members of the San Diego Unified School District Board of Education will be in attendance to cheer on those receiving high school diplomas. He expressed how moving it is to see students from the College of Continuing Education overcome barriers to receiving high school diplomas and other noncredit programs certificates, and hopefully to move on in their educational journeys to be credit colleges.
MARIA NIETO SENOUR
Trustee Maria Nieto Senour echoed her colleagues' statements welcoming the new Student Trustees. She stated that the commencement ceremonies that she had attended so far have been beautiful and very well executed.
CARLOS O. CORTEZ
Chancellor Carlos Cortez reported that San Diego City College recently celebrated three outstanding students and alumni: one who went to space as the youngest female astronaut in American history; another who received a Jack Cook Scholarship; and a third, who is not only graduating from high school with accolades but also is receiving three associate degrees. On June 10, Mesa College will celebrate the career of President Pam Luster, who retires at the end of the month. He said that like all of the District's colleges, Miramar College is ramping up for summer school, and recognized the large number of high school students who take part in the college's entrepreneurship certificate and degree programs, in order to start their own small businesses. He reported that on June 10 the San Diego Youth Investments Press Conference would be held at the College of Continuing Education with remarks from Mayor Todd Gloria, Senate Pro Tempore Toni Atkins, and others. He recognized the appointment of SDCCE's first student trustee, Julia Kogan. He also recognized the outstanding work and thanked the men and women who maintain the grounds of the District's four colleges, particularly noting the impressive conditions of the gardens, trees, sod, and landscaping overall.
He acknowledged Kay Faulconer Boger for her service to the District as Interim President of the College of Continuing Education over the past year. After thanking President Pam Luster (noting that she would be recognized in a special presentation later in the meeting) and Miramar College President Wes Lundburg and others for their role in the search process, he shared his report with Ashanti Hands ahead of her confirmation by the Board as the new President of Mesa College.
Chancellor Cortez reported that Governor Gavin Newsom will work with legislators to finalize the 2022-23 state budget in the coming days. It seems that a Cost-of-Living Adjustment (COLA) of 6.56% appears to be agreed-upon by all parties, and noted that the legislative budget proposal is about $8 million higher than the Governor's May Revise budget. He reported that there is still disagreement between the two houses and the governor on the amount of funding to augment the Student Centered Funding Formula base allocation, block grant funding for basic needs, and deferred maintenance, as well as a debate around how to modify Cal Grant awards to include community college students' living expenses. He reported that the Community College League of California and the District's state lobbyist are advocating for larger amounts of funding to support these efforts, and noted that pension relief was left out of any state budget projections. He said the District will continue to monitor, and, when necessary, advocate for/against, priority legislative bills including AB 1746 (Medina), AB 1505 (Rodriguez), and AB 1752 (Santiago).
Phoebe TROUNG
Student Trustee Phoebe Troung reported that the credit colleges completed their spring semesters and in-person commencement was held for City College on May 26, for Mesa College on May 27 – the first on campus in more than 30 years – and at Miramar College on May 20. During commencement, she reported that Mesa College awarded more than 2,500 degrees and certificates, including 30 bachelor degrees. She reported that students recently received $200 transportation grants to combat rising gas prices. Trustee Truong reported that Miramar College held its last ASG meeting of the semester on May 13, the campus will hold a hiring expo on June 13, and currently has a display up in honor of Pride Month. She reported that the College of Continuing Education held student president and trustee elections between May 25-28, and now has a representative seat during United Student Council meetings.
BOARD ACTIONS
At its regular meeting of June 9, 2022, which was conducted in a hybrid format, the Board of Trustees:
Announced the following actions from Closed Session the Board approved the execution of the Settlement Agreement in connection with the following litigation: Salvador Gonzalez v. San Diego Community College District, San Diego County Superior Court, Case No. 37-2020-00016392.
Heard public comment from Classified Senate President Neill Kovrig who welcomed the new Student Trustees, particularly the College of Continuing Education's Student Trustee representative, Julia Kogan, and recognized and thanked Kay Faulconer Boger for her time and support as interim president of the College of Continuing Education. He also recognized Chancellor Cortez for his leadership, commitment to social justice, and passion for the student experience through the pandemic this past year. Alyce Pipkin-Allen, Ellen Nash, and Aeiramique Glass Blake expressed their disappointment in the cancelation of the May 31 chancellor investiture event where Alice Walker was to be the keynote. Richard Weinroth, Stephanie Lewis, and Rose LaMuraglia spoke in support of Chancellor Cortez. Mesa College AS President John Crocitti said the college has concluded the spring semester and that summer classes have begun. He said Vice President of Instruction Isabel O'Connor is organizing a group that will be attending an enrollment management academy July 11-14. The college is also planning the 2nd annual curriculum equity and excellence review July 5-29 in an asynchronous format and then in-person this fall. Miramar College AS President Laura Murphy said representatives from the college recently attended the California Community Colleges Strategic Enrollment Management Workshop and that the college had a good end to the semester.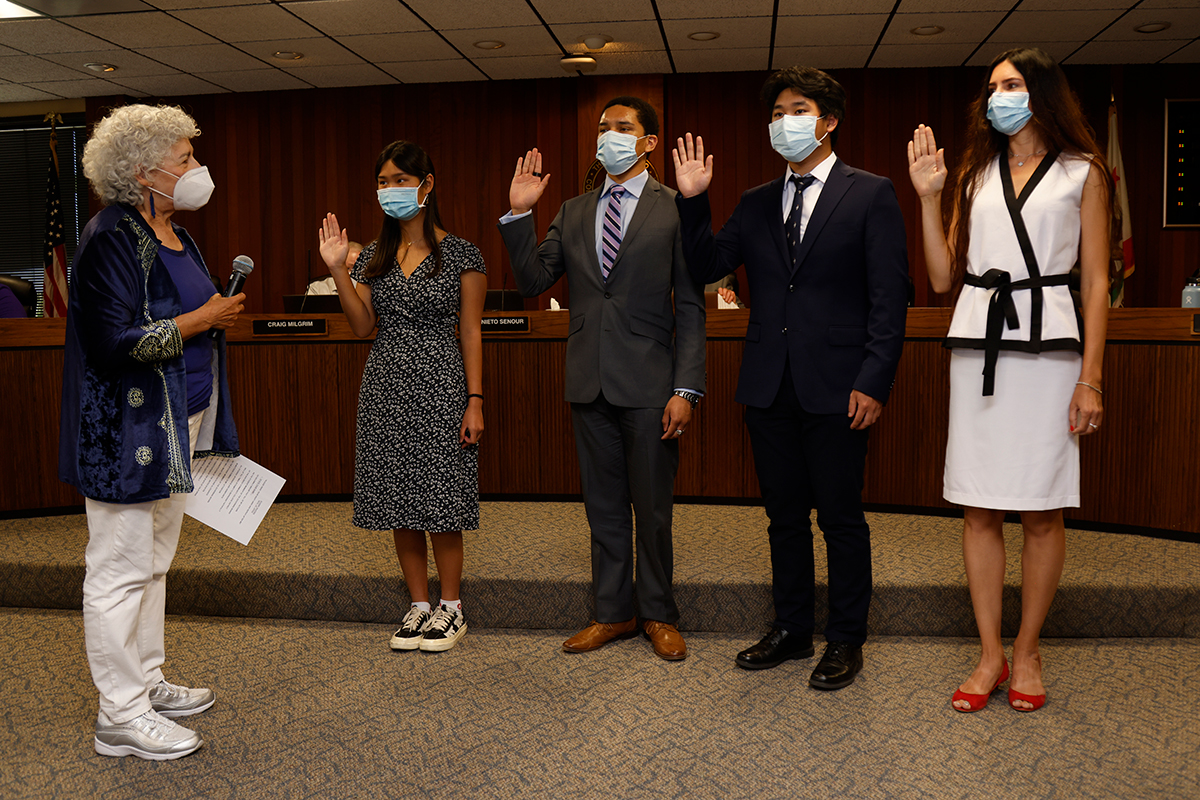 Administered the Oath of Office to Student Trustees: Diego Bethea (City College), Phoebe Truong (Mesa College), Allen Kuo (Miramar College), and Julia Kogan (College of Continuing Education).
Adopted revisions to Chapter 2 – Board of Trustees Board Policies and Chapter 5 – Student Services Board Policies (first reading May 12) as part of a comprehensive six-year review to ensure currency.
Adopted resolutions reaffirming that the state of emergency declared by the Board on March 12, 2020, continues and that state or local officials continue to impose or recommend social distancing measures; excusing Trustee Craig Milgrim from attendance at the May 12, 2022, Board Meeting due to illness; and directing the Chancellor to implement SARS-COV-2 (COVID-19) protocols for employees and students.
Following public comment from Inna Kanevsky and Kevin Krown in support of the item and comments from Trustee Rhinerson, adopted a resolution reaffirming the condemnation of antisemitism.
Adopted a resolution honoring San Diego Mesa College President Pamela T. Luster, Ed.D., for her many achievements by conferring her with the title "President Emerita."
Approved the appointment and employment contract of Ashanti Hands as president of Mesa College.
Following remarks by Vice Chancellor Susan Topham, heard a presentation by MIG, Inc. consultant

Daniel Iacofano

about the draft Districtwide Strategic Plan 2023-2030. The Board approved the draft, to incorporate additional mentions of noncredit education and the ways that it can be used to support the District community, a more robust environmental scan to include data about the LGBTQ+ community, and additional efforts around equity and cultural competence incorporating feedback from the recent cultural climate survey.
Following remarks by Chancellor Cortez and an in-depth report by Executive Vice Chancellor Bonnie Dowd, approved the Tentative Budget for FY 2022-23. The total District Budget of $885,351,201 includes income, appropriations, and expenses for all District funds. The budget had been reviewed by the Board's Budget Study and Audit Subcommittee (Trustees Craig Milgrim and Bernie Rhinerson).
Following remarks by Vice Chancellor Susan Topham, approved new or revised coursesand programs.
Authorized an agreement with health care agencies for use of clinical facilities by students enrolled in District health occupation programs.
Accepted grants from the San Diego Housing Commission for the Program for Engaged Educational Resources (PEER) at City College; from the County of San Diego, Health and Human Services Agency for Mental Health Services Act at City College; and from the California Community Colleges Chancellor's Office for the 2022-2023 Rising Scholars Network at City and Mesa colleges.
Accepted a Higher Education Student Housing Grant (SB 169) related to planning for affordable student housing at City College.
Entered into agreements with the Foundation for Grossmont and Cuyamaca Colleges for various Strong Workforce Program Marketing and Pathway Navigation activities at San Diego Miramar College and Job Placement Case Management, College-Based Marketing, Work-Based Learning, and Pathway projects at the San Diego College of Continuing Education.
Accepted a grant from the Association of Community College Trustees (ACCT) for the participation of the San Diego Community College District in the Non-Credit and Credit Alignment Lab.
Entered into an agreement with SGPA Architects to provide planning services related to the SB 169 housing grant for City College; and a Site License Agreement with the Foundation for California Community Colleges for the use of Miramar College facilities for the State of California, Department of Consumer Affairs, Bureau of Automotive Repair's Smog Check Referee and Student Technician Training Program.
Awarded a contract to Consolidated Sterilizer Systems for the purchase of two autoclave systems for the Biology Department at Mesa College.
Received a written report on Unlocking Social Mobility through Career Technical Education.
Authorized travel of students from City, Mesa, and Miramar colleges, and the College of Continuing Education for purposes of intercollegiate team competition, tournaments, approved out of season competition, student leadership, academic program competition, and related activities from July 1, 2022 through June 30, 2023.
Approved applications for the Reduced Workload/Early Retirement Program, sabbatical leaves for the 2022-2023 academic year, various personnel actions including the certification of short-term personnel service effective on or after June 10, 2022, and contracts of employment for certain president, vice chancellor, and vice president positions; and purchase orders completed during April 2022.