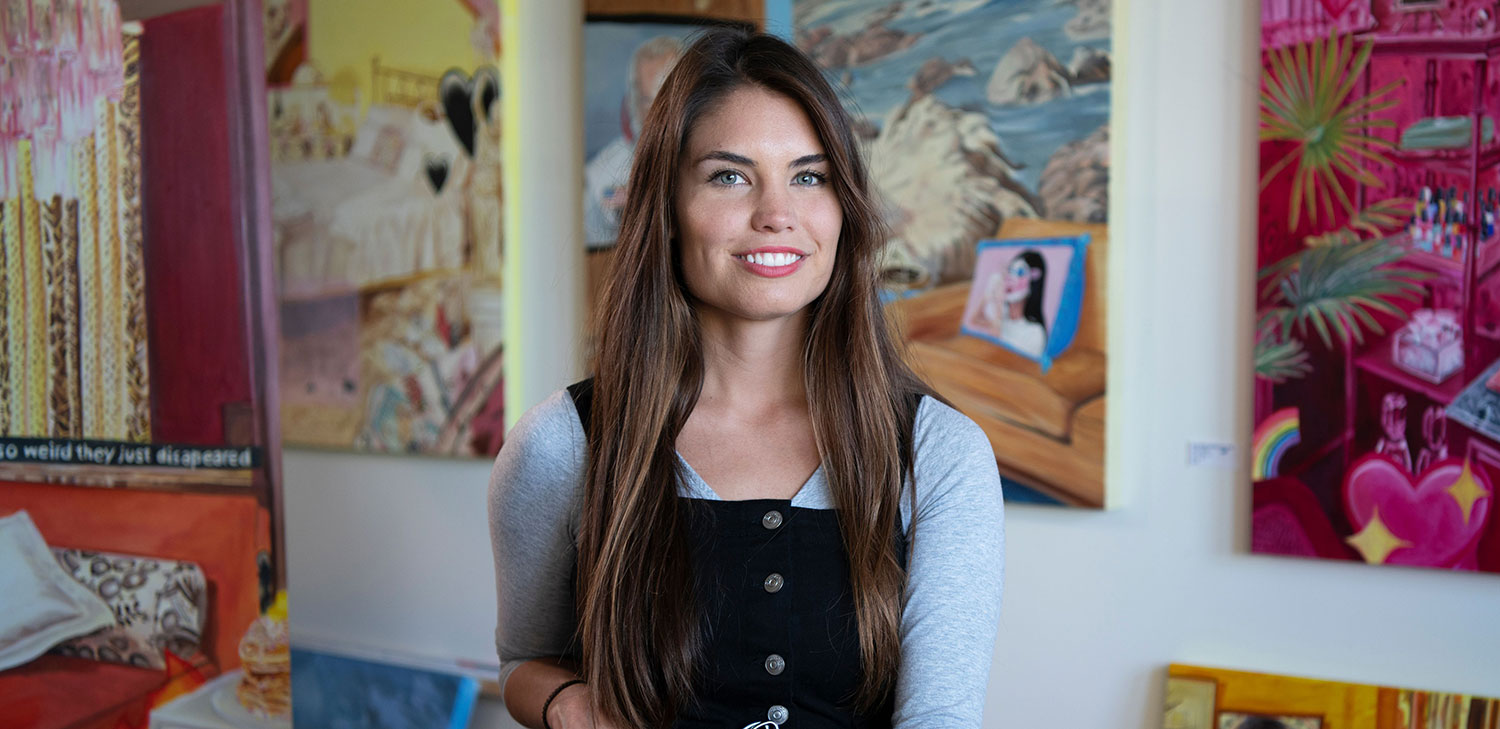 Emeritus programs keep students connected
January 12, 2022

|
Older adult students took to art classes offered through San Diego College of Continuing Education's (SDCCE's) free Emeritus programs to cope with the lack of socialization caused by the coronavirus pandemic. The courses allowed art scholars to engage virtually as they learned traditional and modern art techniques and styles from award-winning artist and faculty member Remi Dalton.
"Art is a powerful way to stay connected," said Dalton in response to the COVID-19 campus closures that began in spring 2020. "Many students are making creative spaces in their homes amid the quarantine."
SDCCE's Emeritus program offers classes for students aged 50 and older. Dalton teaches drawing, painting, and art appreciation. Her students are able to journey through virtual tours inside the studios of San Diego's modern working artists, and, after, engage in lecture-discussion on intergenerational sculptors, photographers, poets, and printmakers from Swedish-born American sculptor Claes Oldenburg to American artists Jean-Michel Basquiat and Helen Frankenthaler.
For retired students, Kris Nelson, 70, and Joan Stevens, 82, SDCCE's Emeritus programs mean more than just finding a new hobby.
"If I didn't have any people to talk about art with, I would feel isolated," said Nelson. The Emeritus classes provide healing through her husband's passing and the unforeseen challenges of isolation due to the COVID-19 crisis.
Nelson graduated from San Diego State University in 1972 majoring in art, journalism, and marketing. After her time at SDSU, she began painting African-American musicians from the Jazz Age on furniture that she sold in Los Angeles, Santa Barbara, and Berkeley. Once retired from marketing and graphic design in 1998, she was in search of technique classes to pick up her paintbrush once again.
With a long commute from Oceanside, Nelson felt removed from the local art community she had found in the Gaslamp Quarter. "When artists come together it inspires you," she said. After enrolling in SDCCE's online art program, Nelson went into her studio and started painting for the first time in two years.
Fellow student Stevens moved to San Diego from Brooklyn, New York, where she began her career in 1959, at age 20, as a kindergarten teacher.
"Growing up there were not many jobs for women," she said. "My parents encouraged me to become an educator. They were right; it was a wonderful profession for me."
Following 40 years working at an elementary school, the then 64-year-old Stevens spent a lot of time thinking about what to do during retirement. She first enrolled in a music appreciation course at SDCCE and since then for nearly 20 years has filled her days with music, art, literature, and brain fitness classes. "I am so inspired by the intellect and humor of the people at SDCCE," Stevens said. "This community keeps me going. I plan to take classes for as long as I can."
From nutrition to arts, retirement, and more, SDCCE's Emeritus program offers hundreds of free classes specifically designed to support older adults maintain independence, rejoin the workforce, and actively engage in the community.