Community is at the heart of Miramar College experience
May 11, 2022

|
For San Diego Miramar College Associated Student Government Secretary Emily Smith, her path in higher education has been like so many others around her — nontraditional.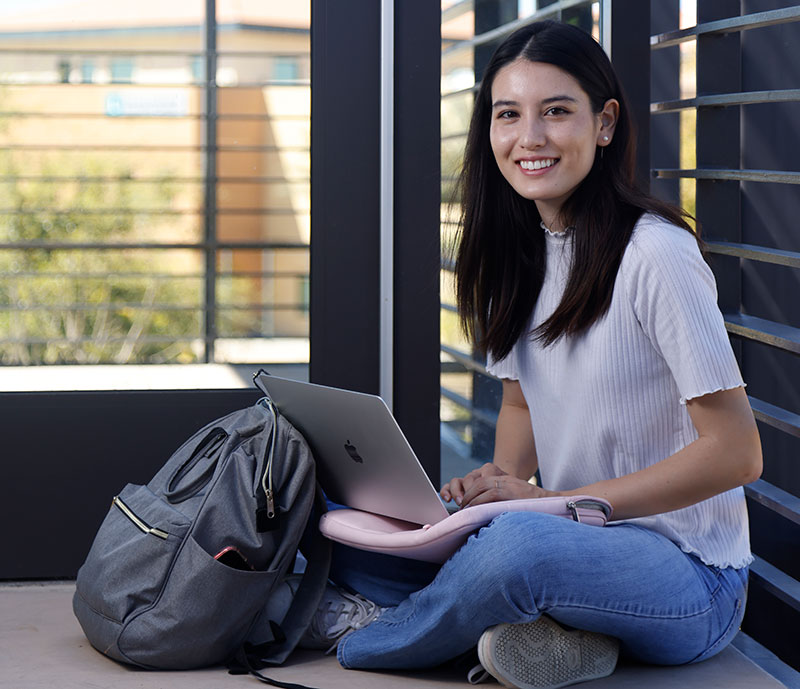 After high school, Smith moved to Tennessee and attended a liberal arts college to which she earned a full-ride scholarship. But, due to an unexpected bump in the road, Smith had to return to the San Diego area soon after.
The North County resident decided to restart her journey at a community college. She ultimately landed at Miramar College after an impassioned friend told her about the great relationships he was able to forge with professors and through club activities while there.
"The opportunities I was met with at Miramar College were probably matched with those of a four-year university," said Smith, who is also president of the Chemistry Club on campus.
Another 180-degree turn: She transitioned from a focus in liberal arts to studying in the area of Science, Technology, Engineering, and Mathematics (STEM).
"I've always liked science, but never thought I could go into it," she said. "I'm the daughter of an immigrant and single-parent, and nobody around me did science at all, so I always thought it was out of my reach."
Ahead of graduating this month with an associate degree in biology, With Excellence (WE) magazine spoke with Smith about her campus involvement, biggest challenges, and most memorable moments while at Miramar College.
Q. You are currently the Associated Student Government secretary and a part of the Chemistry Club. Why is campus involvement so important?
A. I got involved wanting resources of my own. I was really ambitious in trying to get extracurricular activities needed to transfer, and while doing so I kind of found that getting resources out to others is actually really cool. The more your peers succeed, the more you succeed network-wise. When people are eager, ambitious, and ready to get involved in their community, the community thrives. Student interaction and engagement is really the foundation for what it takes to make a college community thrive.
Q. What are your long-term goals?
A. My time at community college has steered me away from the idea that I have to go in a straight path. I will be working for a year at the California Institute of Regenerative Medicine instead of transferring like I was originally planning. I was recently accepted into the Bridges Program at Cal State San Marcos, where I will be doing paid research to further the advancement of stem cell treatment and therapies. Because of this opportunity being full-time, I am again taking an unexpected delay on transferring. I know I want to transfer to a four-year college as my short-term goal, but I'm trying to decide between research and medicine. Right now, I don't feel too pressured to make that decision.
Q. What has been your biggest challenge at Miramar College?
A. Everyone has been really supportive and great, but it is hard as a STEM major to find research. Trying to pave your own unique path and get those experiences has been kind of difficult, especially in the times that we're in. I've been fortunate to do some undergraduate research through summer Research Experiences for Undergraduate programs. I've also gotten some lab experience through the Supply Chain Experience (a scholarship program for students interested in a career in science) at Miramar, so that has really helped my résumé. The struggle is really to find the resources that best fit you. As a STEM student you tend to be a little desperate to get whatever experience you can, but it's important to remember you have to be in an environment that works for you and in a job that works for you.
Q. What has been your most memorable moment at Miramar College?
A. In the Chemistry Club, I think our team has really made it its own mission to expose our fellow STEM students to fields of biotechnology, biology, and chemistry. We held a Pathways to Success event last spring with Miramar students who have graduated and moved into their dream careers. Hearing them talk about how Miramar wasn't a flaw in their résumé, but rather a jumping-off platform to their next step in life, was awesome.
Q . What advice would you give to younger students thinking about going to Miramar or any colleges within the San Diego Community College District?
A. My first couple of months at Miramar I was a little shy; I saw it as a two-year program that I wouldn't be at for very long. But, when I was willing to look, I just found so much. Being really involved in the community has changed how I see learning.