Heart in Mind Program offers support to students with disabilities
May is Mental Health Awareness Month and a crucial time to reflect on how mental well-being impacts every aspect of people's lives. The Covid-19 pandemic has shown increasing rates of mental health concerns, and this is especially important for those living with disabilities, who, data show, experience mental distress at a much higher rate than those without disabilities. This distress is not necessarily a product of a disability, but is more commonly the result of associated social stigmas and systemic ableism.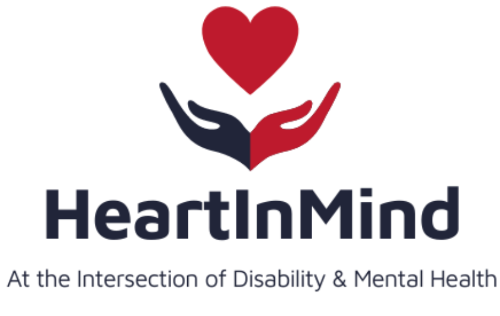 In honor of Mental Health Awareness month, we'll be sharing weekly content in a "Self to Systems" series that explores mental health issues as they relate to folks with disabilities. Topics will include Self-Care and Self-Advocacy, Personal Relationships, Professional Relationships, and Systemic Change.
Weighing in on this series will be Mental Health Counselors Lucy Plascencia and Jade Barrett, co-advisors of Heart in Mind, a districtwide partnership between Mental Health and Disability Support Programs and Services (DSPS) that strives to provide a supportive space to address these issues within the SDCCD community. The program is open to all students with disabilities who attend City, Mesa, Miramar or the College of Continuing Education.
For Plascencia, the biggest value of Heart in Mind is learning from the perspective of participating students:
"As a mental health therapist and college counselor, I have knowledge of navigating how having disabilities impacts our mental health, but it has been the most fruitful experience to hear from students firsthand the resiliency they've had to develop in order to live in a world that does not always accommodate or support them," she said. 'I love getting to connect with our students on a weekly basis and form a supportive relationship with them!"
Barrett also finds the program to be rewarding and educational.
"Listening to stories and being in a setting to learn from one another has been so impactful for me," she said.
Every Thursday at 2 p.m., the Heart in Mind team hosts "HeartChats" via Zoom. In this safe, virtual support group, participants gather to share their experiences, offer encouragement, and discuss relevant themes such as "Boundaries: What Are They For and Why Do We Need Them?" and "Recognizing Your Triggers and Stressors."
Barrett stressed the importance of creating these spaces for students with disabilities, because "it provides a safe environment for individuals to come together and process, connect, create friendships, and empower themselves, all while learning new ways to navigate a world that is relatively ableist."
According to Plascencia, "Folks with disabilities navigate ambiguity and uncertainty on a daily basis that can trigger mental health concerns like anxiety and depression. Questions like 'Will there be accommodations that meet my needs?', 'Will I feel like the odd person out for not understanding the social cues at this event?' and 'Will I be made fun of?' are among the few I have heard from the students I have worked with."
In addition to student support, Heart in Mind aims to provide program training for DSPS and Mental Health Counselors. The initiative is rooted in Professor Laura Rendón's Sentipensante (Sensing/Thinking) pedagogy, which incorporates social justice-oriented practices into academia.2
"Students with disabilities have intersecting identities that are often neglected by mental health professionals," said Plascencia. "Our mission is to provide students with a space to connect, feel seen and heard and have their experiences validated."
We hope readers who share that mission will meet us back here next week for a deeper exploration into the topic of Self-Care and Self-Advocacy and throughout the month for additional installments of our "Self to Systems" series. In the meantime, be sure to check out the Heart in Mind page, which includes additional resources and information on attending the weekly student support group!
Sources:
Centers for Disease Control and Prevention