Jessica Ramos-Bahena is writing her own story
October 3, 2022

|
Welcome to DSPS Alumni at Work, where we catch up with former SDCCD students whose participation in Disability Support Programs and Services helped create pathways from education to employment. Today, we are thrilled to lift up San Diego Mesa College alum Jessica Ramos-Bahena.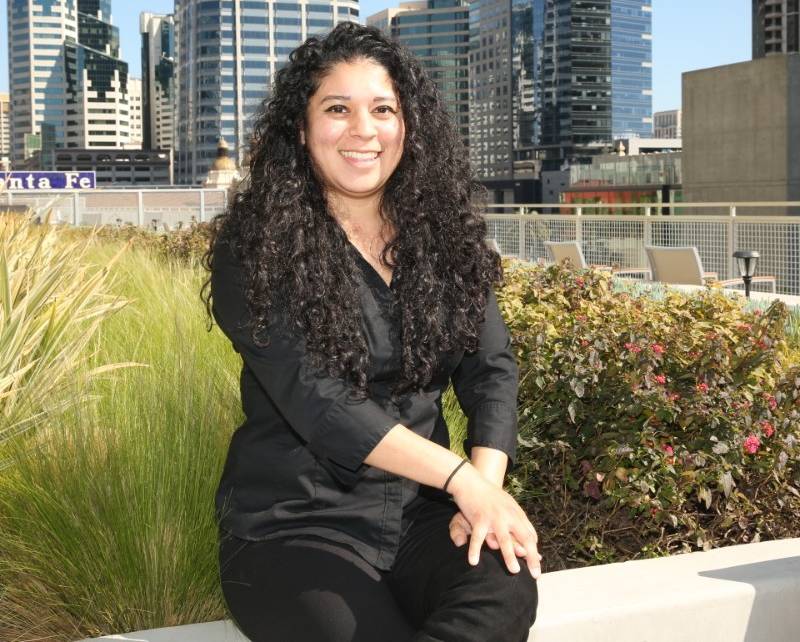 After experiencing a life-threatening car accident in 2009 that resulted in an acquired brain injury, Ramos-Bahena was determined to pursue an education that would translate into a rewarding career. Encouraged by supportive high school teachers, mentors, and tutors, she enrolled at San Diego Mesa College, where she took advantage of available programs and services that exist to help low-income students and/or students with disabilities achieve success in and beyond college.
"I had to find a different way to learn in order to pass the classes," she said.
As she worked toward her associate's degree, Ramos-Bahena found the consistent support she needed through WorkAbility III (WAIII), a partner program between California Colleges and the Department of Rehabilitation that advises and counsels students looking to enhance their professional skills and employment prospects.
"Having someone who you meet with weekly helped me a lot, and the support is unmatched," she said. "Accommodations have helped me continue."
To Spain and Beyond
Parlaying her on-campus confidence into new life adventures, Ramos-Bahena listed the experiences of reading her creative writing at a conference in Rhode Island as well as traveling abroad as two of her fondest memories during her time at Mesa. As a recipient of the Gilman International Scholarship (which enables Pell Grant recipients of limited means the ability to study abroad), Ramos-Bahena traveled to Spain in the summer of 2015, where she had the opportunity to tour ancient historical sites and attend the adrenaline-packed Running of the Bulls event.
"Everything is different, starting with the language," she said of her time living in Madrid. "I believe that is a big contribution to the reason why I received my bachelor's in Spanish."
After graduating from Mesa in 2017, Ramos-Bahena pursued her undergraduate degree at San Diego State while interning at Naval Facilities Engineering Systems Command (NAVFAC). The placement, facilitated through WAIII's participation in the Workforce Recruitment Program, helped Ramos-Bahena develop important job skills such as adaptability, organization,and teamwork.
Completing her B.S. in Interdisciplinary Studies (Spanish, Communication, and School Counseling Psychology) in 2021, she found employment the same year as a Project Assistant at San Diego's Educational Cultural Complex (ECC), which is the largest of San Diego Continuing Education's six adult education campuses. Some of her duties at ECC include filing, translating, and helping students apply and register for classes.
"The most rewarding part of my job is helping students get connected to resources such as ESL (English as a Second Language) and CALWORKS," she said.
As she works to support incoming students, Ramos-Bahena also practices self-advocacy.
"My disability impacts my work experience in that it is hard to grasp information," she said. "I have to write things down and ask for instructions to be repeated."
With her unique experience of both attending and working for SDCCD campuses, Ramos-Bahena shared a few pieces of advice for prospective students with disabilities.
In addition to taking advantage of applicable student services, she suggested looking for support groups and finding at least one, if not multiple, motivating mentors.
"I want to see more individuals with disabilities in the workplace and in higher education," she said.
As accomplished as Ramos-Bahena is, her story is just getting started. When she's not using free time to exercise or spend time with her family, she's dreaming up plans to attend the University of San Diego, where she hopes to earn her master's degree in Marriage & Family Counseling. She also hopes to write a book about her life experiences and life lessons.
At DSPS, we can't wait to watch the next chapter unfold!
If you are a SDCCD student with a disability looking for academic and/or vocational support please visit DSPS to learn about the programs we offer!