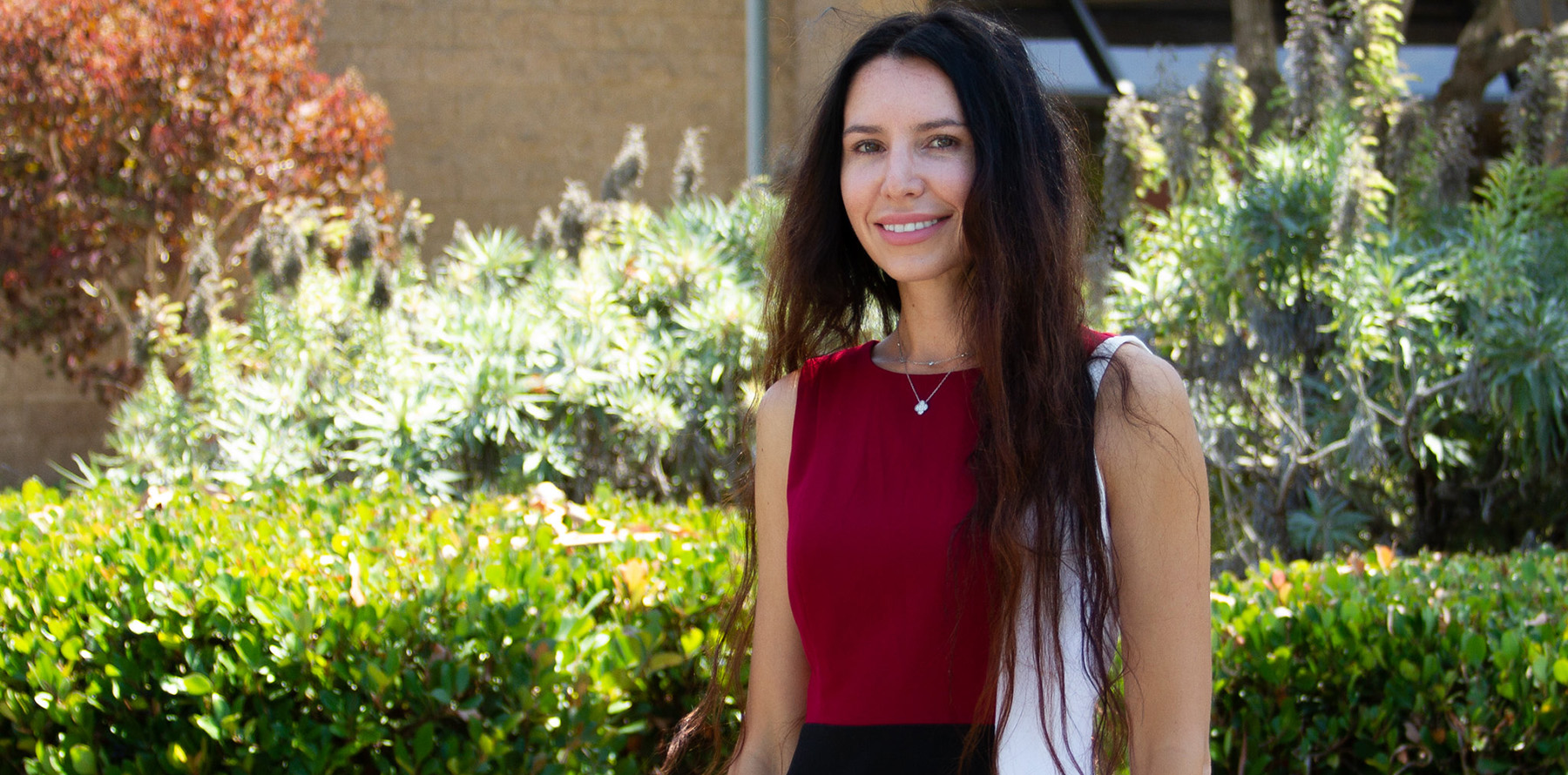 A new voice for noncredit students
September 7, 2022

|
This year, Julia Kogan became the first to serve as a student trustee representative for the San Diego College of Continuing Education on the San Diego Community College District Board of Trustees. Through the advocacy of her peers at the District's credit colleges ― San Diego City, Mesa, and Miramar colleges ― a fourth representing student trustee member was added by the Board of Trustees to provide a voice for noncredit college students.
"At first I was hesitant to go for the position because I thought my English language skills were not enough," said Kogan, 37, who was born in Ukraine. "I am very thankful for my role and for the people who I have met along the way. Before I did not understand what I needed in my life, and now I have joined something so important."
She first volunteered to serve her peers as the college's Associated Student Body (ASB) president at Mid-City Campus while studying English as a Second Language (ESL). Kogan was elected as the Student Trustee for the 2021-2022 academic year in a special election where all ASB Presidents from the seven SDCCE campuses competed for the student trustee position. She now represents the 30,000 students enrolled throughout the College of Continuing Education.
Kogan was sworn in, along with fellow student trustees Diego Bethea of City College, Phoebe Truong of Mesa College, and Allan Kuo of Miramar College, during the June 9 Board of Trustees Meeting. President Tina M. King introduced her to the rest of the SDCCE community during the college's fall Convocation in August at the Educational Cultural Center.
In addition to being a student leader, Kogan is a member of the SDCCE Immigrant-Based Support Program (ISP). The student club supports immigrants, refugees, and English-language learners transitioning to college and the workforce in the United States.
"Joining the ISP was the best experience," she said. "Not a lot of foreign-born people have these types of opportunities coming to another country, such as taking ESL classes for free and preparing to join the workforce. I never feel alone here, I just feel opportunity."
We recently spoke with Kogan about her role as a student trustee and her goals for after graduating from SDCCE.
Q: Where are you from and what languages do you speak?
A: I moved to the United States from Kyiv, Ukraine five years ago. I speak Russian, Ukrainian, and I am learning English.
Q: Was it hard for you to leave Ukraine?
A: It was hard to leave my parents. I saw them very often and they are my close friends.
Q: What degree did you earn in Ukraine and what did you do for your career there?
A: I graduated from the law academy in Ukraine and worked in law for 10 years. For the first two years, I worked in a government office and then for a real estate corporation.
Q: What program(s) are you studying at the College of Continuing Education and how has your experience been?
A: I started English as a Second Language classes at level 3/4 a year and a half ago, and now I am completing the level 6/7 English + Workplace Communication Transition to College course. The teachers here are always helpful. I made new friends from other countries and learned how to write a resume to prepare for job interviews.
Q: What are your goals after you graduate from the College of Continuing Education?
A: After English classes I would like to continue my education in some profession and work in government. It is important for me to find a job that makes me happy and is somewhere I can make a difference.
Q: Have you decided what four-year college you will attend?
A: Not yet, I am still deciding on what would be the best program for me. I worked with the law in Ukraine, but to become a lawyer here in the United States I would have to start from zero.
Q: How is your role as a student trustee going?
A: I am proud to be part of the associated student body and serve as student trustee. I have a passion for helping people. In this role as student trustee, I feel important. My hope is to be effective for my fellow students and across the District.
Q: How does your family feel about your new role?
A: My family is incredibly supportive. No one expected me to get this position because I just enrolled at the College of Continuing Education to improve my English. My four-year-old daughter shows me every day why I study and why I work. She understands that we need to study hard to build our home here in America.