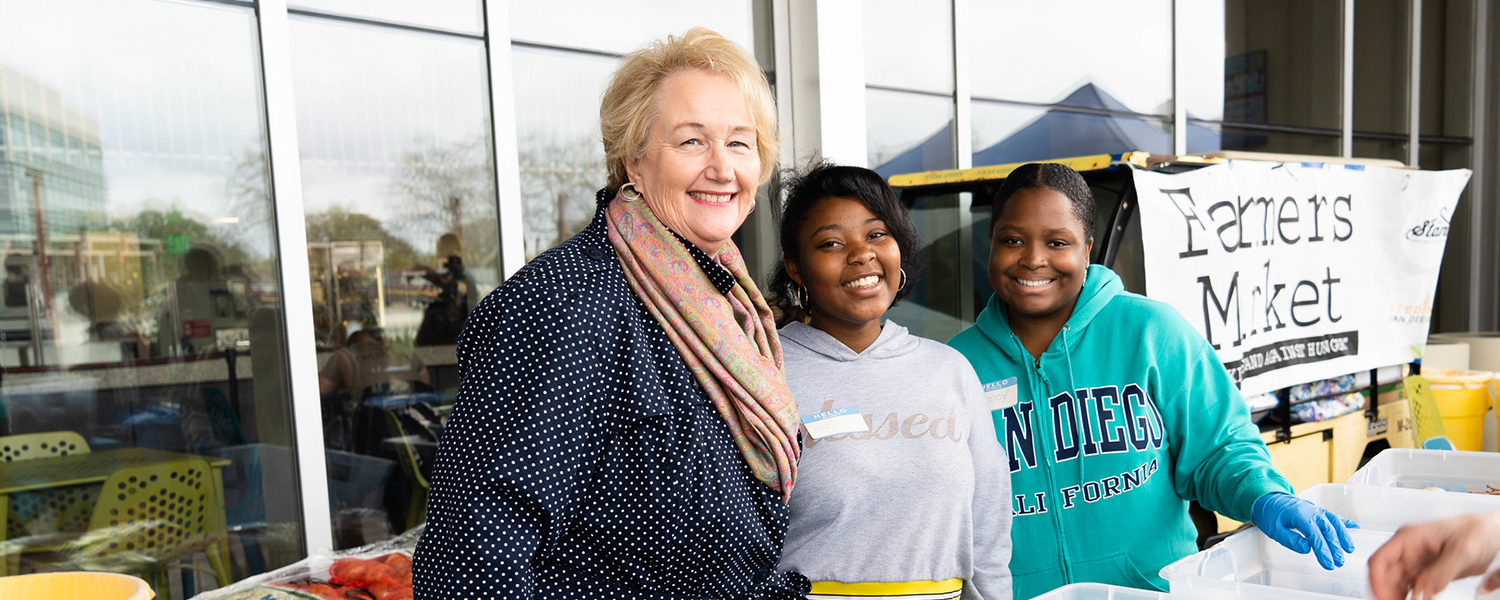 After a 'Life of Service,' Prez Pam Retires
May 26, 2022

|
Campus transformation, baccalaureate program are just a few of Dr. Pam Luster's accomplishments during 11-year career leading Mesa College
For Pamela T. Luster, Ed.D., every day of the past 11 years has been a blessing. Luster, the president of San Diego Mesa College, will retire in June, leaving a college that has evolved in multiple ways during her tenure. As she reflects on her time on the Mesa, she's grateful for the opportunity to live a "life of service."
"It's been an incredible privilege," said Luster, who goes by "Prez Pam." "Not many people get the opportunity to do this, and the fact that I've been able to do this for 11 years has been an honor."
Luster was not always an educator. She began her career with a private practice in audiology when a friend recommended she work with students with disabilities at West Valley College in Saratoga, Calif.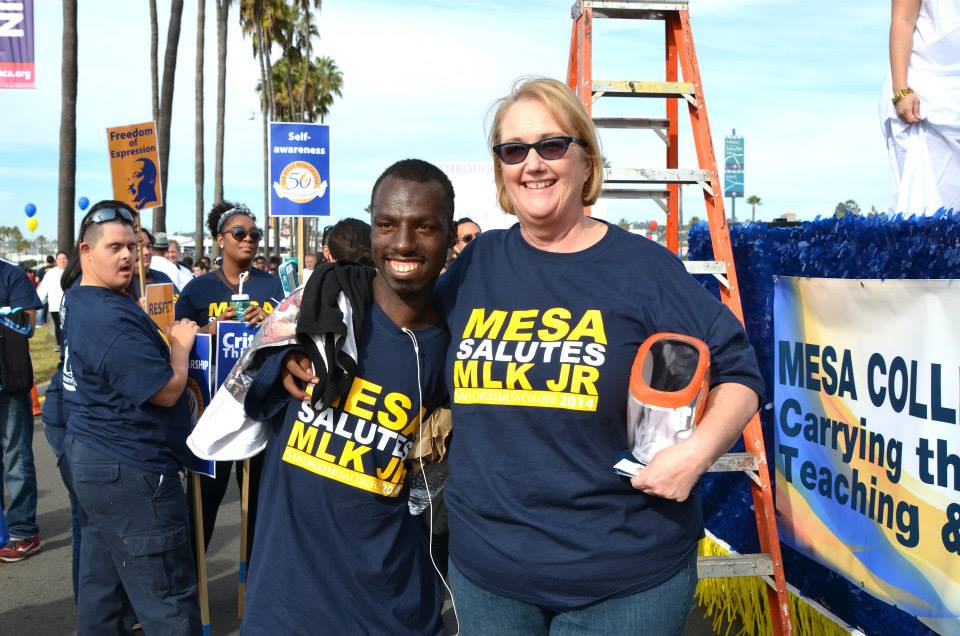 "I started teaching and loved the students," Luster said. "I loved the process of learning."
Luster — who said her inspiration is her grandmother, a social worker during the Great Depression — went on to become dean at West Valley College. She then went on to serve at Las Positas College in Livermore, Calif., as Vice President of Student Services and Instruction before joining Mesa College.
It has been a whirlwind of accomplishments, including most recently receiving the 2022 Harry Buttimer Distinguished Administrator Award from the Association of California Community College Administrators (ACCCA), and challenges for Luster.
During her time as president of Mesa College, she also served as chair of the San Diego and Imperial Counties Community Colleges Association (SDICCCA), served as president of the Chief Executive Officers of California Community College Board (CEOCCC), and chaired the California Community College Athletic Association Board. She also was appointed by Governor Gavin Newsom to the Task Force of Basic Needs in Higher Education.
The capstone of her career is creating a culture, along with amazing colleagues, to establish the college vision as "The Leading College of Equity and Excellence." This vision helped Mesa College focus on diversity, equity, and inclusion in all of its work. Luster also noted that she is proud of many new programs, including the Health Information Management (HIM) bachelor's degree program, The Stand Resource Center, The LOFT (Learning Opportunities for Transformation), and centers for STEM, Honors, and veterans, and for traditionally underserved students, including Dreamers and foster youth, among many others. Looking back, the work and growth of the San Diego Mesa College Foundation, which has expanded its capacity through Board and resource development, stands out as an important achievement as well.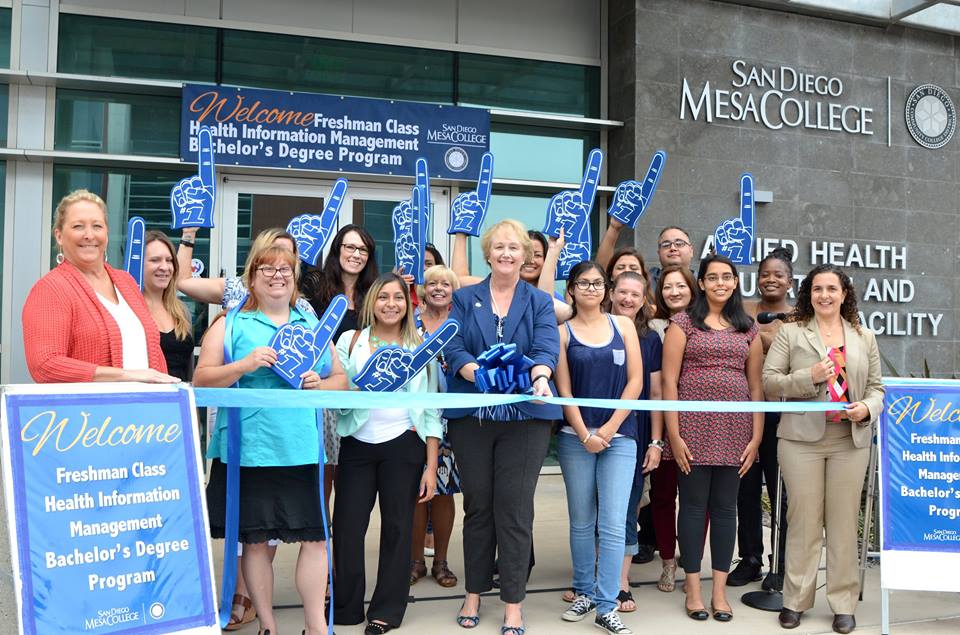 Luster also led the college in the recent adoption of the Mesa2030 Roadmap, which outlines plans for the growing campus, including programs that focus on racial equity. In her final semester, she also saw the completion of the Mesa Quadrangle, the final project in a $280 million development of the campus, which included 12 new buildings and spaces, as part of the larger San Diego Community College District's $1.55 billion Propositions S and N bond construction campaign.
"I hope people will remember I really loved the work I did and the people I worked with — I hope that is demonstrated in the beautiful, new buildings, the hundreds of folks we hired, and the families we grew together," Luster said. "I hope people remember I wasn't afraid to ask for more so that our students could succeed."
In fact, students have driven Luster's career in education from the very beginning. She said every interaction with students is a reminder that she was meant to be an educator. She recalled a time when she worked with a student who had muscular dystrophy who had big dreams of being an environmental scientist.
"I watched the student do a demonstration in his chemistry class for 30 minutes. It really changed how the chemistry teacher and other students saw him. When you support people and you give them the resources they need, they can take it from there. It's a win for everybody," Luster said of the student who, with the use of adaptive technology, successfully went on to transfer to UC Santa Cruz and realize his dream of studying environmental science.
Although she plans to continue her community work in diversity, equity, justice, and inclusion after she retires, Luster said you may catch her finally enjoying "a good book on a beach somewhere."
Reflections
In her own words, here are Prez Pam's Top 5 memories at Mesa College:
Always the first day of school.
The 50th anniversary celebration of Mesa College in 2014.
Every commencement — I love commencements.
Any celebrations of faculty members or students — including recognition and scholarships — are awesome.
My first day as president when we had cake in the library.
In Their Words
"When Dr. Pam Luster was hired as president of Mesa College, major changes took place that benefited the college, the District, and the state of California. Devoted to students, diversity, and equity, Dr. Luster will always stand out as a great leader, which is why she was awarded the highest administrative honor, the Buttimer Award."
― Constance M. Carroll, Constance M. Carroll, president and CEO of California Community College Baccalaureate Association and chancellor emerita of SDCCD
"Dr. Pam Luster's indelible mark will be left on the students she has served, the graduate students she has taught, and the aspiring leaders she has mentored. I am certain she will continue this work for a very long time albeit in a new capacity!
― Sunny Cooke, superintendent/president of MiraCosta Community College District
"What Pam Luster has accomplished during her time as president of Mesa College is remarkable. Not only has she overseen a physical transformation of the campus, but she's established Mesa as the leading college of equity and excellence. Her personal commitment to her students and their well-being is truly inspiring. She will be greatly missed."
― Carlos O. Cortez, chancellor of SDCCD