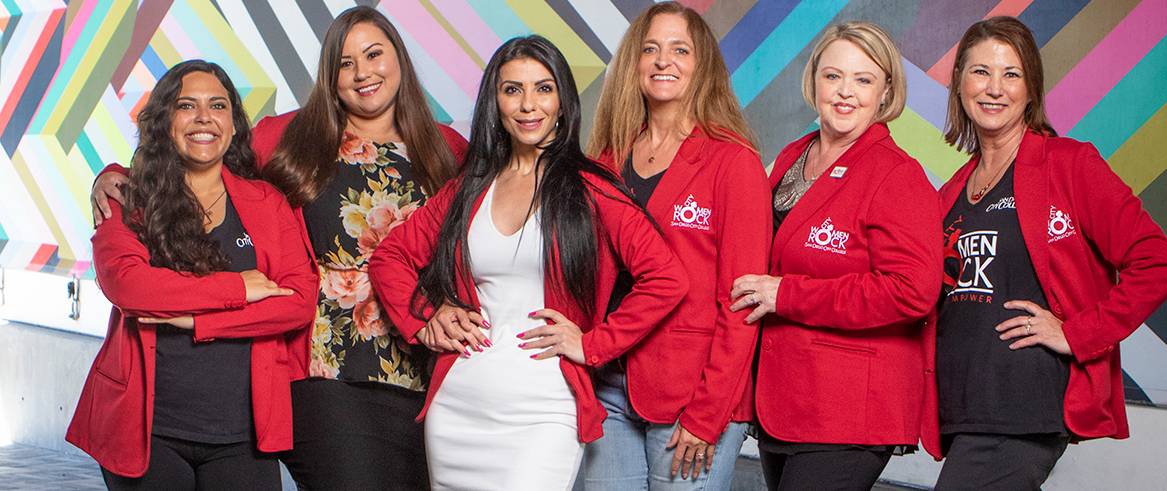 Strong women inspire a new generation
March 17, 2022

|
Programs and organizations throughout the District focus on mentorship, empowerment, growth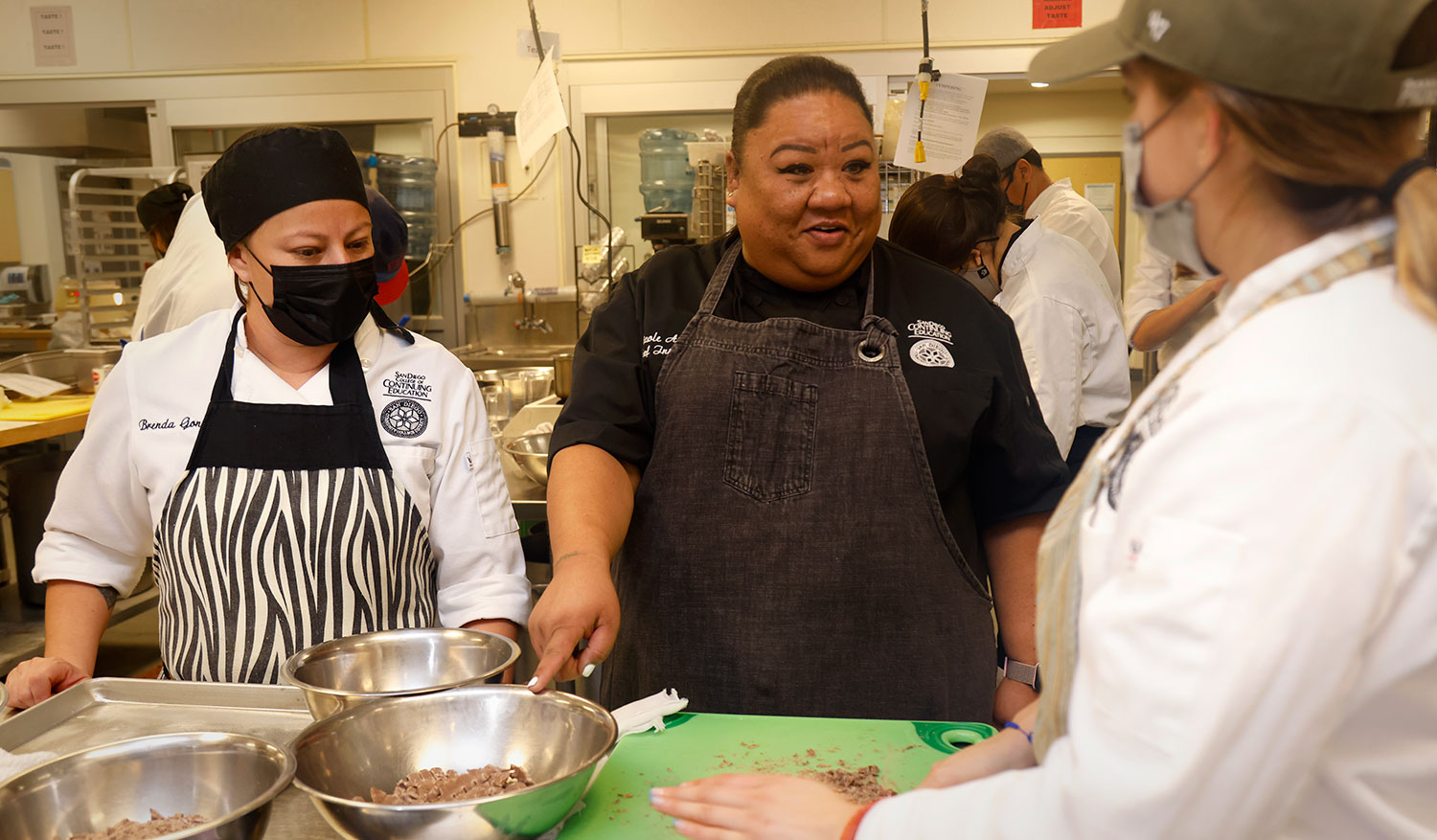 Multiple studies have shown that women who have a supportive circle of other women are more likely to land leadership roles, be happier in their lives, and be more productive in their work.
At the San Diego Community College District, these findings have proven true. Women who hold multiple roles throughout the District — from Tanya Hertz, a San Diego Miramar College associate professor who inspires the next generation of female entrepreneurs, to Isabel O'Connor, the vice president of instruction at San Diego Mesa College — regularly inspire other women to step out of their comfort zone and empower them to rise to the top.
Driving Connection
Mariam Mena knows the importance of women leaders firsthand. Mena, a counselor at San Diego City College, leads the City Women Rock program. City Women Rock is a student-run organization that aims to empower women on campus to continue their education while advancing socially, politically, and economically in society.
Mena said she has seen several students grow to become leaders because of the programs available to them at City College. Aside from City Women Rock, the college also offers career development opportunities, workforce development programs, and more.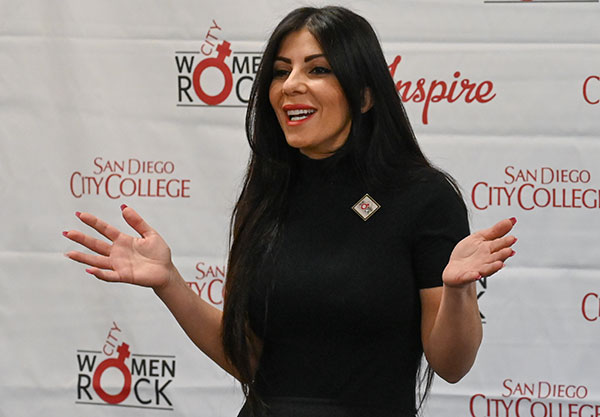 "I can tell you about dozens and dozens of students who broke down barriers and had amazing transformations," Mena said. "At City Women Rock, our core values are unity, respect, and academic excellence — we work to make sure women feel valued and connected."
Connection is key for many students, said Mena, who makes it a point to share her own story. Mena, who as an immigrant moved between "war-torn" Iraq to "male-dominated" India, said she struggled throughout college, but opportunities brought a new perspective to her outlook on life.
"I like to share this experience with my students because I know that experience provides connection," Mena said. "I want my students to feel a sense of confidence and pride in who they are — giving them opportunities to lead will do that."
Nesha Savage, a career counselor coordinator at City College, said seeing women in leadership roles means "everything" to students.
"Representation is important," said Savage, who also co-founded Nandi, a Black women's empowerment organization founded by leaders from across the SDCCD. "It's important in terms of gender and race. I've had women students share how our stories and experiences are the same as theirs, and to see other women speak up was empowering for them."
But, Savage said, women don't just inspire other women — they inspire men as well.
"When women speak, they speak for everybody," Savage said. "We lead from whatever seat we are in."
Nicole Austria, a chef and instructor at San Diego College of Continuing Education's Hospitality and Culinary Arts & Sciences, also understands the importance of her story to her students. Coming from a male-dominated industry, Austria represents what's possible.
"As an instructor in this District, I get to introduce the art of cooking to fellow women aspiring to find their niche in the food industry, and I'm a visual representation of what they could achieve," Austria said. "We have had some great women that were students and started small businesses in San Diego — that's what it's all about for me… knowing that we are empowering these individuals to achieve their goals in our industry."
O'Connor, the vice president of instruction, understands the importance of connection as well. She is the co-sponsor of the American Association for Women in Community Colleges at Mesa College alongside Veronica Gerace, a communication studies professor, where more than 150 women of diverse backgrounds share a space to celebrate, support, network, and grow together.
The pandemic did not stop the group from supporting each other either. O'Connor said they used Zoom to continue to uplift each other and hear from inspiring role models, such as Constance M. Carroll, the District's recently retired chancellor. Together, they have inspired a new generation of women.
"Having more women in leadership greatly benefits our students and the community as they bring knowledge and experience to enrich the fabric of the District," O'Connor said. "Women in leadership also become role models for other women, including our students, who see themselves reflected and inspired by women role models, whether it is in the classroom, an office, or the athletic field."
Although O'Connor did not have a mentor in her academic or professional career, she found inspiration in her circle of support, which included her mother and grandmother who taught her the importance of a strong work ethic as she was growing up in poverty and a dictatorship in Franco's Spain.
"My best advice to other women is to be themselves," O'Connor said. "You have strength in you, so you don't have to imitate others. Start from your foundation, adapt and build your strength and abilities, but don't feel that you have to be someone else."
Inspiring Possibilities
SDCCD Board of Trustees President Maria Nieto Senour said the District realizes the influence a diverse leadership has on its students, and she encourages other women and girls to think about their futures. To do that, the District has implemented a number of initiatives to support classified professionals, faculty, and students. The District also offers training for employees on issues such as gender, equity, and sexual orientation, and ensures the leadership is diverse, particularly among genders.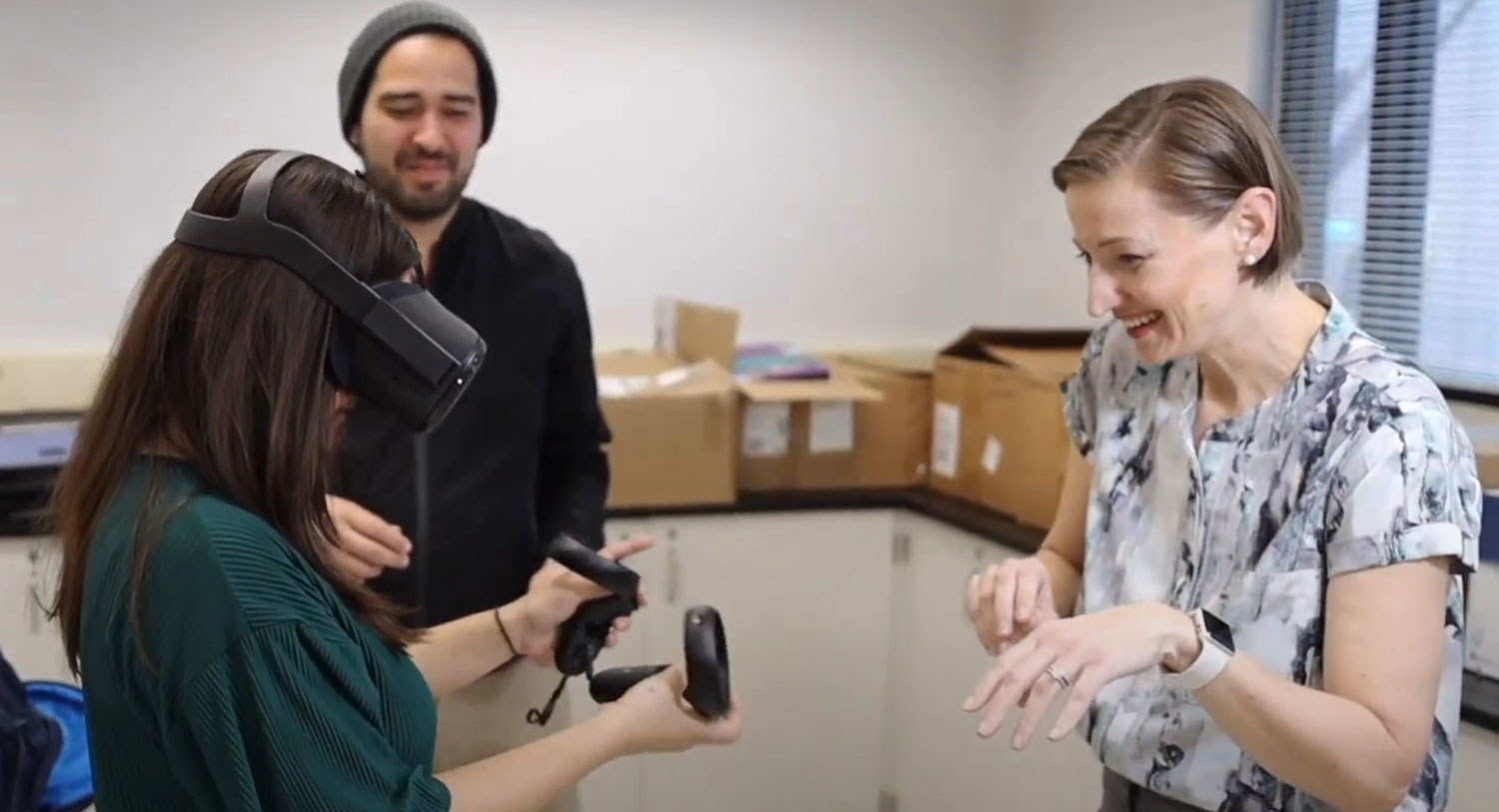 "Our District's core values include diversity and inclusion — that extends to women, people of color, differing sexual orientations and more," Senour said. "We bring people together because we know the potential that exists, and see that it's possible. My hope is that our programs inspire women of all possibilities."
At Miramar College, Tanya Hertz knows personally the impact of such programs. Hertz, an associate professor of entrepreneurship, is also the executive director of the REC Innovation Lab, a community business incubator that offers more than $60,000-worth of resources to student entrepreneurs. Students who participate in the programs receive access to mentors, reliable internet services, and crowdfunding guidance, among other services.
"The purpose of our REC is to make sure resources are available to women and people of color — people who typically wouldn't have access to these resources," Hertz said.
From helping women entrepreneurs launch their businesses to working with investors and preparing for an IPO, Hertz said the REC and its mentors provide support every step of the way. Another key factor? The mentors, many of whom are women.
"It is critically important for women to see other women who made it," Hertz said. "We go beyond just showing them successful women. We give them mentors and role models."
How SDCCD colleges are inspiring women
Below is just a snippet of program offerings at each of the District's four colleges:
City College: Students can find a number of programs at the downtown campus that support academic and professional growth. City Women Rock, which was founded in 2016, empowers women to go beyond any limitations they may face to achieve academic excellence. Aside from City Women Rock, support is found with the Umoja Community, a program designed to support African American and other underrepresented students. For a list of programs available to students, go to sdcity.edu and click on "Student Services."
Mesa College: This central San Diego campus offers a Women's Studies Program where students can learn about the women experience by industry, ethnicity, religion, and more. The program supports women in finding extracurricular activities, careers in different industries, and finding mentors. For more information, go to sdmesa.edu and click on "Academic Programs" then "Women's Studies." For a list of student services, go to the college's website and click on "Student Services."
Miramar College: In north San Diego, students will find the REC Innovation Lab and Entrepreneurship Program at Miramar College. The program offers resources for underrepresented students to launch their own startups. With access to technology, tools, and mentors — including women leaders — the program has increased diversity in innovation. For more information, go to sdmiramar.edu/programs/entrepreneurship/rec.
College of Continuing Education: This District campus aims to offer affordable and accessible programs to all students, including in industries that have historically been male-dominated. This includes programs in culinary arts, information technology, automotive and skilled, technical trades. For more information, go to sdcce.edu.
Districtwide: All SDCCD colleges and the District Office celebrate Women's History Month throughout March with a variety of events. Some of this year's events included a "Women Leaders in Caring Professions" panel hosted by Mesa College and a "Discussion of Contemporary Women's Literature with an International Focus" hosted by Miramar College.