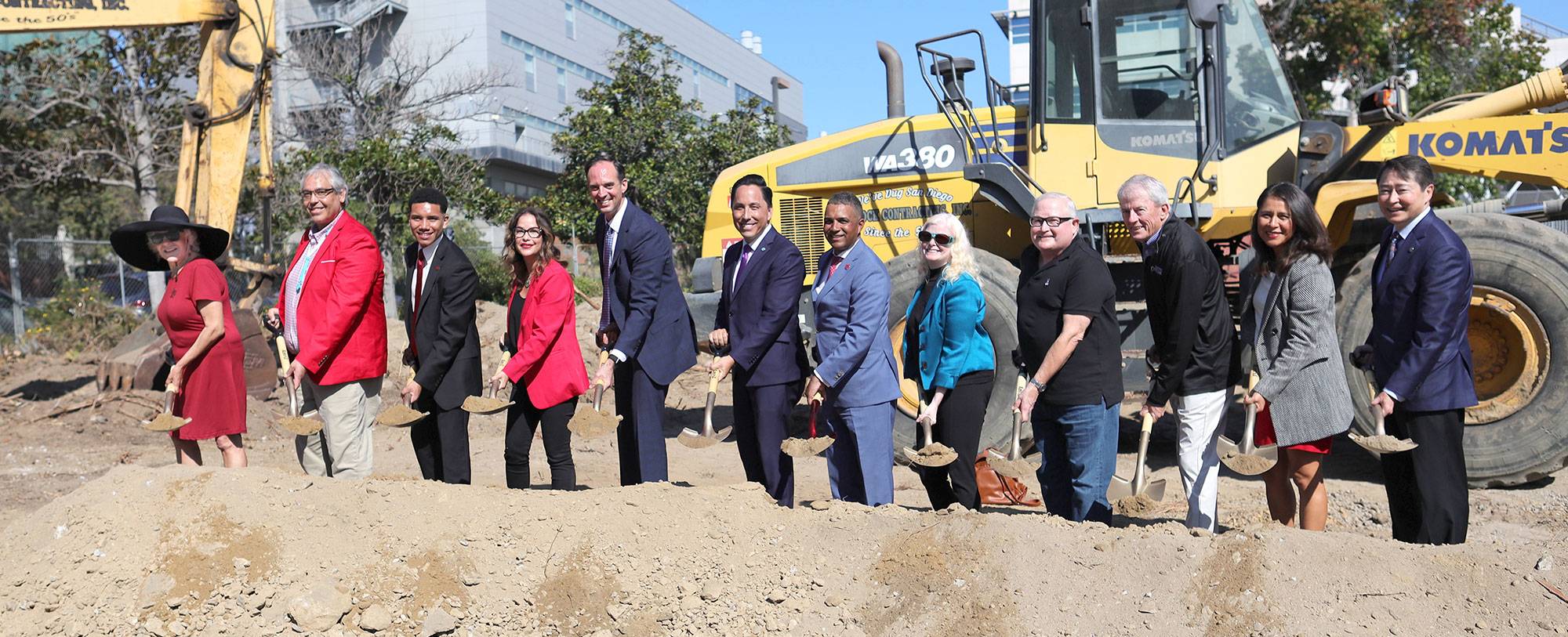 City College demolition, site preparation to make way for affordable student apartments
October 20, 2023

|
San Diego City College has taken the first step toward providing affordable apartment-style housing for more than 800 students. College leaders gathered today with public officials and community members for a ceremonial groundbreaking at the future site of the apartment building, which will rise eight stories above the East Village campus and offer below-market rent to some of the region's neediest students.
While actual construction of the housing complex is still more than a year away, demolition work and site preparation has begun at the site of the college's former Child Development Center located on the city block bounded by 16th, 17th, B and C streets. The college anticipates opening the development in fall 2028 or sooner at a total cost of around $280 million.
To kickstart the effort, state leaders have committed $75 million through the state's Affordable Student Housing Program. City College was selected as one of the first community colleges in the state to receive such funding. This is in part based on the considerable need of its students. A 2020 survey found that 64% of City College students faced housing insecurity and 20% reported being homeless. The on-campus apartments would serve students who most need housing in order to pursue their education, including students who are low-income, veterans, foster youth, and others. In addition to offering housing at below-market rates, students living in the complex also would have services such as counseling and tutoring available to them.
Since this would be its first foray into student housing, the San Diego Community College District (SDCCD) has selected The Michaels Organization, a nationally renowned development company to develop, design, construct, and operate the apartment complex.
"The availability of affordable student housing will transform the lives of our neediest students," said City College President Ricky Shabazz. "These efforts are in alignment with our mission to provide the community with access to an affordable high-quality education."
The current plan calls for rent per bed to be at least $500 below the market. Each unit likely will house two to four students, and the building is planned to include laundry facilities, a grab-and-go store, a communal kitchen/lounge, study spaces, and a tutoring office.
Gregory Smith, Acting Chancellor, said the SDCCD is looking at numerous options to finance the project, including state funding, a general obligation bond, and/or revenue bonds. Regardless of the mix of financing, Smith says the district's commitment is unwavering.
"This is an extraordinary moment in our history," said Smith. "Our commitment to breaking down barriers and investing in the success of our students has never been more clear."
San Diego Mayor Todd Gloria attended the event and expressed his support, "With approximately 20% of California community college students lacking stable housing, I applaud the San Diego Community College District for this project," said Mayor Gloria. "This project aligns with my administration's efforts to cut red tape and incentivize the development of student housing near colleges and transit because students deserve stability rather than having to worry about a place to live."
Senate President Pro Tempore Toni Atkins, a longtime champion of affordable housing, was unable to attend, but shared her commitment to affordable housing solutions: "Access to higher education is about more than just affordable tuition – it also requires affordable housing. Projects like the San Diego City College affordable student housing project help open doors of opportunity for students. It is the kind of housing my colleagues and I were hoping to see when we created the Higher Education Student Housing Grant Fund Program, of which 50 percent of funds allocated were to go to community colleges."