Africa in Context exhibit at Mesa Gallery
January 27, 2023

|
The San Diego Mesa College Art Gallery has released its Exhibition Schedule for Spring 2023. Its first exhibit will be Africa in Context from January 30 through February 23. A reception for the exhibit will be held from 4 to 7 p.m. on Thursday, February 9 at the gallery, Room FA103.
Africa in context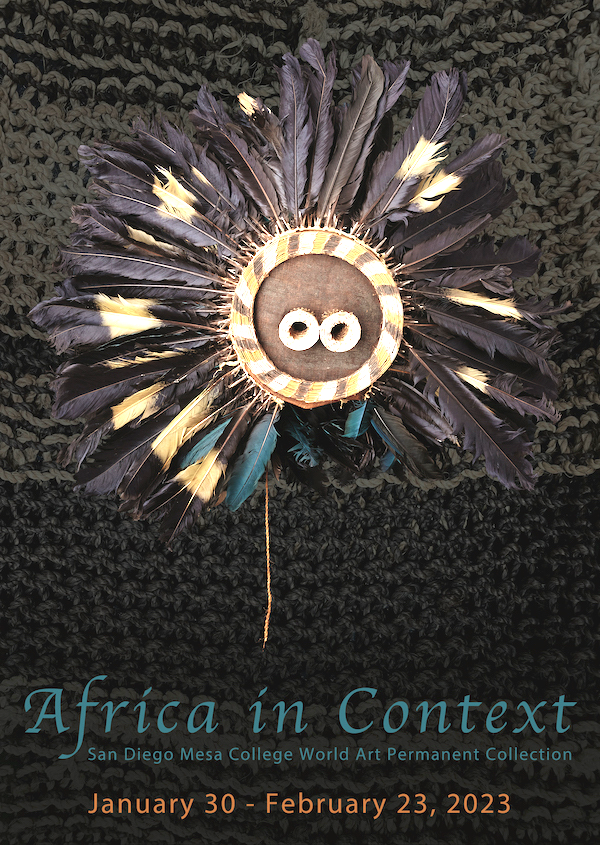 Thoughtfully curated by Dr. Denise Rogers, Africa in Context features visually stunning, historically significant objects from the San Diego Mesa College World Art Permanent Collection. Themes related to feminine power, ancestry, healing, and mourning are among the universally relevant concepts evoked by these pieces.
The San Diego Mesa College art gallery team working with student assistants, Museum Studies program graduates and local artists have created dynamic, multi-media reconstructed environments within the expansive gallery space that replicate the ritual and cultural context of the objects on view. Rather than sitting still the objects populate the space imbuing it with mystery and they transport the viewer to another time and place. African artworks are more than just artifacts; their meaning comes from their connections to their cultures, and their purpose is intertwined with the everyday lives of people across the African continent, and this is what comes across in this installation.
2nd Floor Student Gallery
B.L.A.C. Presents "Beyond the Vision"
Featuring: Amel Janae, Neville Greene, and Rudi Fate
(Student Curated Exhibit running at the same time as Africa in Context in Student Gallery)
January 30 - February 23, 2023
Reception: Thursday, February 9, 4 -7 p.m.
Performance: Friday, February 17, 4 – 7 p.m.


Perceive Me: Kristine Schomaker
March 13 - April 13, 2023
Reception: Thursday, March 16, 4-7pm, FA103
Artists Lecture on Zoom: Tuesday, April 4, 7 p.m., (register on our website)
Kristine Lecture: Thursday, April 6, 11:15am - 12:15pm, Art Gallery FA103
Closing Reception: Saturday, April 15, 1 – 3 pm
As part of Women's History Month 2023, the San Diego Mesa College Art Gallery presents the exhibition Perceive Me, comprised of a series of portraits commissioned by plus-size artist Kristine Schomaker and envisioned as a protest and to challenge the notions of body size and body image as construed by society and the art world. This project started in Los Angeles – a city under the shadow of a Hollywood industry that has historically placed unrealistic expectations and constraints on the female body. Schomaker invited 60 artists to portray her larger-than-average form in the nude, in some cases following the art tradition of figure drawing. Shifting away from the hurtful trappings of body-shaming, the artists honor and celebrate Schomaker's voluptuous form in a variety of paintings, drawings, photographs, sculptures, video and a 3D print. This exhibit will allow our students and guests to engage in interesting conversations about body image and stereotypes of the "ideal" female figure.


2nd Floor Student Gallery
Medium Photo Juried Exhibition "Size Matters"
April 3 - 14, 2023
Reception, Friday, April 7, Evening TBD
We are pleased to host "Size Matters 2023″, an exhibition of small photographic works (all under 10"), hosted by Medium Photo during the Medium Festival of Photography in San Diego. C. Meier was the exhibition juror. C. is the Exhibitions Manager of Blue Sky Gallery in Portland, OR.

Heavy Duty II: Steamroller Printmaking Event
Tuesday, April 4, 10 a.m. – noon and 1:30 – 6:30 p.m.
and Wednesday, April 5, 10 a.m. – noon and 1:30 – 3:30 p.m.
On campus. Location TBD
Bringing back the steamroller printmaking project to take place on campus. We will create giant woodcuts to be printed on large sheets of cloth. Participation form printmaking class led by Chris Lahti and the process will be viewed by anyone who wants to attend.


San Diego Mesa College Juried Student Art Exhibit 2023
May 1 - 18, 2023
Reception and Art Sale: Thursday, May 4, 4-7pm
An exhibition featuring an array of artworks made by students in a variety of media. Visit and see the mastery, craft, concept and skills of our students.
*For more information on any of these events visit the Mesa Gallery website or email Alessandra Moctezuma: amoctezu@sdccd.edu.
Gallery hours are Noon - 5 p.m. Monday through Thursday, or by appointment.