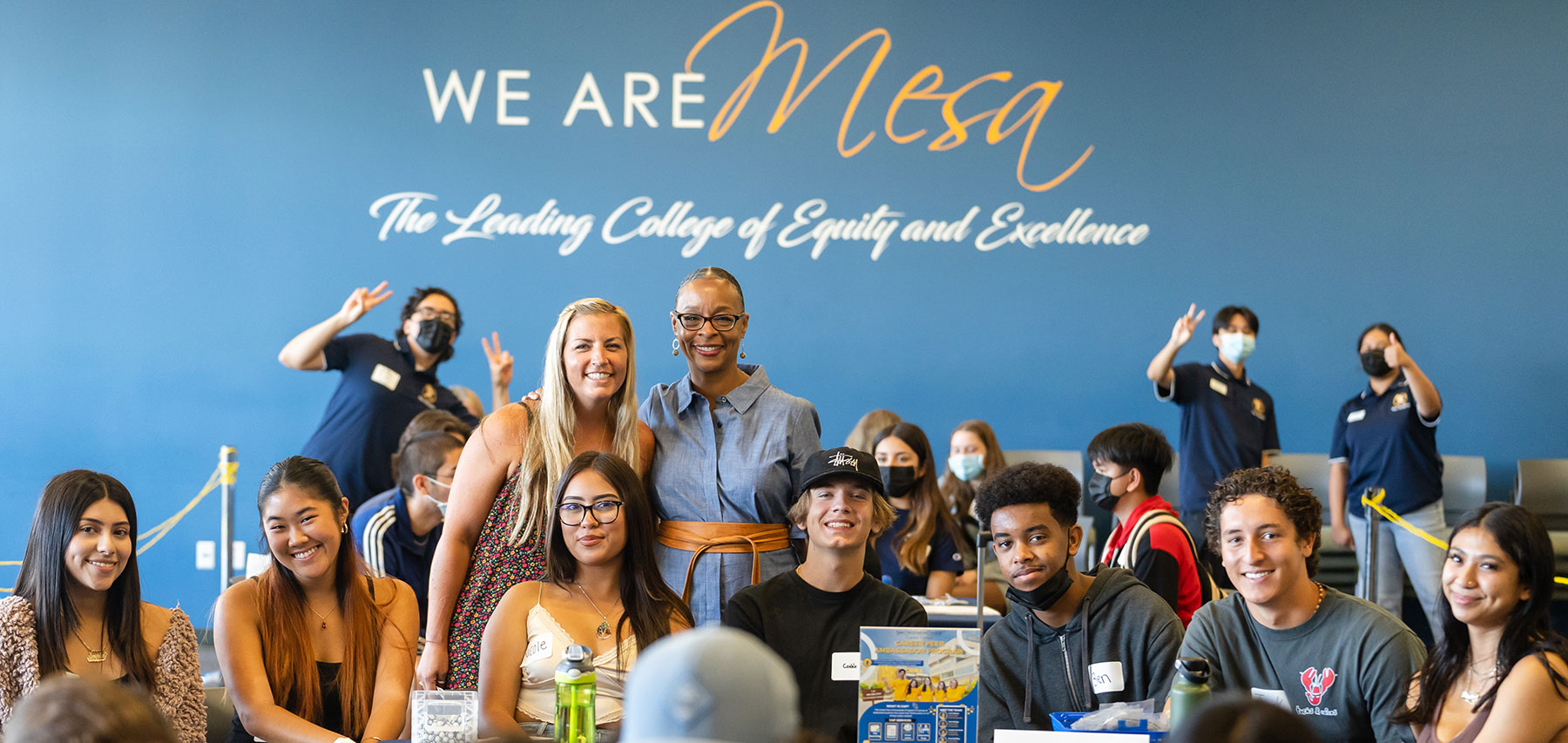 Dr. Ashanti Hands - Destined to Lead
January 18, 2023

|
Personal experiences help new Mesa College President Ashanti Hands, Ed.D., improve outcomes among students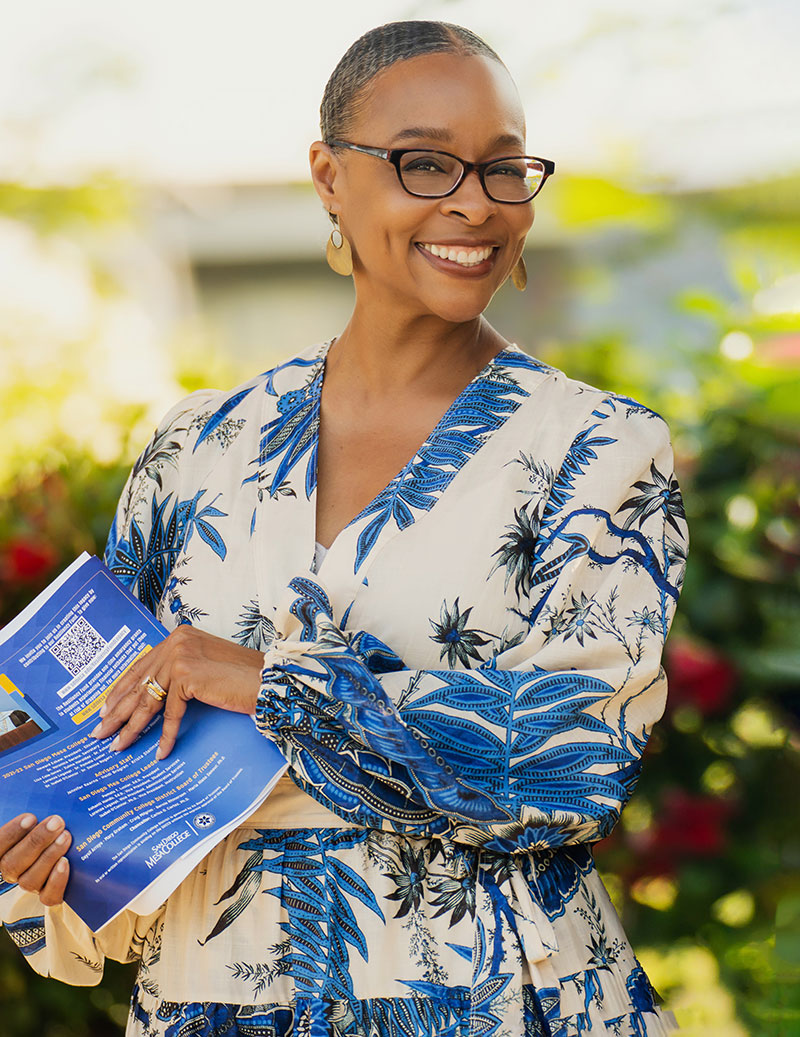 Activist and equity-centered leader Ashanti Hands, Ed.D., began her position as president of San Diego Mesa College, the leading college of equity and excellence, on July 1. Since that time, President Hands was accepted into the Aspen Institute's New Presidents Fellowship, served as a "Presidential Equity Champions" panelist during the fall 2022 California Community College Chief Instructional Officer Conference, and launched a "Weekly Updates from Prez Hands" newsletter to connect with the community and share the collective success of the college.
From serving on the frontlines of food insecurity to marching in the San Diego Pride Parade, becoming president was a leadership role Hands was destined to fulfill from an early age.
"I witnessed first-hand during middle school and high school the inequity and social injustices in the classroom," said Hands, who grew up in Inglewood, Calif.
Mesa College made a pledge to be the leading college of equity and excellence in 2014, when Hands was dean of Student Affairs — a position she took on in 2008 — and she said is looking forward to continuing to move that commitment forward during her tenure.
"Equity is infused with every goal and is woven into everything that we do here," said Hands. "Our goals hold us accountable to be who we are and do what we say we are going to do."
As president of Mesa College, she leads a college that serves 30,000 students per year, making it one of the largest community colleges in California. The college offers nearly 200 associate degree and certificate programs and is one of 15 California community colleges offering a four-year baccalaureate degree. A fully accredited, comprehensive community college, Mesa College ranks as San Diego's top transfer institution, and a Military Friendly School, serving more than 3,500 veterans and their families.
Mesa College, designated as a Hispanic-Serving Institution, has been particularly successful in serving minoritized students, in part due to several federal grants it has won, including two Hispanic-Serving Institution grants. Most recently, the Department of Education (DOE) awarded Mesa College an Asian American and Native American Pacific Islander-Serving Institutions (AANAPISI) grant, which is a multipronged, evidence-based effort designed to reduce equity gaps and increase the academic success, retention, graduation, and transfer rates of Asian American and Native American Pacific Islander (AAPI) and low-income students. Mesa College was the first community college in the region to be awarded an AANAPISI grant
Hands succeeds Pamela Luster, Ed.D., who previously served as president of Mesa College from 2011 to 2022. "Dr. Luster understood her mission and sparked my legacy," Hands said. "The way she gave back to everyone around her is how I want to make others feel. I want students to know I see them for who they are and that I see their potential."
Hands leads Mesa College guided by the Mesa2030 plan, a master strategic and educational guide to improve the quality of students' experiences by delivering a learning environment characterized by equity and excellence. Over the next decade, Mesa College's top priorities are to transform pathways and partnerships, stewardship, scholarship opportunities, completion rates, and build community.
"Mesa2030 is our north star guiding light," said Hands, who developed Mesa2030 alongside Luster and Mesa College administration, faculty, classified professionals, and students. Mesa2030 was named as a finalist for the prestigious Bellwether Awards in 2022.
Inspired by John Lewis's advocacy for good trouble, Hands explains her desire to provide equal educational opportunities for others comes from deep-seated lived experiences. In the fourth grade, a passion for social justice was sparked when she realized getting bussed into an affluent area to attend a better school across town away from Inglewood was not equitable. A mentorship under her principal at Inglewood High School helped her learn about equitable education and influenced the rest of Hands' future in academia — a support system that also helped her through her undergraduate time at University of California, San Diego.
"I remember being asked to leave the classroom for screaming out for my teacher to teach me. While sitting in the office, I overheard my principal fight against structures for basic things we needed," she said. "My school district served large populations of African American, Black, and Latinx students; we had hopes and dreams and no one to dream with us."
She continued, "My principal would tell me that Inglewood High needed people like me. I felt really excited to get involved, like in the movies, the seed was planted and made me want to do something."
While in high school, she started to advocate for her school, low-income students, and access to education, while also attending board meetings.
As president, Hands uses those personal events to improve outcomes for traditionally underrepresented students at Mesa College. Fostering a sense of belonging through campus renovations, expanding accelerated workforce education, guided pathways and increasing enrollment and transfer rates are among her critical initiatives.
BACKGROUND
Education
Doctor of educational leadership from San Diego State University
Master of arts in education with an emphasis in multicultural counseling from SDSU
Bachelor of arts in sociology from University of California, San Diego
Prior Experience
Vice president of Student Services and dean of Student Affairs at Mesa College
Dean of Student Affairs at the University of California, San Diego