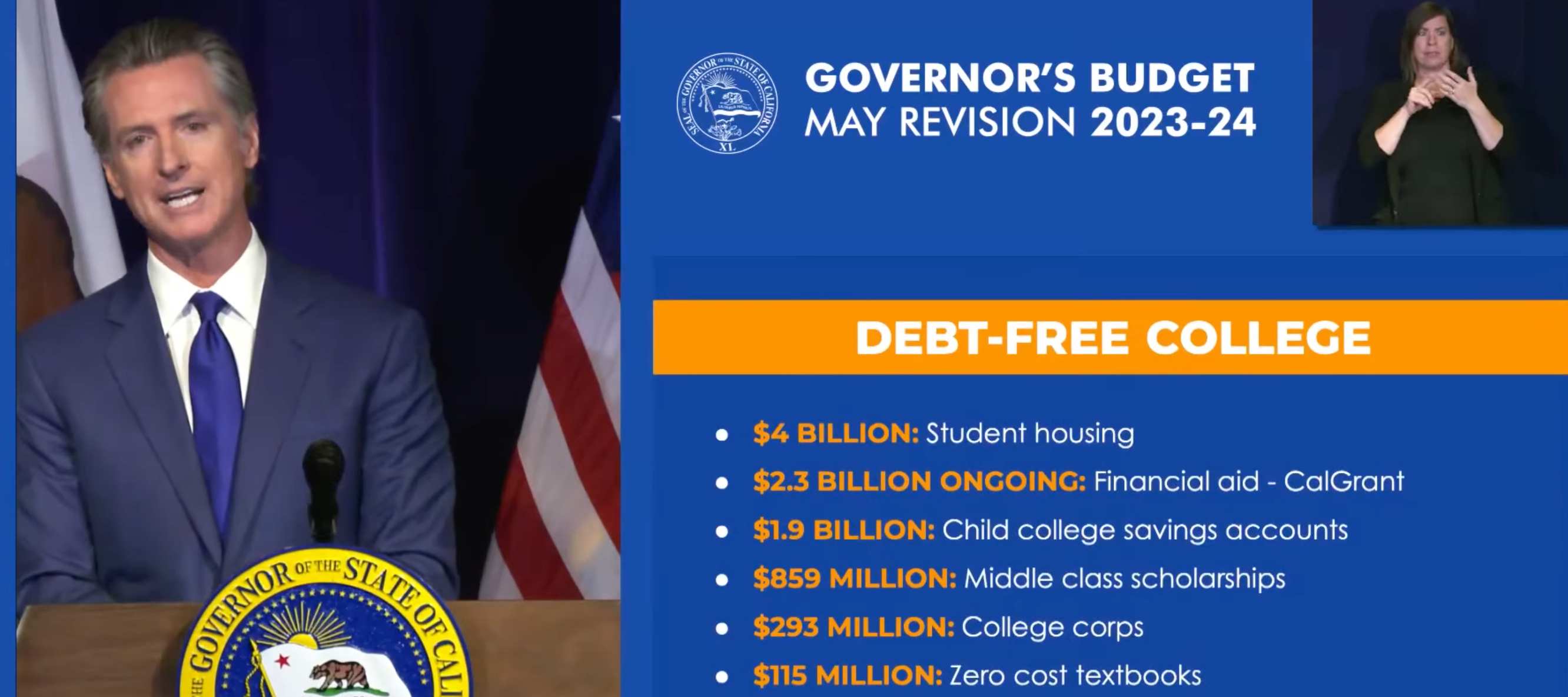 Chancellor's Message: California Budget Update - May Revision
May 17, 2023

|
SDCCD Community,
This addresses detailed information about the Governor's May Revision to the January budget proposal. Here are some key takeaways:
COLA is proposed to increase from 8.13% to 8.22%
To fund the COLA, some current year (2022-2023) one-time funds would be reduced up to 50%
COLA would not apply to Strong Workforce or the Student Equity and Achievement Program
Student Enrollment and Retention funding would be reduced
Student housing funding for community colleges would be protected by removing the CSU and UC systems from the funding and allowing those universities and colleges to issue bonds to fund housing construction
Introduction
Each year, the Governor issues a January Budget Proposal for the upcoming fiscal year. The Governor then issues a Revision around May 15 that reflects input from various constituencies and updated revenue and expense projections. The final state budget is signed into law by June 15 each year.
The Governor released the May Revision to the FY2023.24 January Budget Proposal on Friday, May 12. While the update contains noteworthy changes to deal with lower revenue projections, it definitely could have been worse for community college districts. The Revision avoids making significant reductions over the Governor's January Proposal while cautioning that if economic conditions deteriorate, deeper reductions will be necessary.
Multiple factors contribute to the volatility in the state's budget. A primary factor is that about 50% of total income tax revenue each year is paid by 1% of state taxpayers. This means that changes in the annual income of a very small group of Californians have major impacts on the budget of the 5th largest economy on the planet. (The state of California's Gross State Product is surpassed only by the GDP of four entire countries - USA, China, Japan, and Germany.)
State Economic Outlook
Over the last decade, the Administration and Legislature have protected state programs from significant swings in revenue through prudent fiscal planning. The state has built up reserves of approximately $22.3 billion.
Prudent planning means the state is better positioned to withstand a budget shortfall than ever before, which is a good thing as revenue projections have continued to decline since the January Proposal. California is now facing an estimated $31.5 billion shortfall. To put that number into perspective, an annual shortfall of $31.5 billion is a daily shortfall of over $86 million for 365 days!
The Governor's May Revision does not project a recession. However, it recognizes the increased risks such as the economic fallout from a federal debt limit impasse, higher interest rates, unstable financial institutions, and delayed tax receipts from later filing deadlines. These risks could significantly worsen the state's fiscal trajectory in the near term. The Governor's plan to balance the budget relies on multiple interventions:
Spending Reductions and Pullbacks—The May Revision reduces an additional $1.1 billion in spending across the 2021-22 through 2023-24 fiscal years. Generally, the reductions in the May Revision reflect reversals of unused funds, rather than cuts to programs.
Trigger Reductions—The May Revision maintains most of the $3.9 billion in trigger reductions included in the Governor's January Budget proposal.
Revenue/Borrowing—The May Revision includes $3.7 billion in revenue and borrowing from other sources within the state's coffers.
Delayed Spending—The May Revision delays an additional $695 million across multiple years without reducing the total amount of funding through the same period.
Fund Shifts—The May Revision includes $3.3 billion in shifts of spending commitments from the General Fund to other funds.
Safety Net Reserve Withdrawal—The May Revision includes the withdrawal of $450 million from the Safety Net Reserves.
The changes proposed in the FY2023.24 May Revise compared to last year's adopted state budget are presented in the table below. These data demonstrate the Governor's commitment to education (Proposition 98 Expenditures). Although Prop 98 funding is down $2 billion from the January Proposal, there is still a small (less than one half of one percent) increase as compared to FY2022.23. Meanwhile, the ending general fund balance is reduced by over 60% and the Rainy-Day Fund is cut in half.
2023-24 May Revision
General Fund Budget Summary


(Dollars in Millions)

2022-23
2023-24
Prior year balance
$55,462
24,119
Revenues and Transfers
$205,129
$209,054
Total Resources Available
$260,591
$233,173
Non-Proposition 98 Expenditures
$158,357
$145,733
Proposition 98 Expenditures
$78,115
$78,368
Total Expenditures
$236,472
$224,101
Fund Balance
$24,119
$9,072
Reserve for Liquidation of Encumbrances
$5,272
$5,272
Special Fund for Economic Uncertainties
$18,847
$3,800
Public School System Stabilization Account
$9,936
$10,684
Safety Net Reserve
$900
$450
Budget Stabilization Account/Rainy Day Fund
$22,252
$22,252

Note: Numbers may not add due to rounding.
Impact on California Community Colleges
The table below shows the Department of Finance's estimates of the Prop 98 minimum guarantee for the current and upcoming budget years as of the May Revision. The minimum guarantee is $2 billion lower than projected in January and is now at $106.8 billion (about the same as in 2022- 23).
Source

2021-22 Revised

2022-23 Revised

2023-24 Revised

Change from 22-223 Amount

Change from 22-23 percent

Proposition 98 Community Colleges Portion
General Fund
$8,678
$8,554
$8,481
$ (73)
-1%
Local Property Tax
$3,515
$3,706
$3,831
125
3%
Totals
$12, 193
$12,260
$12,312
$52
.04%

The Good News: The major changes for community colleges in the May Revision as compared to the January Proposal are:
COLA – Increase of $25.4 million in the cost-of-living adjustment from 8.13% to 8.22%.
SCFF – Increase of $503 million one-time to support SCFF stability and hold-harmless costs.
Growth Dollars – Decrease of $2.4 million in growth dollars.
The Other News: The May Revise proposes to fund the 8.22% COLA to the SCFF by making cuts, some of which will be painful, to other budget line items.
Categorical COLA's – Removed from Strong Workforce and SEAP.
Student Enrollment and Retention – Decrease from $200 million down to $100 million in one-time funding to increase retention and enrollment.
COVID-19 Recovery Block Grant – decrease of approximately $345 million from this year's one-time funding in support of the COVID-19 Recovery Block Grant, bringing total funding to $305 million.
Physical Plant & Instructional Equipment (AKA Deferred Maintenance) – Decrease of approximately $239 million in one-time funding on top of the proposed reduction from January. This brings a total reduction of $452 million from this year's allocations.
Proposed Policy Changes to Certain Categorical Programs:
Providing Flexibility for Districts–Community college districts that are meeting the Roadmap Goals would be given spending flexibility beginning in 2023-24. The categorical programs with flexibility would be:
Student Equity and Achievement Program
Student Financial Aid Administration
Student Mental Health Resources
The change would apply to all community college districts for five years. The State Chancellor's Office would assess district-level progress in meeting five of the roadmap goals, as selected by the Chancellor's Office. Those districts failing to make sufficient progress toward the roadmap goals would lose their flexibility and be offered technical assistance.
CCC Strong Workforce Program – Expand eligible uses for Strong Workforce Program funding, including providing funds for student grants to cover fees for third-party testing, certification, and licensing.
Student Housing
The January budget proposal would shift $250 million in the Affordable Student Housing Program to 2024-25. This funding would be spread across UC, CSU, and community colleges. The May Revise removes the UC and CSU systems from the program and instead provides them with the authority to issue bonds to build housing. The May Revise proposes $450 million in 2023-24 and $95.4 million for 2024-25. This funding would go out exclusively to community colleges in the form of grants.
Potential Impact on SDCCD
COLA: A COLA of 8.22% would increase on-going SCFF revenues by approximately $25 million which would be handled in accordance with the RAF.
Physical Plant & Instructional Equipment (AKA Deferred Maintenance): Current fiscal year funding is being reduced by over 50%. Our District divides these funds between Deferred Maintenance (60%) and Instructional Equipment (40%). Deferred Maintenance funds are held at the District for the benefit of all colleges and facilities, while the Instructional Equipment Funds are distributed to colleges for local use. The reduction means we must defer projects identified using these funds for the time being.
PPIS Funds

Initial Allocation

January Reduction

May Reduction

SDCCD
$24,069,489
$6,390,000
$6,859,300
Deferred Maintenance (60%)
$14,441,693
$3,834,000
$4,115,580
Instructional Equipment (40%)
$9,627,796
$2,556,000
$2,743,720

Instructional Equipment

January Reduction

May Reduction

City
23.05%
$589,030
$632,427
Mesa
35.94%
$918,678
$986,093
Miramar
22.96%
$586,730
$629,958
College of Continuing Education
18.06%
$461,537
$495,516
$2,555,974
$2,743,994
COVID-19 Recovery Block Grant: Similar to the PPIS funds, this money will continue to be received in the current year, but more than half of the money will need to be set aside for return in FY2023.24.
| | | |
| --- | --- | --- |
| COVID Recovery | Initial Allocation | May Reduction |
| SDCCD | $23,604,541 | $12,528,564 |
Categorical Programs: Several of our categorically-funded programs are projected to receive COLA. Unfortunately, SEAP and SWF, which fund several contract positions, would not be increased by the COLA in the May Revision. The programs below are expected to receive 8.22% COLA per the May Revision.
Adult Education Program
Extended Opportunity Programs and Services (EOPS)
Disability Support Programs and Services (DSPS)
Apprenticeship
Cooperative Agencies Resources for Education (CARE)
New Funds: There are very few new programs and one-time initiatives in the FY2023.24 May Revise. These are listed below with an estimated SDCCD allocation. The estimates assume the funds will be distributed to districts on a pro rata basis aligned with state-wide FTES. If a different allocation formula is used, the actual amounts received by SDCCD could vary significantly.
New Funding

Estimated SDCCD Allocation

EEO Program
$120,540
On-going
LGBTQ Center
$287,000
On-going
Retention
$2,870,000
One Time
Affordable Student Housing: The news on affordable student housing is good and improves the chances that our housing grant application will be funded. Grant recipients will be notified in June.
Next Steps and Closing Comments
Overall, the May Revise indicates that the advocacy efforts of many districts, including SDCCD, have been successful. Growth dollars in last year's budget remain unspent. Most districts have HEERF/COVID/Retention dollars available from prior years. Re-directing these one-time funds to ongoing COLA to our base funding will benefit SDCCD, as will increased flexibility in categorical program spending guidelines. The reduction in current year deferred maintenance funding is worrisome and would impact planned improvements to our facilities. We will continue to monitor this item for additional clarity and details.
The May Revise constructs a budget proposal built on several optimistic assumptions. Despite revenues increasingly lagging projections this year, the Governor's Revision assumes increases in property taxes, enrollment fees, and EPA funding in FY2023.24 of approximately $200 million.
Economists and fiscal analysts continue to express concerns about a possible recession. The May Revision relies on substantially reducing reserves and hoping for economic growth that is far from certain to maintain programs at a stable level and fund a large COLA. This strategy is not sustainable and could lead to significant fiscal instability should macro-economic factors fail to improve. Our collaborative efforts to build an appropriate General Fund Unrestricted reserve over the past three years provides a critical safety net if we do have an extended period of declining state revenues.
The State Budget process will move quickly from here. The legislature is constitutionally obligated to adopt the FY2023.24 budget by June 15. The SDCCD tentative budget will be presented to the Governing Board also on June 15. The SDCCD Adoption Budget will be presented to the Board of Trustees in September.
A key objective of the SDCCD 2023-2030 Strategic Plan is fiscal resiliency. We know there will be disruptions to our economy periodically and prudent financial planning is critical for maintaining our instructional and student service programs. We have been strategic in filling vacant positions, creating new positions, and funding positions in areas with short-term needs to maximize the impact of one-time funding we have received in recent years. We are engaged in a comprehensive approach to growing enrollment, increasing student access to the San Diego Promise and financial aid resources, and supporting student success in alignment with our mission, vision, and values. These efforts stabilize and grow our base funding to minimize the impact of declining state revenues on our District. Fulfilling our mission to provide everyone in our communities the opportunity to transform their lives through higher education is the work of an engaged community of educators and professionals. Thank you for your work, dedication, and collaboration.
Dr. Kelly Hall, Vice Chancellor, Finance and Business Services
Greg Smith, Acting Chancellor