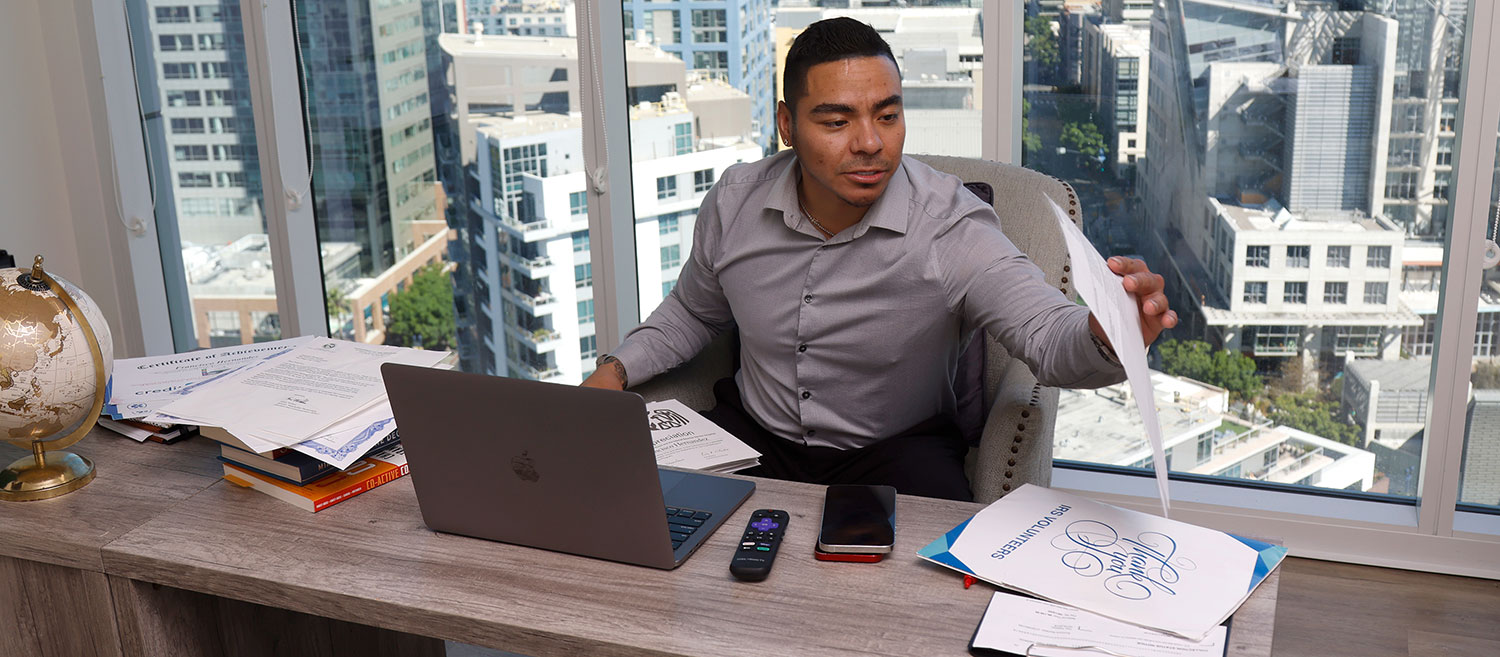 Career education programs benefit both students and the San Diego region
January 19, 2023

|
Career education programs at the San Diego Community College District's four colleges change lives and provide the foundation for a rewarding career. Just ask Frank Hernandez, Bianca McLaughlin, Kevin Croan, or Sarah McKee.
The four students profiled here are among the more than 34,000 students taking a wide variety of credit or non-credit career education courses at San Diego City, Mesa, Miramar, or Continuing Education colleges. These alumni found their passion and are now working in a field that they love.
Moreover, 98% of the colleges' students stay in San Diego after their graduation. Which means, career education alums supply local employers with the workers they need to make their businesses more productive.
A recent study found that career education programs benefit both students and the San Diego region. The study found that career education programs within the SDCCD have a $1.6 billion economic impact, ranging from the higher-paying jobs that alumni now are working to the employees and services that the District utilizes.
The study also found that the money that students invest in their education is a far better deal than the stock market. For every dollar that a student invests in their career education program at the District's colleges, they will have a return of $6.20 in increased lifetime earnings — an annual rate of return at 23.5%.
There are few better investments that a student can make than a career education program within the SDCCD. These are four success stories among thousands.
FRANK HERNANDEZ
City College
Certificates: Business studies-small business accounting: VITA tax preparation training; tax preparer; and record keeping for a small business
Current company: Self-employed, Traxx Accounting
Current job title: Owner, Accountant
Frank Hernandez started out taking some accounting courses at City College in 2016 to help him learn how to run a business. He ended up earning three certificates that led to him setting up his own accounting and tax preparation company, Traxx Accounting.
"I saw a catalog with some accounting classes, and I thought they would help me out," Hernandez said. "I took the classes and it clicked. I was in love with it."
Hernandez, a child of Mexican immigrants, grew up in poverty. After graduating from high school, he decided to attend City College because it was nearby and he liked the diversity.
Hernandez earned certificates in payroll and tax preparation from City College and now is licensed by the state of California and the Internal Revenue Service. While still in school, he began volunteering with multiple organizations to help students and community members prepare their taxes. That led to a job with nonprofit organization Home Start to help those in need with their tax preparation.
"It was honestly one of the best experiences I've ever had," Hernandez said. "Other companies charge a lot and some people can't afford it. Being able to do it for free helped them out. It made them smile and they were so grateful."
The Accounting department at City College offers certificates and an associate degree in accounting and financial management. The areas of emphasis include tax and certified public accounting preparation, financial management, and fundamentals in accounting. The coursework is designed to prepare students for transfer to a four-year university and provide the skills needed to obtain entry-level positions and prepare for the Certified Public Accountant (CPA) and Certified Management Accountant (CMA) license.
Hernandez said the Accounting department had excellent instructors, and he especially praised Shana Carr, an accounting professor and current acting dean of the School of Business, Information Technology, Cosmetology, Engineering & Trades.
"She was definitely a big influence," Hernandez said. "I've shown my dedication and my eagerness to learn. I was hungry, and she saw it in me."
After becoming licensed in 2017, this year Hernandez opened his own business in downtown San Diego. In addition to his regular workload, he hopes to continue volunteering his services to help others improve their financial literacy so they know how to handle their money.
"I always believe in giving back," Hernandez said. "I wasn't raised with a lot of money, and I learned from ground zero on how to survive. Every chance I get, I want to give back. It's important to me."
As to the future, Hernandez said he would ultimately like to go to law school and become a forensic accountant. Although, after interviewing with the Internal Revenue Service during the pandemic, he wouldn't rule out a position with the government.
BIANCA MCLAUGHLIN
Mesa College
Degree: Associate of science degree in interior design (expected date of completion: May 2023)
Current company: Ryan Young Interiors
Current job title: Commercial Interior Designer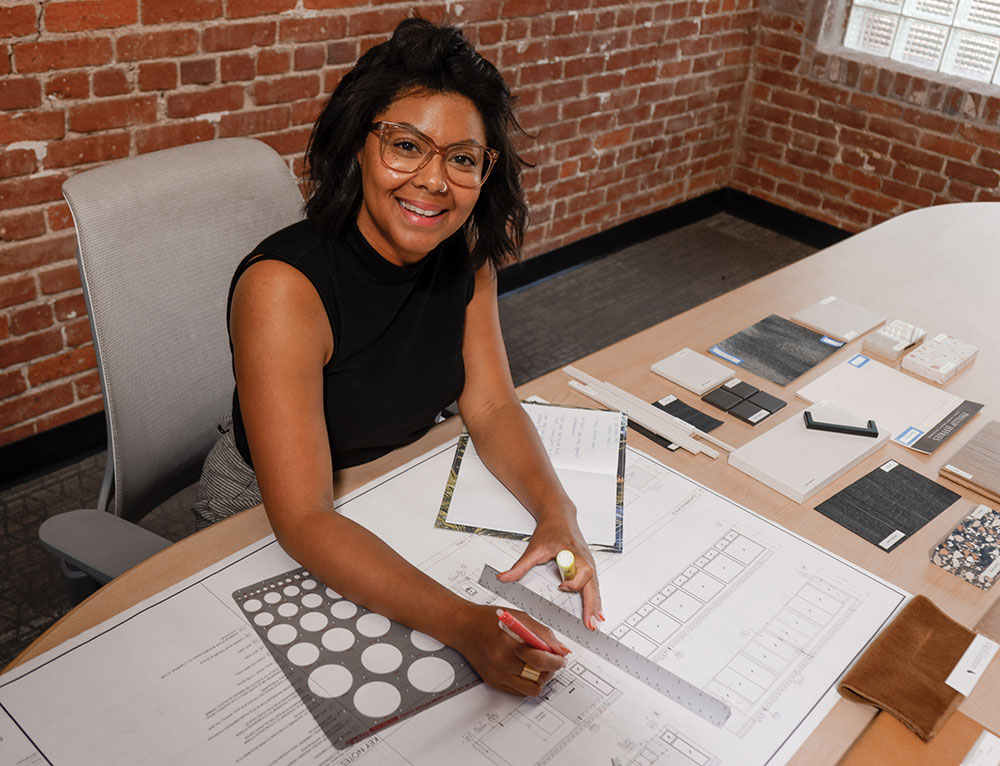 Bianca McLaughlin found her dream job working in interior design — even before she finished her courses in the program at Mesa College.
While a Mesa College student, McLaughlin was selected for an eight-week internship at Ryan Young Interiors in summer 2021. At the end of the internship, possible future jobs were discussed during her exit interview. She thought she might hear from them months later as she continued taking classes toward her associate degree.
"About a week and a half later, I got a phone call that they wanted to offer me a position," McLaughlin said.
She has worked as a commercial designer for the company for the past year and plans to complete her associate degree in interior design in May. McLaughlin said the excellent education she continues to receive from Mesa College prepared her well for her career.
"Interior design is not like what you see on HGTV. It's much more technical than that," she said. "I think that Mesa does an incredible job. They prepared us technically."
The Interior Design program at Mesa College prepares students for Interior Design certification and a career in the field. Students learn how to create unique design solutions, using both hand-drawing and hand-drafting and industry-standard software such as computer-aided design (CAD) and 3-D modeling.
McLaughlin grew up in San Diego, but her family moved to the Czech Republic when she was 15. She said she always loved interior design, but she was unable to find an English-language program at a university in Europe. She decided to return to San Diego for her schooling.
She initially entered the web development program at Mesa College in 2017 because of her stepfather's concerns that interior design was not a practical career. McLaughlin was nearing completion of the program but knew that it was not her passion. So, she signed up for an interior design class.
"I decided to take a class to see if I liked it, and I loved it," she said, which she launched her transition into taking interior design classes in 2019. "When I took my first class, I was on the verge of tears. I knew it immediately."
McLaughlin said her job is even better than she expected. She designs for multifamily homes and high-rise buildings and manages the library of fabrics and furniture for the company. Her love of interior design is even deeper now.
"It's about how we live in a space," she said. "It's so interesting to me that what we do within our space creates happiness for us and a sense of peace. Providing that for people is really fascinating."
And, by the way, after seeing firsthand the intricacies involved in home and interior design during a recent remodel of her parents' home, McLaughlin's "cautious and practical" stepfather now better understands her choice in careers.
KEVIN CROAN
Miramar College
Degree: Associate degree in diesel technology
Current company: FedEx
Current title: Diesel technician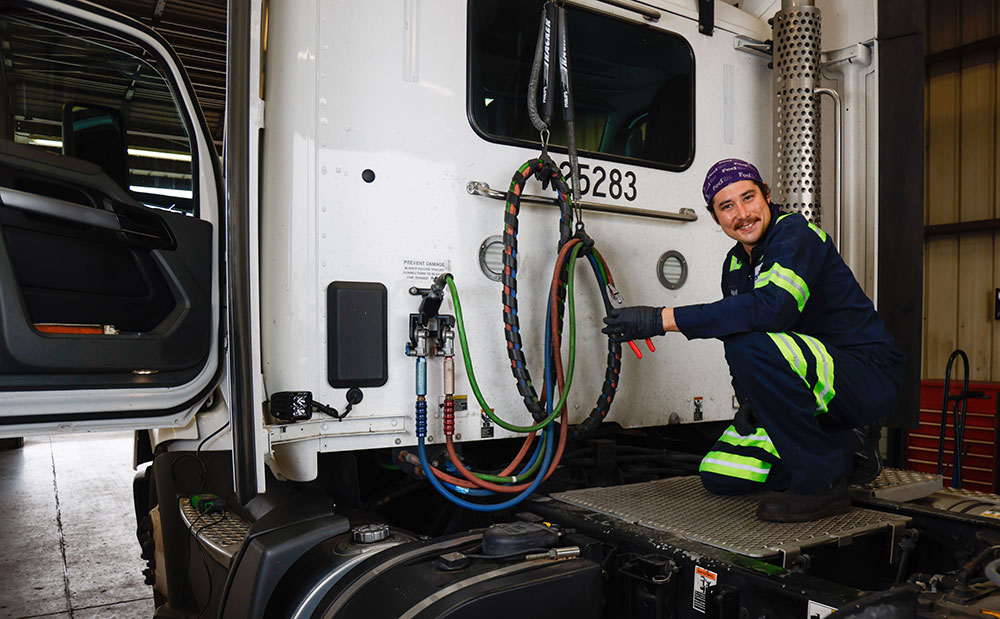 Kevin Croan was trying to figure out what to do with his life after he realized a career as a math teacher was not for him. He discovered a new career as a diesel technician through the classes he took at Miramar College's diesel technology program.
Croan, a Marine Corps veteran, had earned a bachelor's degree in mathematics with single-subject teaching emphasis in 2015 and was in graduate school when he started an internship teaching math at a middle school.
"As soon as I got into the internship, I hated it," he said. "School had changed. I didn't even finish the graduate program."
He liked working on automobiles and felt he could have a lucrative career as a diesel technician. In 2018 he decided to attend Miramar College after he called the program and Professor Gene Choe answered the phone.
"It made me want to join right away," Croan said. "He took the time out of his day to tell me about the program."
The Diesel Technology program at Miramar College has a two-year curriculum with three tracks that lead to a certificate, and two tracks leading to an associate degree. Students can master the skills required for success in servicing and maintaining heavy-duty commercial trucks, off-highway heavy equipment, stationery engines, and marine craft.
Croan said the program provided excellent instruction to learn the field.
"It was a lot of hands-on experience," he said. "Everything that they taught us theory-wise we were able to practice in the laboratory. The instructors were there to offer assistance if you needed help to increase your technique."
In 2019, while in the program, Croan and his peer Valentino Nevarez were among five students sponsored by FedEx to compete in the American Trucking Association (ATA) and Truck Maintenance Council (TMC) Futuretech event in Raleigh, North Carolina. After the competition, both got calls from
FedEx offering them jobs, and both continue to be employed there.
Croan said he finds the work to be immensely satisfying.
"When you fix stuff and you see that truck rolling out, you know you're making a difference," he said. "I'm increasing my knowledge on a daily basis and learning more about the equipment. The more knowledge you have the better technician you are."
Despite his new career, Croan still felt the pull of the classroom. This fall, he began teaching three courses for Miramar College's diesel technology program — including math and measuring. He ended up becoming a math teacher after all.
"I get to teach math and use mathematical terms," he said. "I get all excited and jittery. I'm good at teaching math. I get to shine."
SARAH MCKEE
College of Continuing Education
Career Education program: Welding
Certificates: Shielded Metal Arc Welding and Flux-Cored Arc Welding (FCAW)
Current company: Chromalloy
Current title: Welder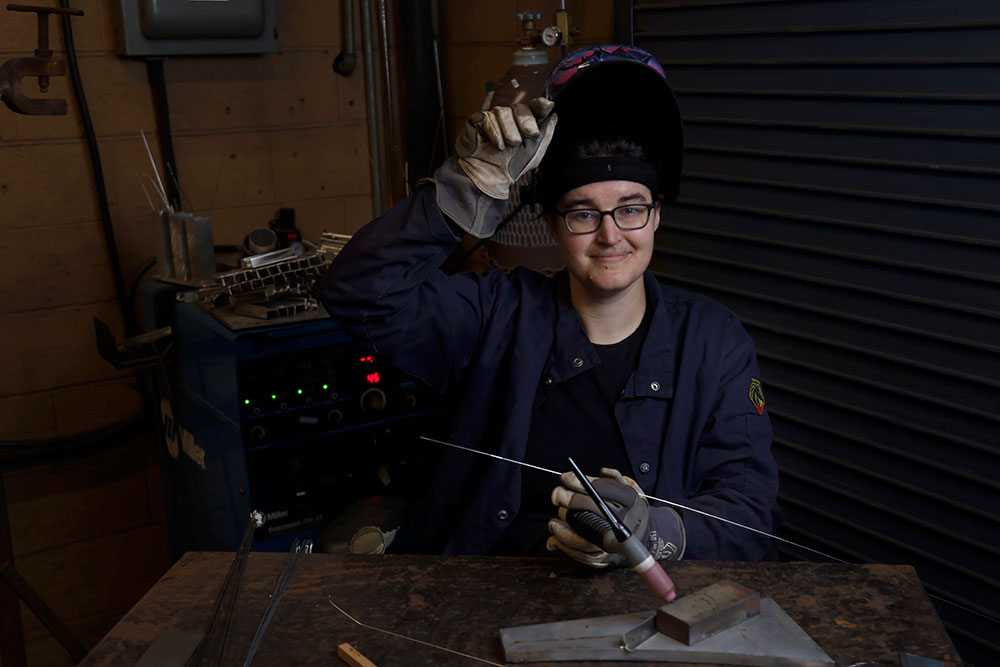 Sarah McKee took a winding career path to her current job as a welder. She was a theater hand, a math teacher, and was studying to become an actuary — until she heard about the welding program at San Diego College of Continuing Education.
McKee had done some welding while she worked as stage manager and assistant technical director for the Kingsmen Shakespeare Company in Thousand Oaks. But after earning her bachelor's degree in theater and math from California Lutheran University, McKee had moved on to be a high school and middle school math teacher. After three years, she realized she no longer wanted to be a teacher.
"It was such a hard decision," she said. "I had put so much of my life into that."
She thought about using her math skills as an actuary, calculating insurance risks and premiums. Then she saw a mailer about Continuing Education's welding program, which is offered at no cost at the college's Educational Cultural Complex in Mountain View and provides students with certificates from the American Welding Society after they complete 600 hours of study. In the program, students can expect to learn a series of welding practices as well as math, communications, and business.
"I wanted to learn more about welding," McKee said. "I signed up, and I fell in love with it."
After starting the program in fall 2020 — at a time when the class was remote before being allowed on campus for hands-on work later that year — McKee said she particularly bonded with the other women in the welding classes. They created a women welders group and supported each other through the program.
She was able to use her teaching skills in one class called Math for Welders.
"I would host homework nights," she said. "I had been used to teaching kids. Everyone brought their own paper and pencils. I thought, 'These are the best students I've ever had.' "
She got her first welding job while she was still in the program, which she completed in August. With a recommendation from instructor Bob Pyle, McKee was hired in October for a full-time job as a welder with Chromalloy, a San Diego aircraft manufacturing company.
McKee said she got all the training she needed to be a good welder, along with the people skills necessary for a job.
"I really did appreciate how much they instilled in us the idea that they send people off with welding skills, but the people who get and keep jobs are the ones with good working skills," she said.
---
CAREER EDUCATION OPPORTUNITIES AT SDCCD
Accounting
(Accountants and auditors)
Median Salary: $79,257
Average Annual Openings: 1,329
Interior Design
(Interior designers)
Median Salary: $60,846
Average Annual Openings: 132
Diesel Technician
(Bus and truck mechanics and diesel engine specialists)
Median salary: $60,658
Average annual openings: 227
Welding
(Welders, cutters, solderers, and brazers)
Median salary: $49,525
Average annual openings: 424
*Information about median salary and average annual openings is based on data collected for San Diego County by the Centers of Excellence for Labor Market Research.