Miramar College business professor aims to make cents
January 19, 2023

|
After two decades of working in finance, management, and marketing, David Wilhelm made the bold move to turn to teaching. Wilhelm, who has taught business courses at San Diego Miramar College for eight years now, said he decided to make the career transition because he wanted to educate others about finance and finding success in their business careers.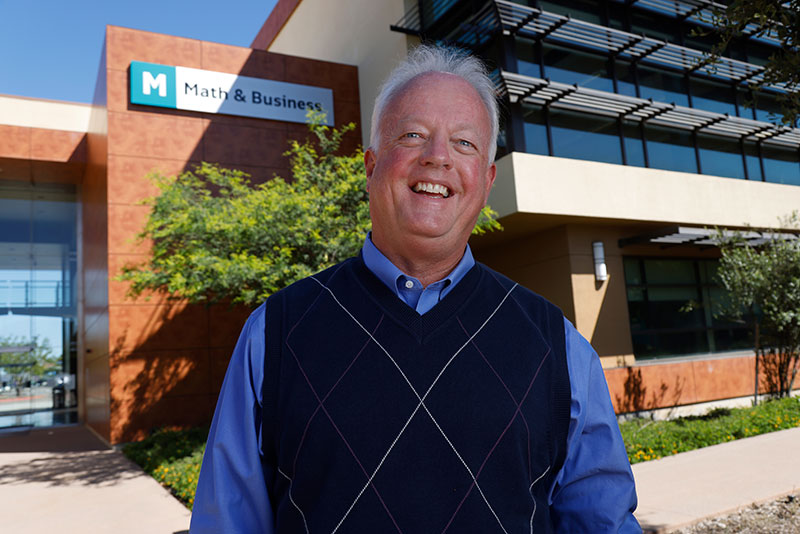 Since joining Miramar College, he has done more than educate students. He played a large role in achieving the Accreditation Council for Business Schools and Programs for the college — making it the only nationally accredited two-year business program in the region.
In addition to teaching, Wilhelm regularly contributes to WalletHub, a website that offers educational information about personal credit, and serves as a financial expert to other outlets. The biggest financial advice he has for everyone?
"Set a specific goal, spend less, and save, save, save!"
Wilhelm spoke with us about what drives him, his curriculum, and what kind of legacy he hopes to leave at Miramar College.
What makes your classes stand apart from other typical business classes? What kind of lessons do you try to incorporate in your curriculum?
My broad industry experience in functional areas of marketing and finance complements my academic background because the knowledge gained has guided and shaped curriculum improvements, which help students understand how concepts introduced in the classroom apply in practice.
One approach, which has been tremendously successful with students over the years, is to discuss current events in business and how they relate to the concepts introduced in the course. A student pairs with another student in class to review and discuss the topic and how the current event relates to the concepts introduced in the class.
What is the best day you have had as a business professor at Miramar College?
The best day for me is every day when I first walk into the classroom and see 40 eager students who represent the future as business professionals in our community. It is a privilege for me to be able to influence and encourage them to achieve their full potential in life, which makes it my best day.
Of course, your job is to teach students. But, sometimes professors can learn a thing or two from their students. What have your students taught you over the years?
Several students literally teach me how to use new generations of technology. I am from the Baby Boomer generation and many of us resisted technology until forced to use it. They also remind me how similar they are in the challenges faced in daily life, and the need to be flexible and adapt to change that is often beyond one's control, such as the effects of the pandemic.
Have any past students reached out to you to tell you about the success they've found in the business world thanks to what they've learned from you?
I hear from several former students on a regular basis — many of whom are enrolled in graduate school or working as a professional in an organization with tremendous potential for future success. One former student, who graduated from SDSU with a degree in finance, is currently working for Vanguard Investments as a financial manager and has been promoted twice in the firm. I feel so fortunate to have known and worked with many of these very bright and talented individuals while they attended Miramar College.
When you retire someday as a business professor, what do you hope your students will say about you?
I hope they say that I was someone who motivated them to achieve their full potential and made a valuable contribution in their life!