Golden Anniversary: District marks 50 years of serving the community and millions of students
November 1, 2023

|
A promise to serve students. A focus on diversity and civil rights. Expanding opportunities in education and careers for better futures.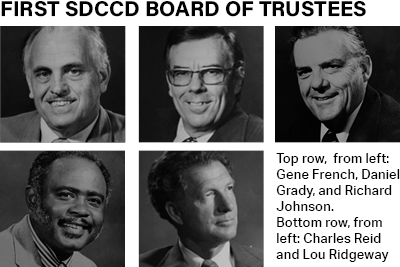 These commitments of the San Diego Community College District date back 50 years ago this November when voters elected a governing board that included Gene French, Daniel Grady, Richard Johnston, Charles Reid, and Lou Ridgeway as the first trustees after splitting from the San Diego Unified School District.
The District's three colleges — San Diego City, Mesa, and Miramar colleges — had long been part of the San Diego Unified School District, and discussions about creating a district just for those adult education schools had been brewing for a few years. It finally became possible in 1972 with the passage of Proposition G, which created an independent district and set the stage for the new governing board.
In the years that followed, the SDCCD Board of Trustees would take the lead in expanding the role of community colleges, addressing equity gaps, creating partnerships with K-12 schools and businesses, handling economic challenges, promoting bonds to expand and update campuses, and aggressively working to make it easier for students to transfer to four-year universities, secure a better-paying job, or both.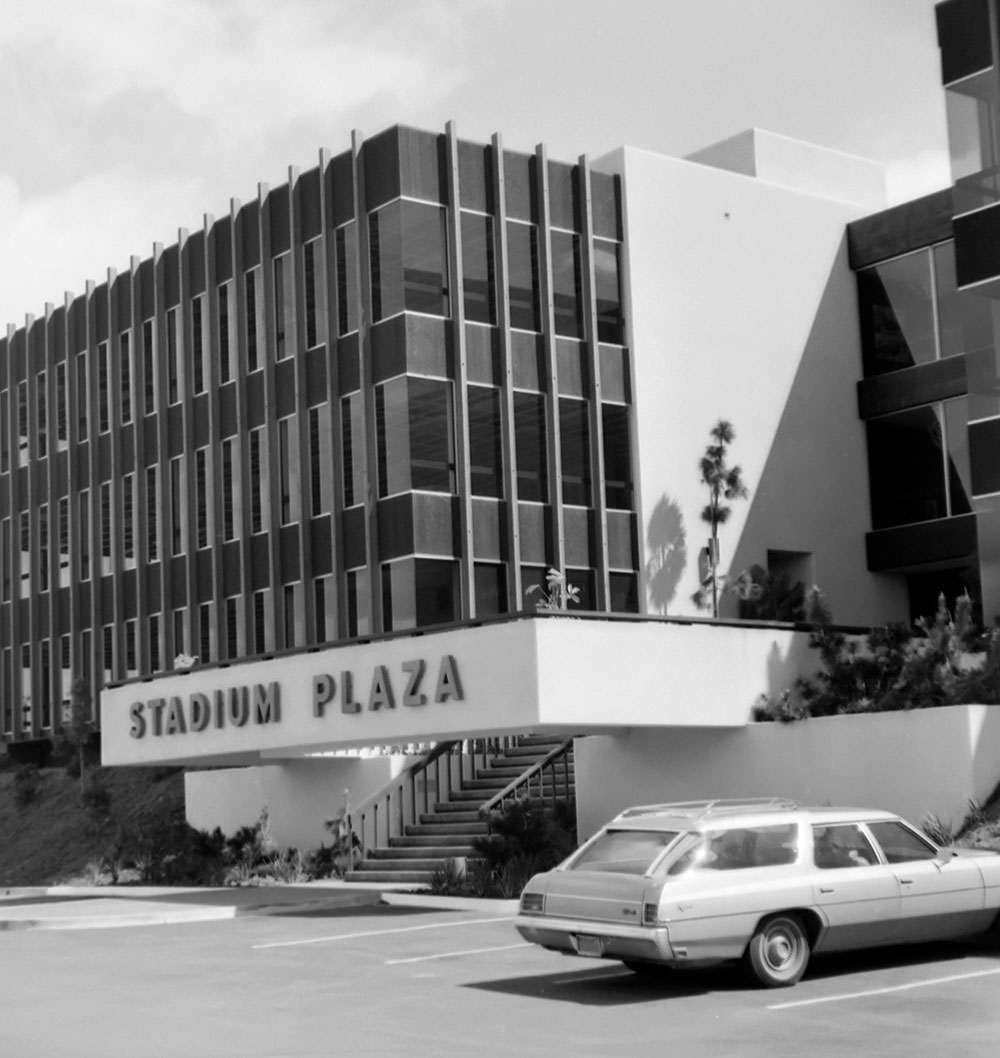 The new Board of Trustees was seated at the end of a tumultuous year in the nation, as the Watergate scandal erupted and as the United States and Vietnam signed a peace agreement ahead of the culmination of the war two years later. At the same time, Americans were gathering around family television consoles to watch "All in the Family," and Skylab was launched as the world's first space station.
It was also the year the District's administration moved from downtown, at 835 12th Ave. near City College, to its current headquarters in Mission Valley — eventually renaming the office building from Stadium Plaza to the Charles W. Patrick building after the first leader of the SDCCD.
While the events may seem a lifetime ago, one former student and the District's longest serving employee — 50 years in October — recalls the year vividly and how a City College professor changed her life.
"My chemistry teacher said, 'Hey, I noticed you're kind of helping other people'," Pamela Kozminska said. " 'Why don't you just go to the tutor office and sign up?' So, I did, and that's how it started."
Kozminska, who still remembers the names of professors who inspired her in 1973, took the advice and became a tutor in October of that year, two months before the Board of Trustees would be seated, and where she continued until 1986 when she accepted a position teaching ceramics at College of Continuing Education.
"I love it," she responds whenever anyone asks if she has plans to retire. "This is what I wanted to do my whole life."
She thinks of her colleagues as family, even tearing up when sharing how they've supported her through the years, and she delights in inspiring and instilling confidence in her students.

Another former student from the era also remembers his life changing because of an influential teacher.
Just a few years before the official creation of the District, and after two previous attempts at attending other colleges proved unsuccessful, Fred Colby decided to give San Diego Mesa College a try — and that's where he enrolled in Fred Horn's political science class.
"Number one, I was ready," he said about why his third attempt was different. "Also, I was lucky and got a fantastic professor."
He went on to earn a bachelor's degree in political science that led to a career working on political campaigns and other jobs, including leading the San Diego Performing Arts Foundation.
In 1988, Colby decided to return to the District that had inspired his career and ran for the SDCCD Board of Trustees. He served two terms, which he often calls his "most enjoyable and rewarding role." To this day, Colby continues to support the SDCCD, especially through its San Diego Promise program, which provides two years of tuition, textbook vouchers, and wraparound support services for eligible SDCCD students.
"I always respected community colleges and how much they helped me," he said.
Creating Futures, from Auto Mechanics to Brain Surgeons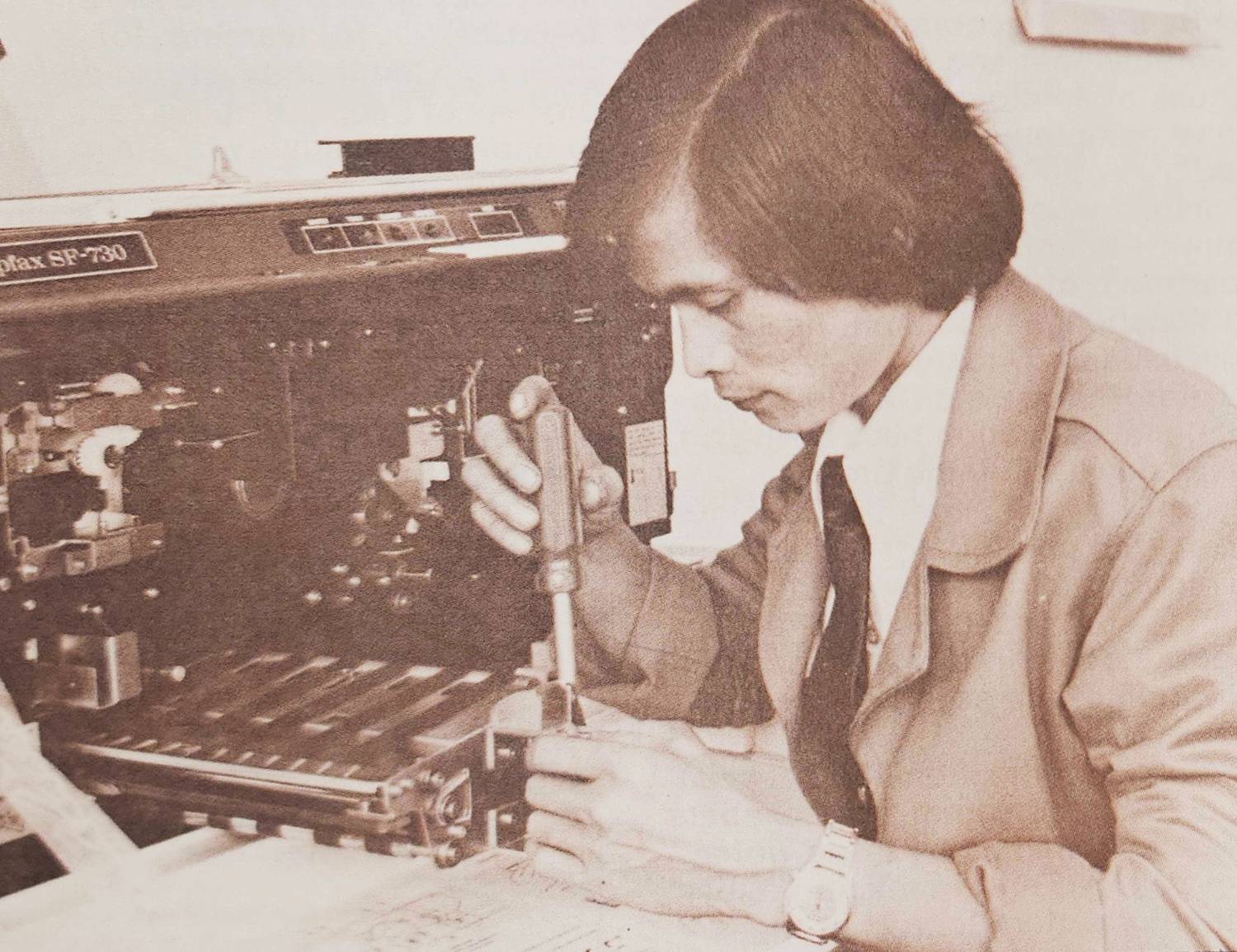 While the SDCCD already had three colleges when its first Board was seated in 1973, within a couple of years trustees were discussing a new facility to expand its mission of serving students.
One of the Board's first acts was to hire a chancellor to succeed Charles W. Patrick, who had been appointed by the San Diego Unified School District as acting superintendent. The Board hired Dale Parnell, who served as the District's first official chancellor until 1976.
After about a year on the job, Parnell appeared at the Greater San Diego Industry-Education conference and gave a talk that exemplified the District's respect for students and its mission of meeting their needs. In his talk, Parnell stressed the need to elevate the image of career education, which he said had wrongly been associated with so-called "dumb" kids.
"Public education will not serve most of our students' needs until educators and parents change those unreal images in their minds," he said. "Career education is for all students — slow learners and fast learners – and includes all occupations. A brain surgeon has a career which requires career education; so does an auto mechanic."
Parnell reminded the conference that twice as many jobs required welding skills rather than chemistry knowledge, yet most high schools had chemistry labs while few had welding courses. He asked why.
Plans to expand career education locally already were in the works.
Residents of southeastern San Diego had pushed for a cultural and educational center in their neighborhood for years. In 1972, while still a part of San Diego Unified School District, the SDCCD, in partnership with Model Cities, Inc., funded the purchase of about 20 acres at the already-dedicated site of Preble-Sachem Navy housing on Ocean View Boulevard in Mountain View. Construction of the Educational Cultural Complex began on the land in 1974 with funding from the San Diego City Council, County Board of Supervisors, and Model Cities, Inc.
"The ECC was designed and conceived by very important members of the Southeast (San Diego) community," recalled Augustine "Augie" Gallego, who came to the SDCCD in 1976 to work as an academic counselor at the new facility, and later served as chancellor from 1990-2004. "Members of the Southeast community worked very hard to develop a plan for a one-stop college that offered both non-credit and college levels under San Diego State University accreditation."
The ECC campus opened in 1976 as the District's fourth major educational site and now is the largest of the College of Continuing Education's seven campuses.
In the spirit of Parnell's vision for re-imagining career education, the school offers evolving free courses including auto mechanics, office skills, welding, culinary arts, computer security and programing, clothing and textiles, electronic assembly, among other classes, to help meet growing industry needs. Today, each SDCCD credit college has its own Career Technical Education department, as well.
Overcoming Challenges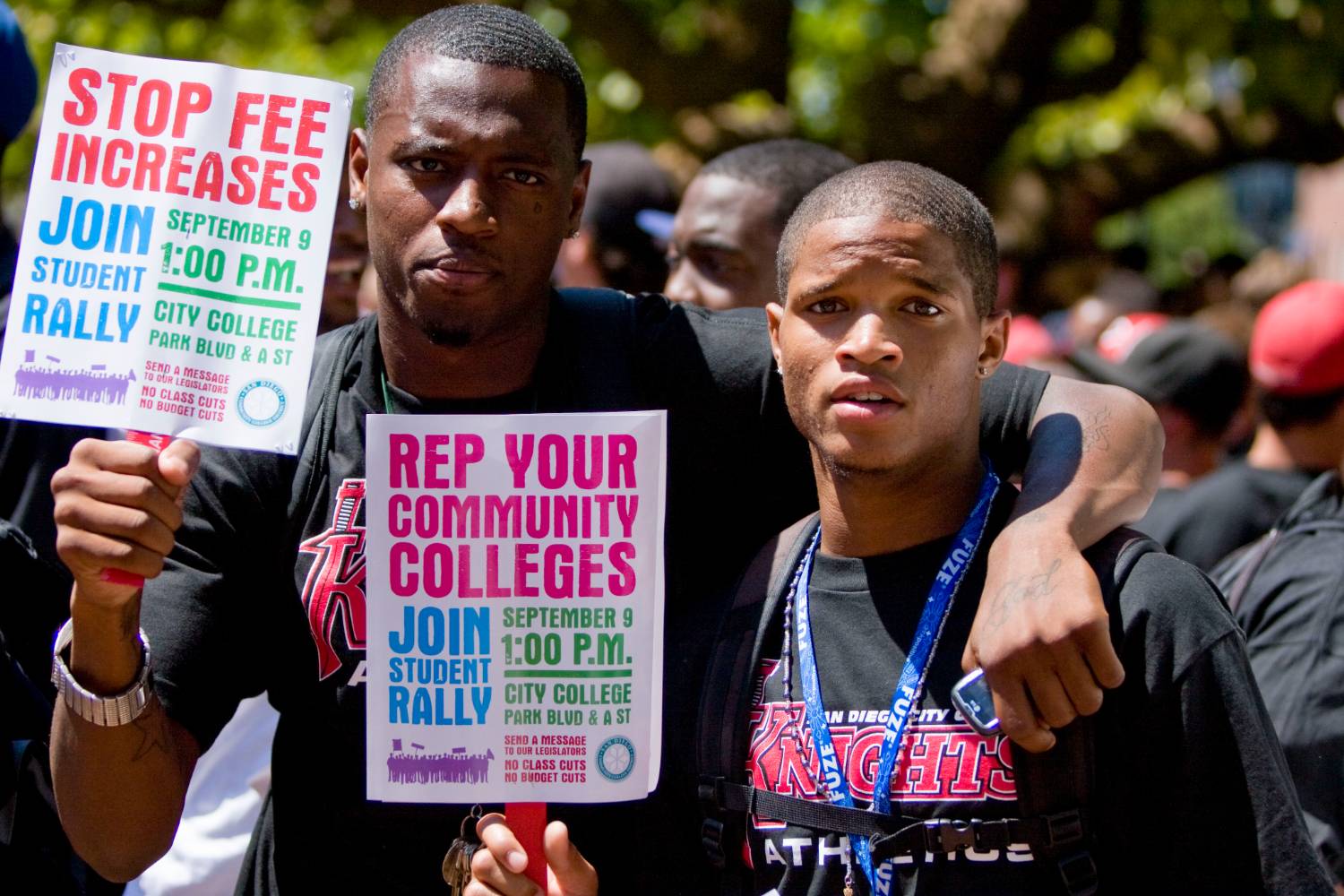 While the 1970s saw the District greatly expand its mission to serve students, it also faced unprecedented financial challenges.
With the 1978 passage of Proposition 13, which restricted property taxes in California, schools and colleges throughout the state faced significant budget shortfalls. The District's funding for the 1978-79 school year was cut by almost 15%.
The SDCCD's budget was trimmed by $9.4 million, with most of the cuts involving construction, accommodation for student growth, salary increases, and other expenses. Trustees voted to charge a $1 fee per instructional hour for enrichment courses in the Adult and Continuing Education program while keeping all college-credit classes tuition-free (which lasted until fall 1984 when the District began charging $5 per unit, capped at $50 per semester).
Garland P. Peed succeeded Parnell as chancellor in 1976 and would serve until 1988. Faced with the loss of property tax revenue, Peed held meetings with District employees to discuss budget cuts, but stressed that educational programs would be kept intact and the SDCCD would retain all regular employees while placing a hiring freeze for new employees.
The meetings resulted in employee suggestions for trimming the budget, including reducing the number of hours of certain courses to the state minimum, combining nursing programs, and standardizing diploma covers, which they estimated would save $400,000.
At an August meeting in 1978, Peed said the District's future was not bright and rosy, but also not bleak because it had kept most programs intact and had not lost a single regular employee.
Each new decade brought new challenges.
Among the accomplishments he is most proud of, as a trustee Colby said he worked to get better benefits for adjunct faculty members and talked with Chancellor Gallego about freezing the budget in anticipation of state funding cuts he saw coming in 1992.
"We saved like $25 million, and we made a commitment that we weren't going to be laying off staff, and we honored that," he said.
At the start of the new millennium, enrollment fee increases — from $11 per unit in 2003 to $46 per unit in 2012 — were implemented throughout the California Community Colleges system.
Following the Great Recession, in September 2009, students joined faculty, classified professionals, and administrators to rally against fee increases and class elimination due to state budget cuts. Under the direction of Chancellor Constance M. Carroll, a hiring freeze was implemented and layoffs were avoided.
In 2018, funding for California community colleges was changed from being based on total headcount to incorporate student-centered funding formulas based on certain benchmark criteria of student success. Just as the District was adjusting to this new formula, the worldwide COVID-19 pandemic struck, bringing with it a host of new challenges that the District is diligently still working to address.
No matter the challenge, the SDCCD has persisted — putting student success at the forefront of the decision-making process.
Embracing Change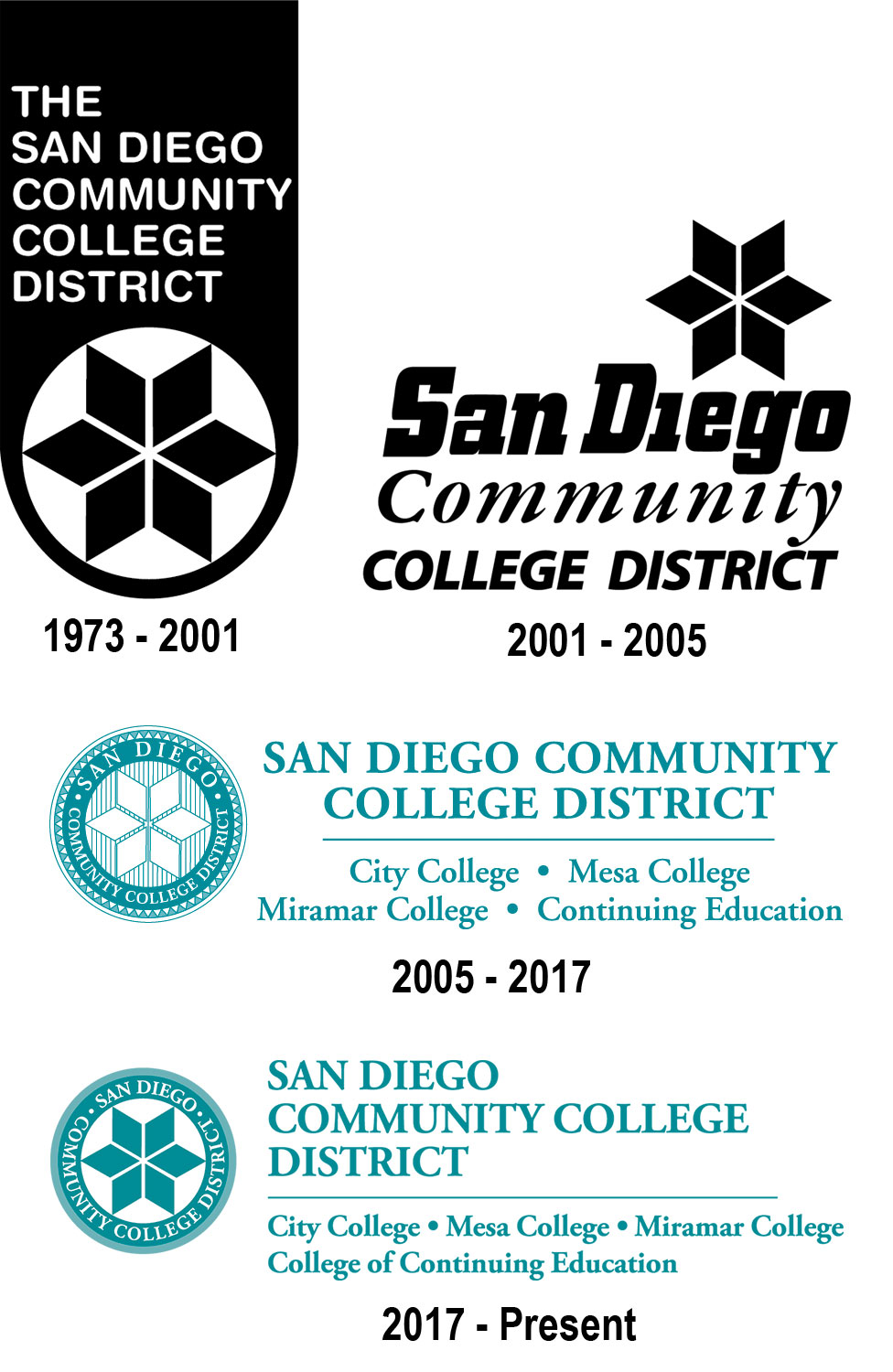 The 1980s, known as the educational reform era, saw the District face new challenges, grow larger, and undergo more transformation, but its mission of serving students and expanding opportunities remained constant.
Gerald Ramsey arrived at the SDCCD in 1984 as director of Student Financial Aid and Extended Opportunity and Programs & Services, and immediately began to have second thoughts.
"My office was on the corner of B and 14th streets," he said. "I went there, and I had no windows. I went through some of the budget stuff and went home and told my wife, 'I don't know if I made a mistake in coming here. These people have no resources. They have no money.'
"I quickly learned that anybody could be an impact player," he said. "When you raised your voice, it was acknowledged that your input was taken seriously. And that got better and better over the years until it became the culture of the District."
Ramsey worked in a variety of jobs at City College for almost 28 years, spent six years at San Diego Miramar College, and has been chair of the San Diego City College Foundation since 2020.
"I got a chance to see lots of stuff," he said. "I was there a long time."
Ramsey said he also saw the District embrace new technology.
"I'm old enough and had been there long enough to see a period of time when computers were a luxury and not something that everyone had," he said. "The District embraced that technology pretty early on and developed an in-house system for managing services and programs, in particular student records and registration."
Longtime College of Continuing Education instructor Kozminska, who was a community college student in the 1970s, also recalled the days before computers.
"When I first took City College classes, I had to go to the gym, and they had these punch cards and you'd have go talk to one of the ladies and tell them what classes you wanted and they'd punch a card," she said. "It was very caveman."
Additionally, with the task of serving some 80,000 students, in 1987, the District transitioned from having a security agency to establishing its own California POST certified College Police Department, which is now the largest community college police department in the state of California with about 75 employees.
While Ramsey has many positive memories of the decades, he said there were some rough patches in the 1980s.
"Unfortunately, there was a period of time when, between 1984 and 1990, the Board was not very cohesive," he said. "But at the same time they got stuff done, and they were very supportive of the campus."
Mesa College alum Colby ran for the Board in 1988 after hearing some professors were upset with the then-current administration.
"When I joined, it had been a very Republican Board," said Colby, who was elected along with two other Democrats. "We opened things up. It was an interesting time. There were a lot of changes. We became much more aggressive as a Board with the state. We were quite progressive and encouraged re-evaluation of programs and encouraged new ones."
Colby said he also is proud that he helped prevent cuts to City College's radio station KSDS by convincing the administration not to look at it as an expense, but rather as free advertising to promote the District. The station continues to operate on the campus as channel 88.3 FM.
Bonds, Campus Growth, and the Role of Community Colleges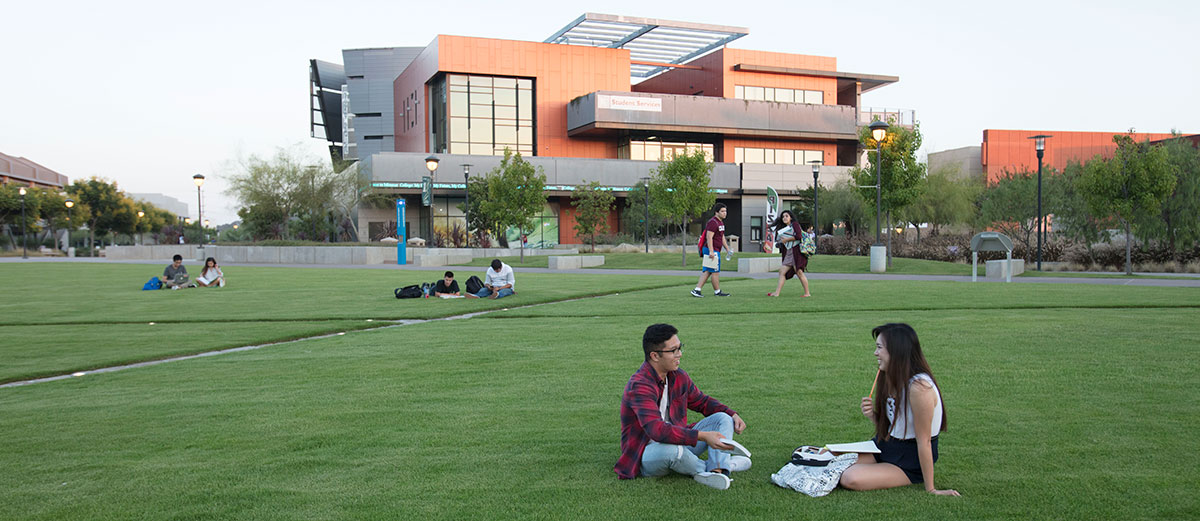 Gallego's tenure in the District from 1990 to 2004 saw the first major expansion of existing facilities with the passage of Proposition S, a $700 million bond measure passed in 2002.
Besides making renovations and repairs to aging college buildings, the bond also expanded facilities and programs at all campuses to prepare students for emerging jobs in technical fields.
Later, in 2006, under Chancellor Constance M. Carroll, voters passed Proposition N to add another $900 million in construction bonds, bringing the total to $1.6 billion to fund 43 new buildings in all.
And, with the physical transformation of campuses like Mesa and Miramar colleges, which were little more than bungalows before the bond construction ramped up, student enrollment also skyrocketed.
By 2009, the credit colleges saw their largest student population, serving 76,690 students, with an additional 70,227 enrolled at College of Continuing Education that year.
Besides the enrollment and facilities improvements throughout the District, Gallego said he also has seen the public perception of community colleges evolve over the years.
"Community colleges in general were not well-understood in terms of their function," he said, adding that the state's Master Plan for Higher Education clearly states its role.
Under the state plan, the University of California system is expected to select the top one-eighth of students from high school graduating classes, and the California State University system is expected to accept one-third of high school graduates.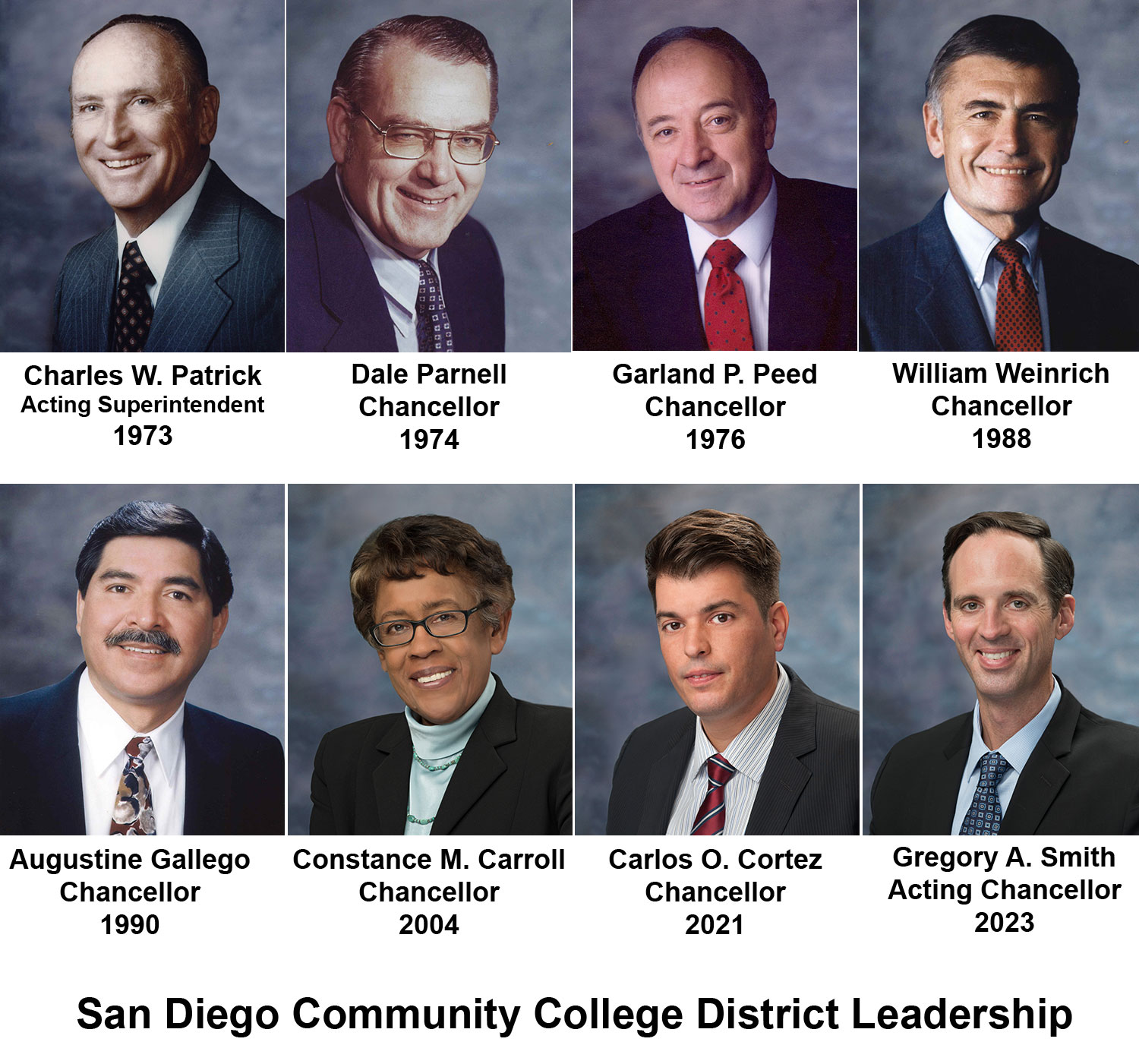 Gallego said the role of community colleges in the Master Plan, which is to admit any capable student, has caused some people to assume they are for students who could not get into universities. In reality, he said, many students eligible for CSU or UC schools choose community colleges because of their affordability, location, or other reasons.
"The community colleges have really evolved to become an important member of the higher-education community," he said.
SDCCD Board of Trustees President Maria Nieto Senour said some students may have a better educational experience at community colleges rather than universities.
"People assume students go to a community college because they don't have the right grades, but that's not necessarily the case at all," she said. "More people are realizing it is more economical. And at four-year schools you may be taught by graduate students and not faculty. In community colleges, they're taught by professors, by faculty of that discipline."
In another transformation that happened during Gallego's time as chancellor, the District formed partnerships with local industries to lead students into careers.
"We were many times contracted by the ship-building industry to provide training for welders," he said. "Also, computer-assisted programming for manufacturing. All of those technologies that began to emerge."
A recent study found the District had a $4.3 billion economic impact on the county in the 2021-22 fiscal year. Part of that impact came from SDCCD students who earned an associate degree, which increased their annual earnings by $9,900 more than if they had only a high school degree or GED. The net impact of students in the District generated about $3.6 billion in added income to the local economy.
Bachelor's Degrees and Promises
As it celebrates its 50th year, the SDCCD again has proven to be a trailblazer in serving student needs by becoming among the first community colleges in the state to offer bachelor's degrees.
The opportunity came with the 2014 passage of state Senate Bill 850, which allowed community colleges to provide a pilot program for baccalaureate degrees in certain fields with unmet needs within California.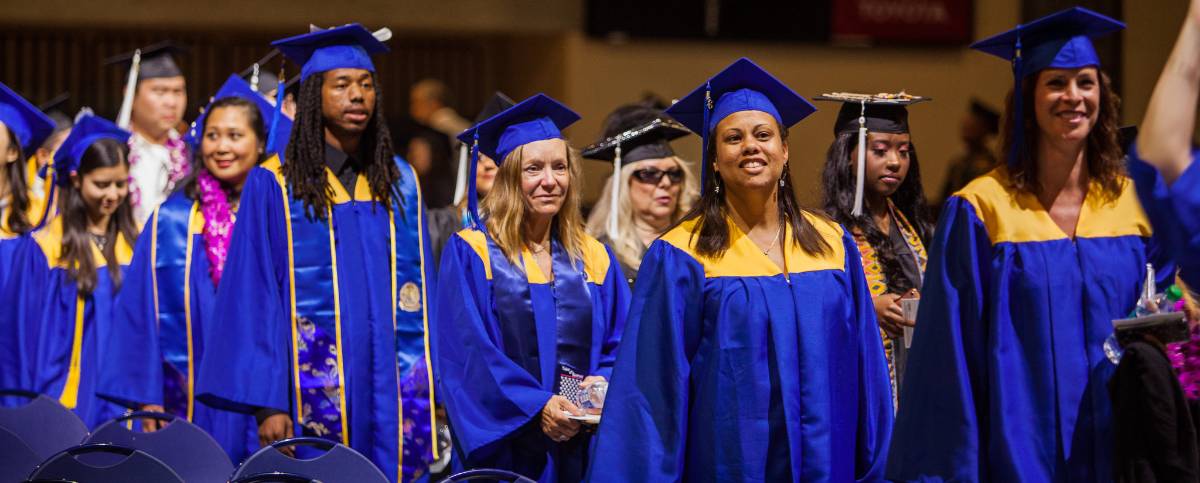 It was no coincidence that Mesa College was the first of 15 community colleges that would participate in the baccalaureate pilot program with its Health Information Management program. The bill was authored by Senator Marty Block, an SDCCD Trustee from 2000 to 2008 who served seven of those years as Board president. The chair of the statewide coalition that built support for the bill was Carroll, who also had served as president of Mesa College from 1993-2004.
"The California community college baccalaureate programs are all successful," Carroll said. "Graduation rates are close to 80%, and job placements are excellent, with 90% of students getting jobs within 90 days of graduation."
Carroll said the program has relieved the burden of college loan debts that can follow graduates for decades. The per-unit cost of the classes is higher than regular community classes and the total cost for earning a degree is $10,560, but Carroll said it is worth it.
Graduates with a Health Information Management degree earn $80,000 to $100,000 annually, or about $25,000 more than they would have without a bachelor's degree. Carroll said 51% of graduates from these programs acknowledged they would not have considered pursuing a bachelor's degree if one were not available at their community college.
Although retired from the SDCCD after serving from 2004 to 2021 as the longest tenured chancellor, Carroll continues to work to expand the baccalaureate program as the President and CEO of the California Community College Baccalaureate Association. Bachelor's degrees now are offered in 31 California community colleges, with City College launching a baccalaureate in Cyber Defense and Analysis in fall 2024. Miramar College also has applied for a baccalaureate program in public safety management.
Another successful District program that has helped remove barriers for many students wanting to go to college is the San Diego Promise, which also was created under Chancellor Carroll. The San Diego Promise has supported tens of thousands of students by providing two years of free education along with additional support services and textbook vouchers for qualified students, including those newly graduated from high school, former foster youths, veterans, formerly incarcerated people, undocumented people, and students previously enrolled at the College of Continuing Education.
The San Diego Promise continues to see gains in its enrollment, and this fall nearly 3,000 were admitted to the program, compared to 185 in the inaugural year of the program in 2016.
Civil Rights and a Commitment to Diversity, Equity, Inclusion, and Accessibility (DEIA)
Besides its increased emphasis on serving students, the newly formed SDCCD in the 1970s also became a trailblazer in supporting civil rights and creating greater diversity in its employees.
The SDCCD implemented an affirmative action plan in 1974, and an annual report the following year from the District Affirmative Action office showed overall employment for underrepresented communities had increased, although improvements still were needed in placing women in management positions.
The 1976 report showed employment of minorities continued to improve with the population increasing from 15% to 22% of the workforce. Of the District's 1,237 contracted employees at the time, 283 reported being from an underrepresented population. Work on employee diversity continued through the decades and, today, the District has grown to nearly 5,000 employees with 44% identifying with communities of color (12% were unknown or chose not to respond), and 55% female.
Reflecting back, Ramsey said he was impressed with the District's overall approach to diversity in hiring.
"It was organic," he said. "It wasn't something that we were mandated to do. But the District supported that kind of effort."
Lillian K. Beam, executive assistant to Chancellor Peed, worked with the local Chicano Federation and Black Federation to help create a job and people bank with names and qualifications of potential employees who would be contacted about job openings. Beam also worked with the Urban League, League of Women Voters, County Human Relations Department, National Organization of Women, the Pan Asian League, and other organizations.
Also, in those early years, the Educational Cultural Complex became a local landmark for civil rights and was recognized as a cultural center in southeastern San Diego, especially among the city's Black population.
The ECC's Common Ground Theatre is the nation's third-oldest African-American community theater and has hosted significant cultural events. The theater's 1979 production of The Sty of the Blind Pig starred Caryn Elaine Johnson, who later became better known as Whoopi Goldberg.
Additionally, San Diego's annual MLK Day Parade was launched by former College of Continuing Education President Robert Matthews and the Zeta Sigma Lambda Chapter, and welding students from the ECC help create a float that each year is a part of the SDCCD's contingency of participants.
Current Board President Senour was elected in 1990 as the first Latina Board member at the SDCCD, and she soon began to wonder how students of color were performing in the District, but couldn't find the data.
"People weren't really keeping track," she said. "I believe when they used to give us statistics about transfer rates, they didn't break it down by ethnicity, and I started asking for it."
Once the data was available, it revealed success rates for Black and Latino students were not as high as White or Asian students. That gap has decreased with the introduction of several initiatives.
Among those is the Puente Program, launched in the late 1990s to help educationally disadvantaged students by assigning English counselors to help them with their studies.
At City College, the Umoja Community helps Black and other historically underrepresented students prepare to transfer to four-year colleges. Students in the program take culturally relevant coursework and participate in activities focused on African-American culture, literature, and experiences.
The District also has introduced Hermanos Unidos Brothers United, a program focused on helping Latino and Black male students.
City, Mesa, and Miramar colleges are designated Hispanic-Serving Institutions, meaning each has an enrollment of at least 25% Hispanic students. The designation earned the schools almost $1.7 million in U.S. Department of Education grants to support the academic achievement of Latinx students.
Across the District, 44% of students in the honors program are Latinx, and the number of Latinx students who transferred to four-year schools increased 60% from the 2013-14 academic year to the 2017-18 academic year.
Today, the District operates a Campus Diversity Advisory Council with representatives from all colleges and the District Office to develop ways to advance diversity and cultural competency through campus events, training, and workshops.
Resources for DEIA programs are being championed by local political representatives, as well, with $3.4 million in funding coming from Representatives Sara Jacobs, Scott Peters, and Juan Vargas in 2022 to support and uplift LGBTQIA+, former foster youth, and undocumented students respectively through various centers at the colleges.
School Partnerships, Dual Enrollment, and Transfers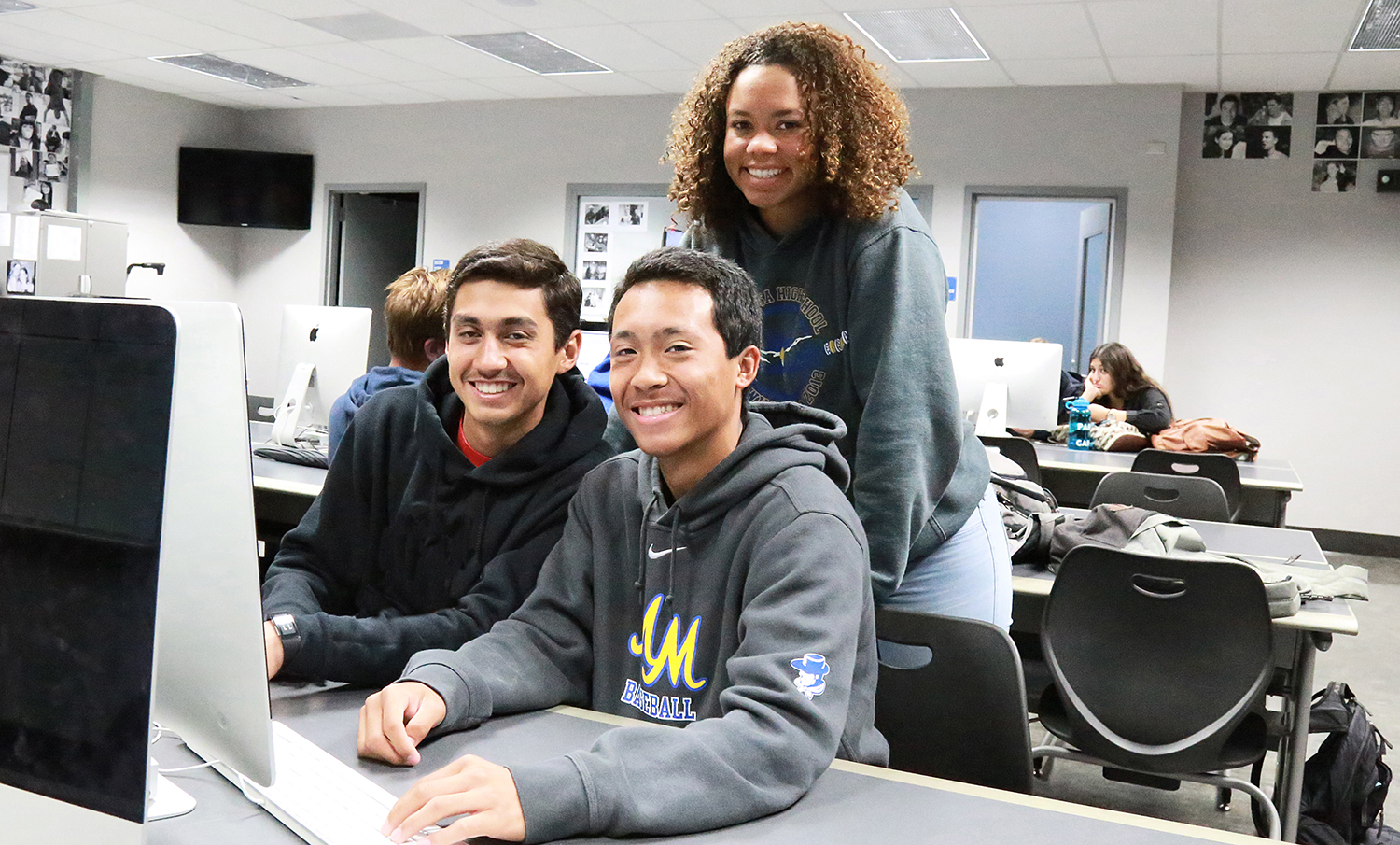 High schools, community colleges, and universities all play a role in education, but too often have operated in silos. Over the past few decades, the SDCCD has introduced multiple programs to bridge those gaps as a way to help students advance toward fulfilling careers.
Gallego said one such effort was created to overcome obstacles that prevented community college students from transferring to universities.
"There was never any formal, well-designed, enforceable policy that students could follow to allow them to transfer to CSU or UC with few barriers," Gallego said, adding that universities sometimes would want additional course requirements or deny credit for courses already taken by students.
"There were many students who did transfer, but they had to repeat some courses," he said.
The District found an ally in UC San Diego Chancellor Richard Atkinson, who worked with the SDCCD to create an agreement that spelled out transfer requirements to the university in 1987.
After Atkinson became president of the University of California in 1995, he worked to create a system-wide mechanism to improve the transfer process to all UC campuses following the model created in San Diego.
Additionally, a guaranteed transfer pathway was established with San Diego State University.
The District continued to improve upon existing relations and forge new partnerships with other institutions under Chancellor Carroll.
In 2016, the Andrew W. Mellon Foundation awarded a grant of $2.95 million to establish the PATH (Preparing Accomplished Transfers to the Humanities) partnership between UC San Diego and the SDCCD to build a successful pipeline of successful humanities students into becoming future holders of Ph.Ds.
Within a few years of Carroll becoming chancellor, the SDCCD Board began holding annual joint meetings with the San Diego Unified School District Board of Trustees, a practice that continues today.
"The two boards meet together to assess their process, to assess goals, and to make sure the two organizations work close together," Carroll said. "It's a model for other community colleges in the state. Now, many more are doing it, but at the time it was fairly unique to our two districts."
That cooperation created a dual enrollment program that allows students to take classes at their high school that count toward college credit, with nearly 4,000 currently participating today. Under the similar concurrent enrollment program, high school students can earn college credit while taking courses at a community college.
"It's an opportunity for students to get a feel of what college is like, to get a feel for the rigor and the curriculum," said Sonny Nguyen, dean of enrollment services at Miramar College. "It builds their confidence, so they will say, 'I can go to college.' "
The Future Looks Bright
The SDCCD's commitment to students, remaining on the cutting edge of technology and with state-of-the-art facilities and equipment, maintaining financial health, and promoting institutional resiliency continue to be pillars of its success. The District recently adopted a new strategic plan, which outlines its goals and objectives through 2030.
Over the past three years, 10 members of the 13-person Chancellor's Cabinet were hired, bringing with them new ideas to drive progress and change across the District. Among the positions were newly created vice chancellor roles overseeing Development and Entrepreneurship and Institutional Innovation and Effectiveness.
The fall semester started with the adoption of the District's first $1 billion budget, which includes an unrestricted general fund reserve that has grown from 2.2% in 2017-18 to over 16% in the 2023-24 budget.
Additionally, enrollment, which slipped to under 70,000 districtwide during the pandemic, is rebounding, with the credit colleges seeing a 13% increase this year and College of Continuing Education 12%.