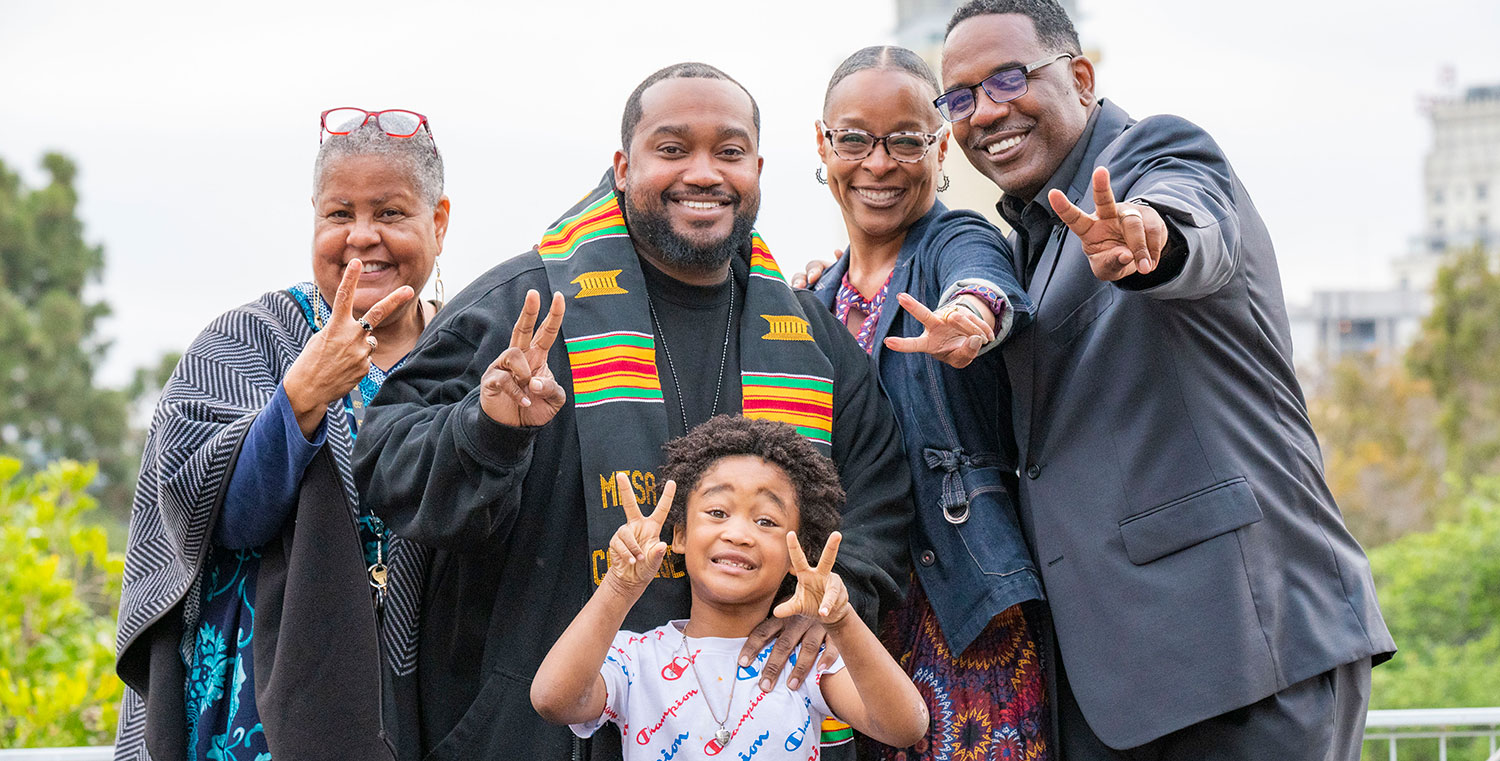 Finding family at Mesa College
September 7, 2023

|
They may have been there to celebrate commencement, but as George Buchanan Jr. stepped up to the podium on May 26, the audience of graduates on the field and countless friends and family members in the stands of Merrill Douglas Stadium broke into a revelrous rendition of "Happy Birthday." The spirited singing was a clear indicator of Buchanan's commitment to his fellow classmates and his own education, as well as the impact the single father ― who turned 35 ― had on campus while attending San Diego Mesa College.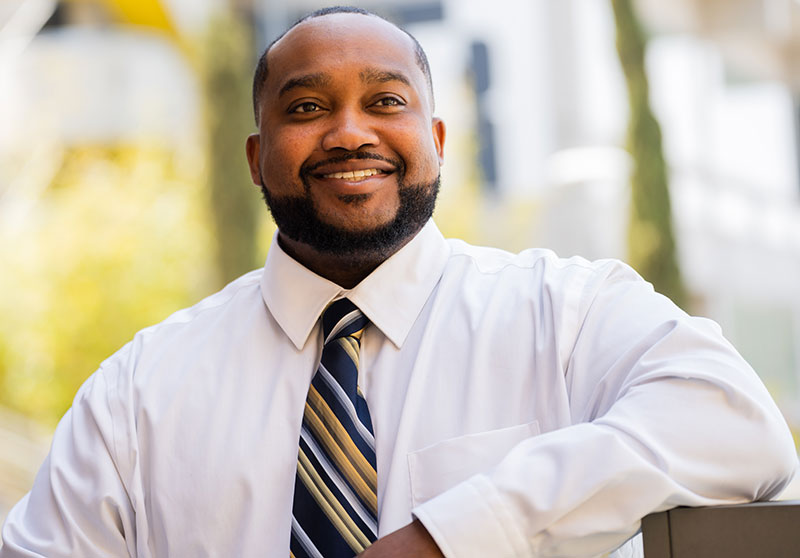 "George personifies everything that it means to be a student at Mesa College – to excel, to become a scholar, to be present, to be a role model to others," said Vice President of Instruction Isabel O'Connor as she introduced the commencement speaker.
Buchanan, who graduated with honors with associate degrees in psychology and black studies, and an associate degree for transfer in communications, started his Mesa College journey in summer 2019 and was an active participant with Student Veterans and in the Honors and Psychology clubs. As a single father, Buchanan praised the college's Child Development Center, saying without their help he never would have enrolled in college due to his need for childcare.
Returning to school as an adult was fraught with obstacles and loss. In November 2022, Buchanan lost his mother who espoused upon him that school was the place he belonged. But, he said, "Mesa taught me my family was here on campus," and he persisted.
We recently talked with Buchanan about his journey, how he hopes to inspire his son, and what the future holds after Mesa College.
For those parents and/or adults looking to go back to school, what advice do you have about pursuing a degree or learning new job skills later in life?
Do it. Going back to school affords a new opportunity for change in your life, especially with what's going on in the world today. Parents are having to work like two jobs, even in houses with two parents. For a parent to have the opportunity to not only better themselves, but better their careers as in — let's get serious — higher pay in something they really enjoy. And, it also gives their children firsthand knowledge of what road to get on. It'll be tough, just like other new things in life, but this is a challenge that's worth completing.
In what ways did you step up to motivate your peers while attending Mesa College?
By being myself. We never know who's watching us, whether it's professors, deans, or, primarily, other students. We never know who's going through some of the same problems in life, in class, etc. There are people sharing the same issues who look up to others for some type of guidance. I would encourage others to check out certain resources when they were struggling with either food, homework, or just a mental state of mind — all that stuff is available on campus. I was just trying to do better for myself and if I saw someone struggling with the same things I was struggling with, that's really where I tried to help others out. Something that I stand by is that stories in life repeat themselves every day, but we're just different authors. We're going through the same things, but we're just doing them at different times. Once you do something and you're coming out of the fire, help somebody else out.
What did it mean to you to be honored with the 2023 Mesa College President's Award for Academic Excellence?
It goes far back to when I was doing poorly in high school; I never thought of myself as being great in academics. I felt like you either had to be smart already and it comes with you, or you aren't. Coming to Mesa College I knew that I had a fresh start. I applied myself and focused this time around. I learned that it's not about having it already; it's simply about applying yourself and, for those things you don't understand, you ask for help to understand it. For someone to recognize me and my academics as being 3.7 GPA, and for someone to pay attention to me, I was over the top happy, very proud, and I maybe even teared up a little bit. This says "President's Award" — the president is looking at me — so it made me proud of all the hard work, the late nights, the tutor sessions, the emails back and forth with professors, the Writing Center. I got it not by aiming to get it, but by doing the hard work I was supposed to do.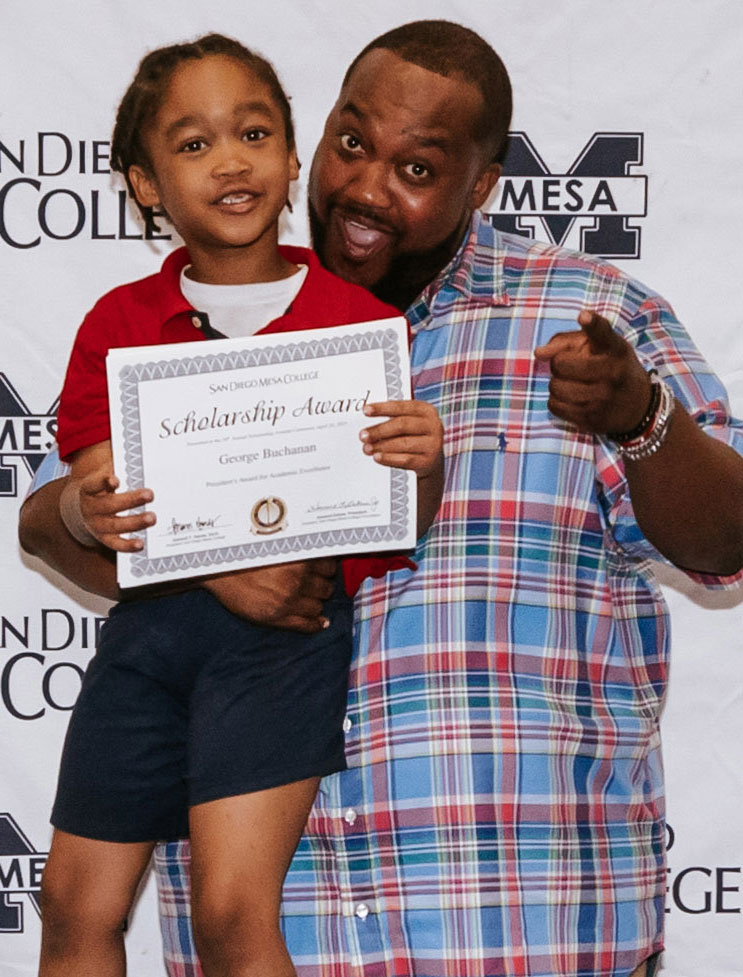 Who had the biggest impact on your journey at Mesa College?
It sounds corny, but I would say my son and myself. Every morning I had to get up, I would drop off my son at the Child Development Center and he'd ask, "are you going to school too? Are you going to school so you can be smart and so we can have a good life?" And, on those tough days when I thought about leaving class, I would remember what he said. To a certain point they don't know what they're asking, but the impact he had on me really made such a difference. At the same time, you have to be your biggest cheerleader. It's important to do it for yourself first.
What memory of your time at Mesa College will you continue to carry with you, always?
The commencement. Being chosen for commencement speaker I was happy about it, but walking out to the football field a couple days before seeing the chairs and stage and imagining the crowd in the stands it really hit me. To sit on the stage with people with doctorates and master's degrees, I never thought I'd be doing something like this. But also, when my mother passed away, I received the news when I parked on campus. I didn't know exactly what to do, how to walk; I didn't know how to do anything. There was a staff member on campus, I think from facilities, and when she saw something was wrong, she held my hand and my son's hand, and we made our way to the Child Development Center. Miss Ida (Cross) got in contact with some professors and administrators and the school helped me get home to Columbus, Georgia, and helped me bury my mother. Even though it was a sad moment, I've never witnessed someone being helped like that by a school. Everything was funded and provided for to get there and get back. It felt like a family that I didn't have before that helped me in a very tough situation. It felt like home. They continue to check on me even after.
You said in your commencement speech, "graduation is the start of the next chapter." What will be written in the next chapter of your story?
Whatever God's got written up. When I first went to Mesa College, I was trying to get into the rad tech (radiologic technology) program. After a tough military career, I thought I'd get into the medical field and take some pictures of some bones, be in the A/C – I'd be alright. That was not what was written for me. It's a lottery program and my name did not get drawn. So, I thought "what do I do next?" People talk to me a lot about their issues and problems, but I'm not a certified therapist. So, I thought maybe that's what I want to do. I like helping people get out of an obstacle they can't shake or get out of. I'll be getting my bachelor's degree from San Diego State, then on top of that getting my master's degree and becoming a pre-marital, marital, and post-marital marriage family therapist.
In what ways do you hope your journey will inspire your son?
I would like him to know that every door you knock on will not open. Every road that you get on will have a detour, eventually, there's no straight path in life. It doesn't matter if you have silver spoon in your mouth there's still no straight path. So, what I would like for him to understand is to accept the challenge and to know that no human being on this earth can get through life by themselves. And the biggest thing is don't give up, especially when it comes to academics and things you're trying to achieve that are good for you. If you give up and realize how close you were to the finish line, that'll hurt.