Four SDCCD students named as semifinalists for national scholarship
June 6, 2023

|
Two San Diego City College students and two students from San Diego Miramar College were selected as semifinalists for the prestigious Jack Kent Cooke Transfer Scholarship Award, a prestigious competition with more than 1,700 applications from community college students across the country.
The students, Kimberly Kritzer and Julio Cedillo from City College and Calvin Hill and Michael Raska from Miramar College, were among 459 semifinalists who were chosen because of their exceptional academic ability, leadership, service, and a determination to complete their bachelor's degree at a four-year institution.
The Cooke Transfer Scholarship is designed to create a clear pathway to a four-year degree by offering up to $55,000 a year along with academic advising and access to a network of peers. They will also have access to opportunities for internships, study abroad, graduate school funding, and a connection to a network of more than 3,000 fellow Cooke scholar and alumni.
San Diego Community College District students who were selected include: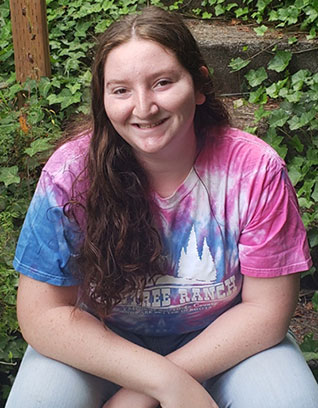 Kimberly Kritzer
Kimberly Kritzer graduated from City College in May earning associate degrees in social work, psychology, and liberal arts and sciences. She will be transferring to San Diego State University, where she will be pursuing a bachelor's degree and master's degree in social work. Her career goal to become a social worker at a nonprofit agency assisting the economically disadvantaged stems from her family's financial struggles when she was growing up. Kritzer lived with her father, who died just as she was about to graduate from high school. She reconnected with her mother, who died by suicide last August. Kritzer, who has a 4.0 GPA, said her father's death motivated her to earn her degree. "It lit something inside of me even more," she said. "I wanted to cross the graduation stage, not only for me, but for him."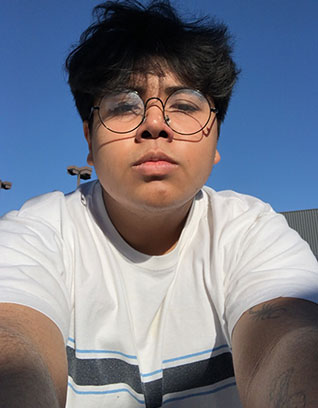 Julio Cedillo
Julio Cedillo graduated from City College this spring with three associate degrees in sociology, Chicano studies, and liberal arts and sciences. He will be transferring to a university, where he plans to pursue a bachelor's degree and ultimately a Ph.D. so that he can become a university professor in sociology. He attended Coronado High School and originally planned to go to a university, but financial challenges led him to City College. He took a sociology class and became passionate about the field. While at City College Cedillo was vice president of the Visionary Feminist Club, co-vice-chair of Mencha, and social media co-chair of an honor society for community college students studying psychology. "I'm honestly really glad I stuck with City College," Cedillo said. "The support is astonishing."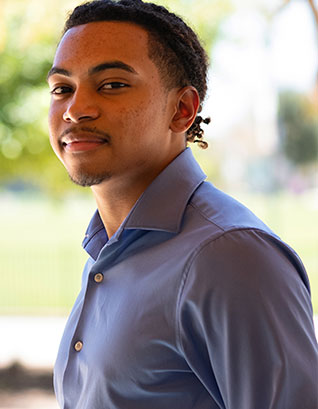 Calvin Hill
Calvin Hill is a 2021 graduate of Del Norte High School and a second-year student studying economics at Miramar College. Hill is part of the San Diego Community College District's Pathway Program and was accepted to UC San Diego, where he will study Economics. Hill is also completing an associate degree for transfer, and with it, acceptance into San Diego State University. The first-generation college student is the oldest of three children born to a single mother. Hill describes himself as a role model to his two younger twin siblings. "I wanted to show my siblings that they can do anything in education," said Hill, who recently paused his work career to finish his studies and the results were straight A's.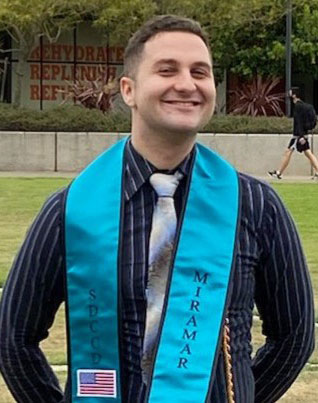 Michael Raska
Michael Raska graduated from Miramar College in May 2022. Raska received his associate degree for transfer in history. While at Miramar College, he achieved a 3.9 grade point average. He has been accepted to San Diego State University, where he will pursue a bachelor's degree in military history starting this fall. Raska calls himself "a real life Jimmy the Jet" after serving in the United States Navy as an aviation structural hydraulics mechanic and plane captain airman in Strike Fighter Squadron 22. He routinely helped launch air strikes off the deck of the USS Carl Vinson on terrorist targets in Syria and Iraq from 2013 to 2015. He trained for combat at the Navy's Top Gun Flight School.