SDCCD raises flag in honor of Juneteenth
June 15, 2023

|
June 15, 2023 is a historic day for the San Diego Community College District, City College, Mesa College, Miramar College, and the College of Continuing Education. Across our colleges and district facilities, for the first time, we are raising the Juneteenth flag as part of our observance of the Juneteenth holiday on Monday, June 19th.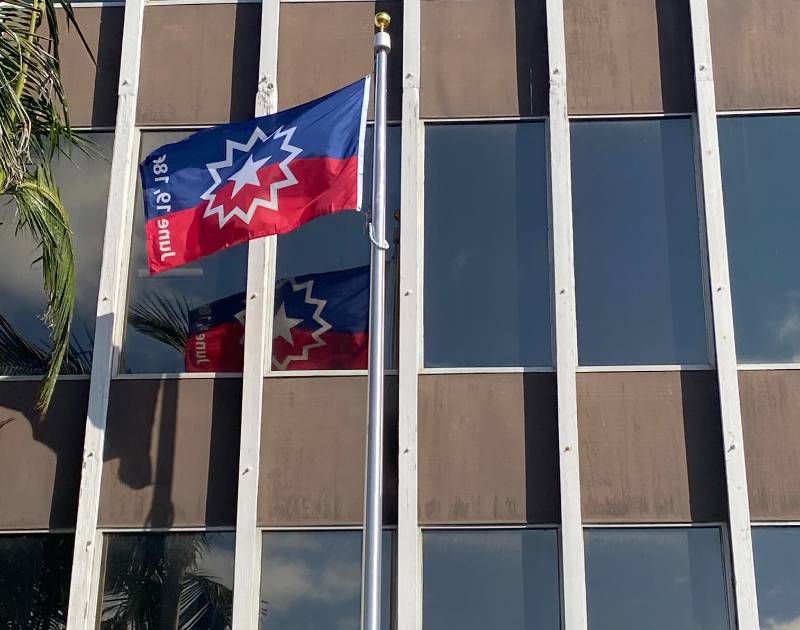 Juneteenth was first recognized as a holiday by our District in June, 2021. On June 18, 2021, President Biden issued a proclamation declaring Juneteenth as a federal holiday and Chancellor Emerita Carroll and our Board of Trustees took immediate action to recognize Juneteenth as a District holiday. Last year, Assembly Bill 1665 formally designated Juneteenth as a state holiday in California. While we had little time to properly recognize the holiday in 2021 and COVID-19 disruptions impacted our ability to hold events last year, this year, each of our colleges are hosting events to appropriately honor this important day of remembrance and recognition.
Raising the Juneteenth flag is a critical public statement of our values and recognition of the racial injustices which have and continue to be levied on Black communities around the world. The flag combines the colors of the American flag – red, white, and blue – with a central five-point star. Incorporating the colors of the American flag celebrates a key moment in the emancipation of enslaved people in the United States. The five-point star at the center symbolizes the state of Texas, where the last group of people held in slavery under the enforcement of the Confederate army were freed. The larger multi-point star places this special moment in history within the broader context of the struggle for freedom and human rights which persists to today. The date, June 19, 1865, memorializes the date the Union army permanently ended the military enforcement of slavery in America by the Confederate army.
Juneteenth is an important commemoration of liberty and independence, as vital as July 4th and Día de la Independencia in our social identity and consciousness. On Juneteenth we acknowledge the appalling history of enslavement, systemic racism, oppression, and violence against Black individuals and communities in our country. We acknowledge racism, oppression, and violence against Black individuals and communities continues across our nation today. We acknowledge our public education systems continue to marginalize, underserve, and underinvest in Black students, faculty, employees, and communities. We acknowledge individual actions of our political leaders, administrators, faculty, employees, and community members perpetuate and sustain anti-Blackness across our country.
On Juneteenth we celebrate the resilience, strength, and persistence of our Black communities in the struggle for equity and justice. We celebrate the sacrifices and victories those who came before us – the abolitionists, survivors, advocates, and allies – and made today better than yesterday so we can make tomorrow better than today. We celebrate our Black students, faculty, employees, and communities who demand to belong, to be empowered, and to experience true equity in all aspects of their personal, academic, professional, and social lives.
On Monday, June 19th, our District will close to honor and commemorate Juneteenth. We encourage everyone to observe Juneteenth as a time to better understand the history of racial oppression and violence against Black communities and how we can advance racial equity and justice today.