Legendary volleyball coach John Landicho retires
November 6, 2023

|
San Diego Miramar College men's volleyball Head Coach John Landicho, the only head coach the program has had since its inception in 2015, announced his retirement at the end of the 2023 season.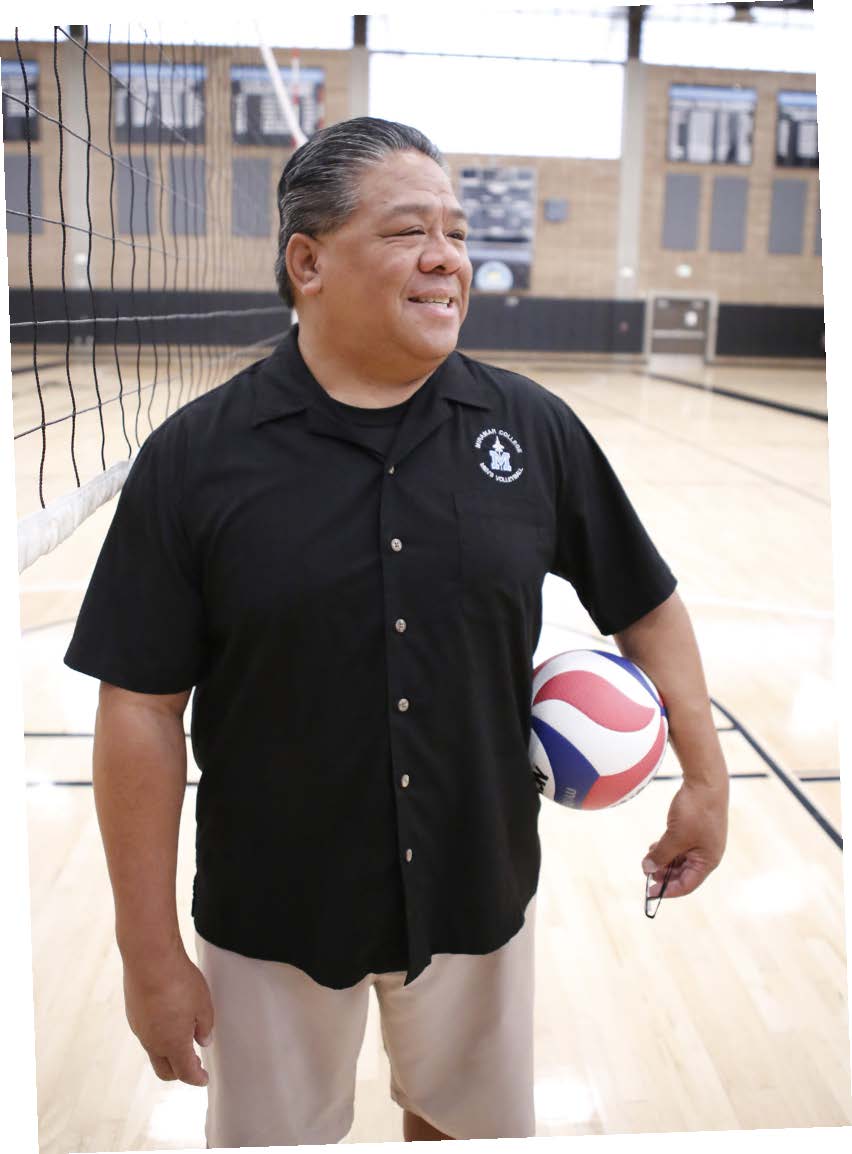 A veteran of 31 years in the sport, Landicho was hired by Miramar College in 2014 to de­velop men's and women's volleyball programs. Men's volleyball competed for the first time in 2015, with women's indoor volleyball follow­ing in 2018 and the accompanying women's beach program took to the sand in spring 2023. In its first nine years, the Jets men's program produced four Pacific Coast Athletic Conference championships and five state Top 10 rankings, while placing 16 student-athletes into four-year university volleyball programs.
Landicho was honored as the 2017, 2018, 2022, and 2023 PCAC men's volleyball Coach of the Year. He also served as Jets women's indoor volleyball head coach during the 2022 season. Throughout his tenure in the Miramar College athletics program, Landicho was instrumental in the development of all three volleyball programs, as well as the con­struction of Miramar College's new four-court sand volleyball complex.
"For 30-plus years I've tried to develop dynamic young men and women through championship-level volleyball," said Landi­cho. "While those seasons didn't all produce championships, it did produce better human beings, and there can be no better outcome from intercollegiate athletics. That I've been able to experience a ridiculous amount of winning is also a byproduct of our program and is a testament to our players under­standing, embracing, and flourishing in our process."
Landicho will remain active in the sport as the president of the California Community College Men's Volleyball Coaches Association (CCCMVCA).
Before arriving at Miramar College, Landi­cho spent five years as head coach of the men's volleyball program at San Diego Mesa College, where he was also an assistant with the women's volleyball program, helping the Lady Olympians to a PCAC championship in 2011.
Landicho is well-known in the San Diego volleyball community for his time coaching the volleyball program at Francis Parker School, where he was the girls head coach for two seasons (2012 and 2013). In his 25 seasons at Francis Parker, he helped Lanc­er volleyball teams to 53 championships, including 17 California Interscholastic Fed­eration-SD Championships, seven Southern California regional titles, girls CIF State Championships in 1998, 2004, 2005, 2012, and 2013, and four season-ending No. 1 rank­ings in San Diego County. Landicho's efforts as girl's head coach resulted in a 64-7 record and the school's seventh and eighth Cali­fornia State Championships, and he earned Coach of the Year honors from both the CIF-San Diego Section and the High School Sports Association of San Diego County. He is a three-time inductee into the Francis Parker Athletics Hall of Fame.
Continuing his long list of accomplishments, Landicho was also an assistant coach and tech­nical coordinator for the 2007 UC San Diego men's volleyball team. He was also active in the USA Volleyball High Performance program from 2001-2020, with his last assignment be­ing part of the 2020 Men's Junior A1 National Team Training Program.
Additionally, Landicho is a professor in the department of Exercise and Nutritional Sciences at Miramar College, a position he'll continue in through December 2023.
In May it was announced that Miramar College men's volleyball Assistant Coach Gino Gamboa was elevated to the head coach position.