Spring 2023 issue of WE magazine available online
June 6, 2023

|
In the latest edition of With Excellence magazine, follow along with the progress of the District's strategic plan. A strategic plan "board game" in the opening pages of the magazine helps illustrate some of the important ways the District is moving toward its goal of providing students with an equitable and inclusive learning environment.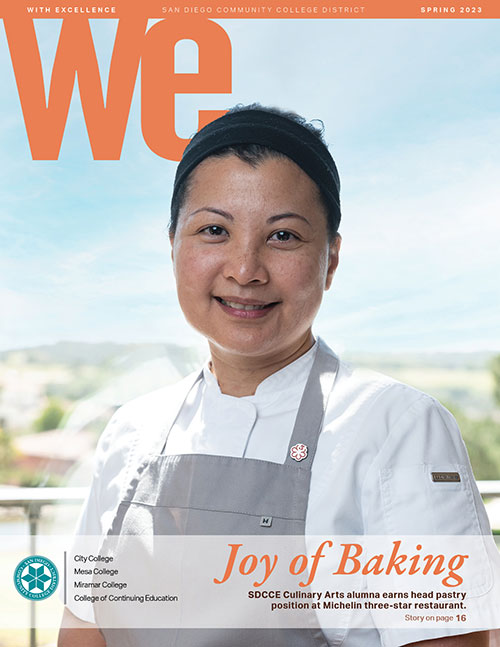 Here's what else can be found within the pages of the spring 2023 edition:
Joy of Baking: Thanks to the skills she honed while enrolled in the culinary arts program at San Diego College of Continuing Education, Sarah Ramos went from monotonous days working in human resources to crafting delectable desserts in the kitchen of three Michelin star restaurant Addison in Del Mar.
Ensuring Access: Disability Support Programs and Services offerings throughout the San Diego Community College District are driven with one concept in mind: Disability is seen "as a vital dimension of diversity, and that it is a natural part of the human condition." The programs and services offered to students continue to evolve to make sure access to education is within reach.
Creating Pathways to College Credit: Partnership between San Diego Unified School District and the SDCCD provides students various avenues to earn college credit before graduating high school.
Also in the spring 2023 WE magazine:
· Student Trustees Take Flight for Advocacy
· Alphonso Brown is Connected to College of Continuing Education
· Honoring Martin Luther King, Jr. - Watch the Video - See the Photo Gallery
· City College Graphic Design Program Ranked Top in the World
· District Secures $3.4 million in Federal Funding
· Raise a Glass for Mesa College Alum
· Beach Volleyball Arrives at Miramar College
· Fighting Hunger at the City College Knights' Table
· Mesa College Football Players, Coaches, and Alumni Shine Light on Excellence
· Miramar College Discover Series Outreach Events Popular with High School Students
· Where Kids Come First at College of Continuing Education
The District Communications and Public Relations team would like to hear your thoughts on the WE magazine and how we can improve. We would appreciate you taking a few moments to complete a reader survey based on this and previous publications of the magazine. Responses are annonymous, and upon completion of the survey you can opt in to a drawing for one of two $100 Amazon gift cards. Take the survey here.