Acquired Brain Injury program to participate in Survive Headstrong Walk
March 6, 2023

|
March is Brain Injury Awareness Month, and each year the San Diego Brain Injury Foundation (SDBIF) brings the local community of survivors and their loved ones together to celebrate with its Survive Headstrong Walk. Now in its 16th year, the 2023 walk will take place from 8 a.m. to 1 p.m. on Saturday, March 18 at Mission Bay Park's De Anza Cove. Representing San Diego Community College District at the event is San Diego College of Continuing Education's Acquired Brain Injury (ABI) Program.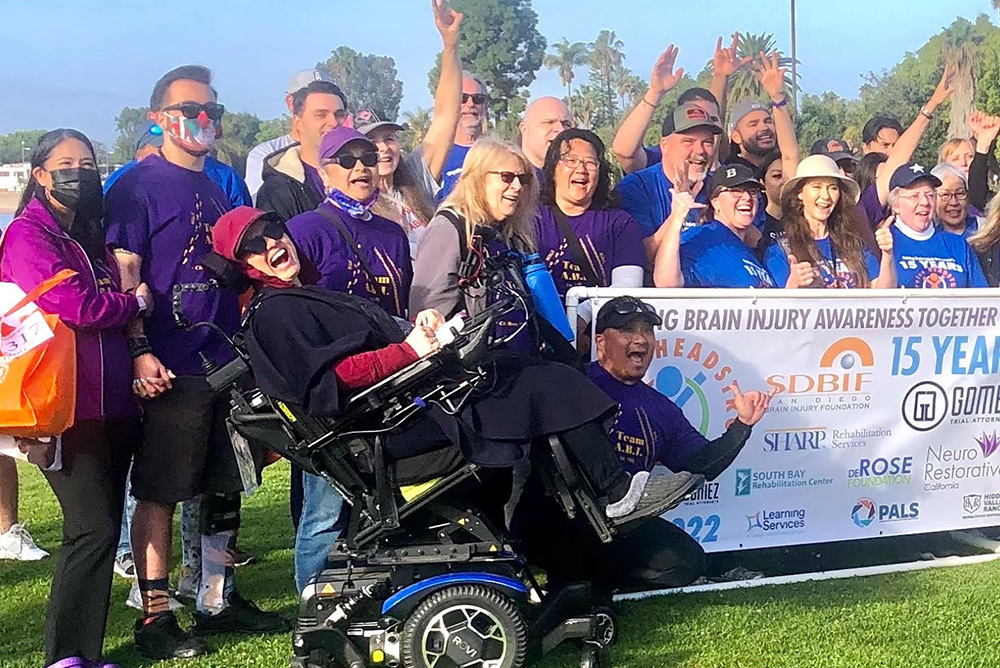 To celebrate Brain Injury Month and raise awareness for this event, SDCCD's Disability Support Programs and Services (DSPS) is delighted to lift up the survivors and staff who work to make the ABI Program one of the most unique offerings of its kind. Scroll on to learn about the program's evolution and commitment to the brain injury community of San Diego.
A Continuum of Care
Speech-language pathologist Heike Kessler-Heiberg, who serves as ABI Program coordinator and Associate Professor, spoke to DSPS about the program's services and curriculum.
"There are no other Continuing Education ABI programs that we know of in the country where the classes are designed exclusively for brain injury survivors," she said.
Formed in the early 1980s, the ABI Program has evolved from a small social group into a comprehensive cognitive retraining program that offers non-credit, non-fee, open entry and exit courses that are designed specifically for brain injury survivors. Led by instructors with brain injury-specific expertise in fields such as speech language pathology, rehabilitation counseling, and recreation therapy, the program provides a continuum of care for those learning how to manage life after surviving a brain injury.
Join the Survive Headstrong Walk
"Survivors with more severe injuries go from the emergency room and ICU through inpatient to outpatient day treatment programs. And then finally people get discharged. There's no more insurance coverage…then where do they go for the rest of their lives? Most of the time they can't return to their previous profession, even after very mild injuries. So, the District is offering something quite unique," said Kessler-Heiberg.
In order to accommodate various schedules and learning paces, the ABI Program is divided into four subsections. The largest of those, dubbed the Afternoon Program, enrolls about 140 new and returning students per semester. Medically stable survivors from every age group, with varying levels of disability, from every socioeconomic background are represented in an array of customized classes that focus on topics like brain anatomy, time and stress management, adaptive yoga and exercise, advocacy, memory and speech strategies, and more. There is even a book club course, solely featuring works written by brain injury survivors. (This semester's book is Healing into Possibility by Alison Bonds Shapiro).
The other three programs include ABI-Morning, a smaller Monday-Friday program with different topical emphasis each day, ABI-ECC, an afternoon that focuses more intensely on speech/language issues, and a Wednesday Night Cognitive Retraining class which is student-driven and is more convenient for survivors who work during the day or have other schedule conflicts.
Since the pandemic, all courses are now offered via Zoom, which has helped reduce barriers for participants who may be immunocompromised or have limited mobility and/or access to transportation.
While Kessler-Heiberg laments the ability to connect with students in the physical classroom, she takes pride in "the fact that we were able to quickly switch to online classes and get everybody on board and that it's worked this well."
On-campus opportunities aren't completely off the table, however, as ABI Program staff members are currently devising a plan for Afternoon Program participants to periodically meet for in-person classes on a rotating basis.
Improved Quality of Life
Kessler-Heiberg noted that while participants enter the ABI Program with varying goals (such as finding community support, developing life and social skills, pursuing higher education, and/or obtaining employment), program staff focuses on one priority: improving the quality of life for every survivor.
"That's what we're most interested in," she said.
The best way, of course, to measure the impact of the ABI Program is to lift up the individual perspectives of several of its participants:
In 2009, Jessica Ramos-Bahena was in a car accident caused by a drunk driver that required her to relearn how to walk, talk, and think. She credits the ABI Program with helping her "learn how to live and communicate on a daily basis with people." Ramos-Bahena now holds an associate's degree from SD Mesa College and a bachelor's from San Diego State University and currently works at the CE's Educational Cultural Complex, with future goals of bringing her journey full circle as an ABI program instructor. Read Jessica's Alumni at Work feature.
In 2016, Lauren Furey was in her junior year at University of New Mexico when she was diagnosed with an anoxic brain injury with anterograde amnesia. After being discharged from the hospital, Furey discovered the ABI Program via an online search and commuted to San Diego for a couple semesters before permanently relocating.
"SDCCE's ABI program is everything to me, it changed my life," said Furey. "The absence of tuition…plays a crucial role in comforting my family. There is nothing else like it anywhere else." Learn more about Lauren's story.
Mario Sanders, who suffered a severe traumatic brain injury in a 2016 motor vehicle accident, found the ABI Program through his Marine Corps' Wounded Warrior Battalion case manager after a six month hospitalization. Within the program, he gained confidence and found the support he needed to continue his academic journey.
"I'm now attending credit courses at Miramar," said Sanders. "Something I never thought I would have done."
Phoenix Rising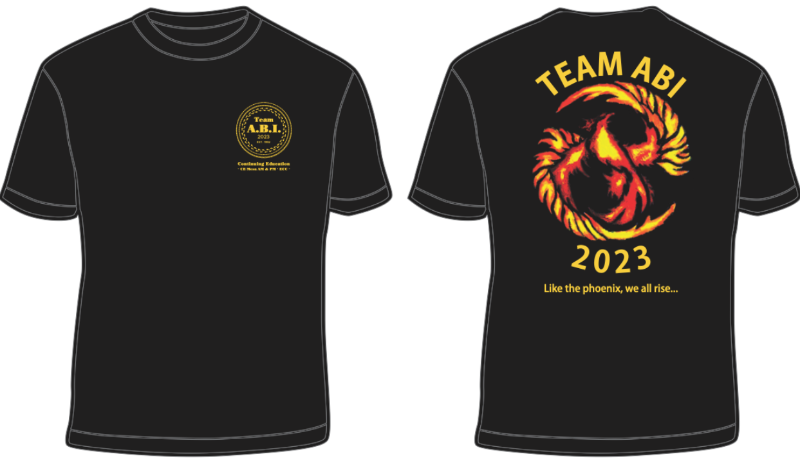 The ABI Program is able to offer complimentary services thanks in part to its participation in SDBIF's annual SurviveHeadstrong Walk. Since the event's inception, "Team ABI" has raised over $270,000, and this year's team is already on track to their goal of $15,000! As a top fundraiser, a portion of donations are directed back into the program's ABI Trust Fund to be used for scholarships, books, field trips, guest speakers, and more.
According to Kessler-Heiberg, each year's team T-shirt depicts a Phoenix Rising and is stylized by members of the program's Peer Support class. This year's graphic was designed by student Ryan Olson.
In addition to the annual walk, Heike Kessler-Heiberg explained, SDBIF offers a wealth of resources for the local brain injury community. Survivors can visit their website for a directory of local services, support groups, reading materials, educational presentations, and advocacy opportunities. SDBIF also owns and operates Howard House, a 24-hour long and short term Adult Residential Facility (ARF) exclusively for brain injury survivors, ages 18-60 years old.
"I always joke with the students, if you're going to have a brain injury, have it in San Diego."
Quick Links
For more information on District DSPS offerings, CE's ABI Programs, and local brain injury survivor resources, please visit the links listed below:
Disability Support Programs & Services at San Diego Community College District
Acquired Brain Injury Program at San Diego College of Continuing Education
Participate in the Survive Headstrong Walk