College of Continuing Education to launch free taxi ride program in December
November 16, 2023

|
San Diego College of Continuing Education students struggling with securing basic needs will be offered free rides to campus under a novel agreement with United Taxi Workers of San Diego.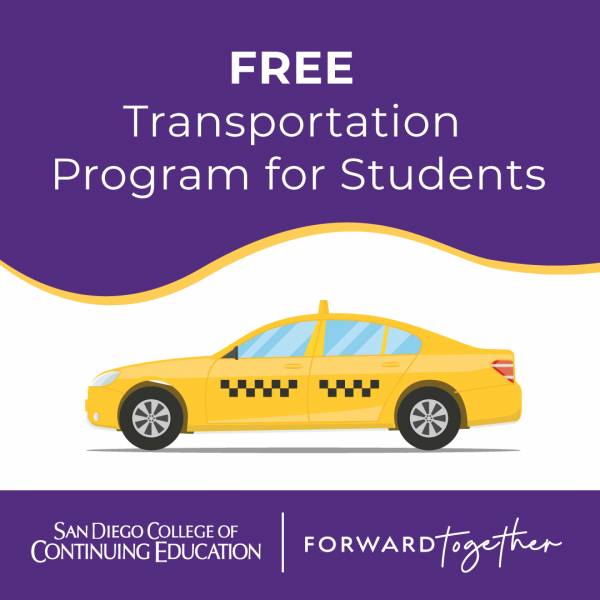 Under terms of a Memorandum of Understanding, SDCCE will issue $100 cab-ride vouchers to students who qualify for the college's basic needs services. Tracking of rides will be maintained on a mobile app designed for SDCCE. This new agreement stems from collaboration with SDCCE President Dr. Tina M. King and Peter Zschiesche, retiree from the Board of Trustees for the San Diego Community College District and current board member for the United Taxi Workers of San Diego.
"Students enroll across our seven SDCCE campuses being that we offer more than 70 certificate programs, and students completing a certificate program at our college will earn $132,000 in additional earnings over their working lifetime when compared to someone with a high school diploma," said SDCCE President Dr. Tina M. King. "But students are unable to invest in their future if they can't get to class. I commend United Taxi Workers of San Diego for working with SDCCE to find a solution that will allow hundreds of students who are struggling financially to have safe and reliable transportation to each of our campuses to attend their classes."
The need is profound. Some 46% of SDCCE students have incomes of less than $10,000 per year and one in three is unemployed, according to the college's Office of Institutional, Effectiveness and Research. A 2023 Real College Survey based on responses from more than 66,000 California community college students at 88 different campuses revealed that two out of every three students are grappling with at least one basic needs insecurity. Nearly half of students reported being unsure of where their next meal will come from or whether they have enough money to buy groceries, three out of five are housing insecure, and approximately one in four are homeless, according to the report titled "Real College California: Basic Needs Among California Community College Students."
"This will be an added layer of support for our students," said SDCCE Vice President of Student Services Shakerra Carter, Ed.D. "Increasing the wrap-around services to include transportation is another way we are committed to removing barriers here at the San Diego College of Continuing Education."
The transportation voucher program is the latest in a comprehensive package of student support services that also include access to childcare, food pantries, cash allowances, mental health counseling and more. The investment is more than worthwhile: graduates of the college's extensive career training programs alone contribute more than $209 annual to the regional economy, and taxpayers receive $9.10 via added tax revenue and social savings for every $1 invested in career education.
The program will launch on December 4, 2023. Students can apply for the transportation support by completing a basic needs application at sdcce.edu/services/sdcce-cares.