Mutual Aid/MOU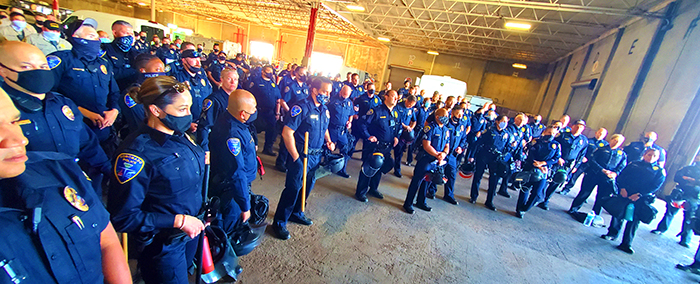 Many federal, state and local police agencies enter into mutual aid agreements to provide emergency assistance to each other in the event of disasters or emergencies. These agreements often are written, but occasionally are agreed upon verbally after a disaster or emergency occurs.
The SDCCD Police Department has a Memorandum of Understanding (MOU) with the San Diego Police Department. The MOU broadly defines operational cooperation between the two agencies regarding specific crimes that occur on, or adjacent to District property. It also specifically identifies which agency takes the lead on response and investigations of specific crimes.
The SDCCD Police Department is a member of the San Diego County Chiefs' and Sheriff's Association (SDCC&SA). Membership enhances our Department's cross-agency communication with all local, state and federal law enforcement agency heads in the County, especially in the areas of policy discussions and formulation, mutual aid concerns, and legal updates. It also allows for greater training, community policing efforts, intelligence information sharing, and networking opportunities for all law enforcement personnel in the county.
The SDCCD Police Department is also a member of the San Diego County Law Enforcement Assistance Network (SDLEAN). SDLEAN is a committee made up of representatives from various city, county, state, and federal law enforcement agencies. The committee addresses inter-agency and mutual aid communications issues, making protocol recommendations to the San Diego County Police Chief and Sheriff's Association.
The SDCCD Police Deparment is represented on the University and Campus Law Enforcement Task Force (UCLET). The task force, created in June 2010, is comprised of campus police officers from San Diego County and Riverside County. The mission of UCLET is to share information about campus related crimes, crime trends, and staffing issues. The agencies assist each other in criminal investigations, special events, and crime suppression.