College 2 Career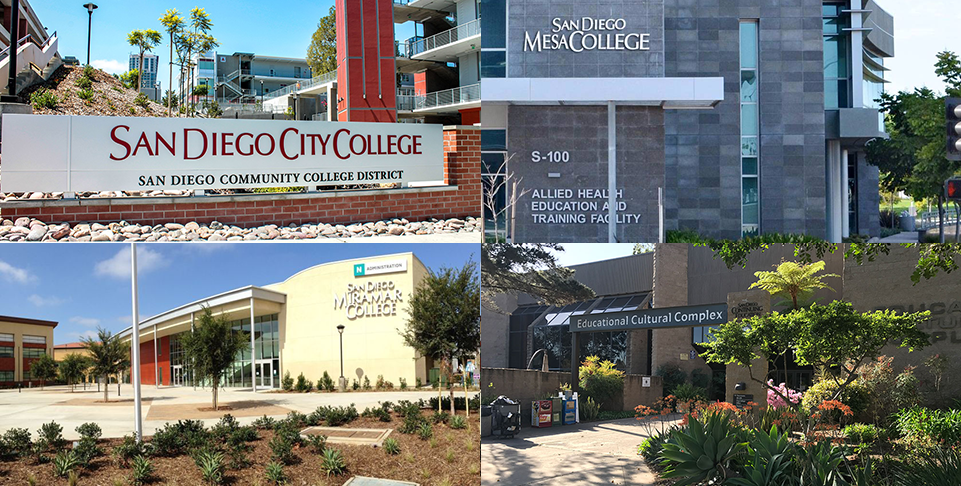 ABOUT College 2 Career (c2c)
C2C is a three-year program for students with intellectual disabilities or autism spectrum disorder who are currently, or would like to recieve support from the California Department of Rehabilitation (DOR).
C2C has two main service components: Education & Training and Employment Services.
Education & Training: C2C assists students with identifying a short-term academic goal that will lead to entry level employment within the 3-years of program. C2C students enroll in college classes aligned with their career goal.
Employment Services: C2C students enroll in career exploration classes in the first year of program. In year two, they engage in work experience and internships, followed by job placement in year three.
Program Goals
Support students in pursuing a training program and educational goal at SDCCD colleges or continuing education.
Facilitate student achievement of competitive integrated employment (CIE) in the local San Diego job market.
The C2C program provides a coordinated set of activities over a 3-year period to support student success in the college setting with the goal of a successful transition into independent competitive employment.
Please see the C2C Program Outline (PDF) and the C2C Service Chart (PDF) for more information.
WHY C2C?
Students with Intellectual Disabilities or Autism Spectrum Disorder with postsecondary experiences are 26 times more likely to be successfully employed and earn 73 percent higher wages than their peers without postsecondary education. C2C works with students to identify employment goals (jobs) that align to their interests and match training options offered in the SDCCD District. These short-term goals should be achievable within the 3-years of program.
In year one and two, educational coaches connect students to resources and social activities, and support academic success. In year three, students enjoy job placement which involves working with a vocational specialist and participating in weekly meetings to support the transition into competitive employment (including job search assistance, mock interviewing, resume writing, and more).
ELIGIBILITY
Students must have a primary diagnosis of Intellectual Disability (ID) or Autism Spectrum Disorder (ASD)
18+ with a High School Diploma or 22+ with successful exit from a Transition Program
Motivated to pursue training/education within the SDCCD District
Highly motivated to become competitively employed in an integrated setting
Willing to become a consumer of the Department of Rehabilitation (DOR)
Please see the C2C Program Brochure for more information.
STUDENTS MOST QUALIFIED TO PARTICIPATE
C2C services are most appropriate for students who have:
Motivation to attend college
A desire to obtain permanent paid employment
The ability to function on a college campus independently and comply with the SDCCD Code of Conduct
A history of meeting behavioral and attendance expectations of past employment, training, or educational programs
Ability to provide or access transportation to and from SDCCD college campuses, as well as potential work sites
A commitment to an average of 15 hours per week for school-related activities (coursework, homework, engaging in support services and meetings with C2C program staff)
REFERRAL & SELECTION PROCESS
Students or families interested in the C2C program should contact their San Diego Regional Center Coordinator, Department of Rehabilitation Counselor, or their DSPS Counselor to begin the referral process.
C2C is a competitive application process. Admissions interviews are typically offered in the Fall semester and decisions are made early in the Spring semester with program participation begining the following Fall semester. C2C admits approximately 15 students each year and all student selection decisions are final. C2C students must pursue a Plan of Services with the Department of Rehabilitation.
Please see the C2C Referral Flier (PDF) and How it All Works: C2C Students & DOR Services (PDF) for more information.
Programs & Employment Goals
Training programs most common for C2C students include but are not limited to:
Auto Technology
Biology Studies
Computer Business Technology
Child Development
Culinary Arts
Exercise Science
Hospitality
Multimedia or Graphics
Employment Goals most common for C2C students include but are not limited to:
Auto Technician
Animal Caretaker
General Office Clerk
Childcare Worker
Food Service Clerk
Sports Assistant/Recreation Aide
Customer Service Representative
Graphic Designer
Please review a full listing of available training programs SDCCD Endless Possibilities (PDF) for more information.
Contact Us
C2C program SDCCDC2C@sdccd.edu
Natacia Cordle, C2C Coordinator at ncordle@sdccd.edu and phone (619) 388-6806