Student Spotlight: Danny Dunn
The SDCCD journey continues for Danny Dunn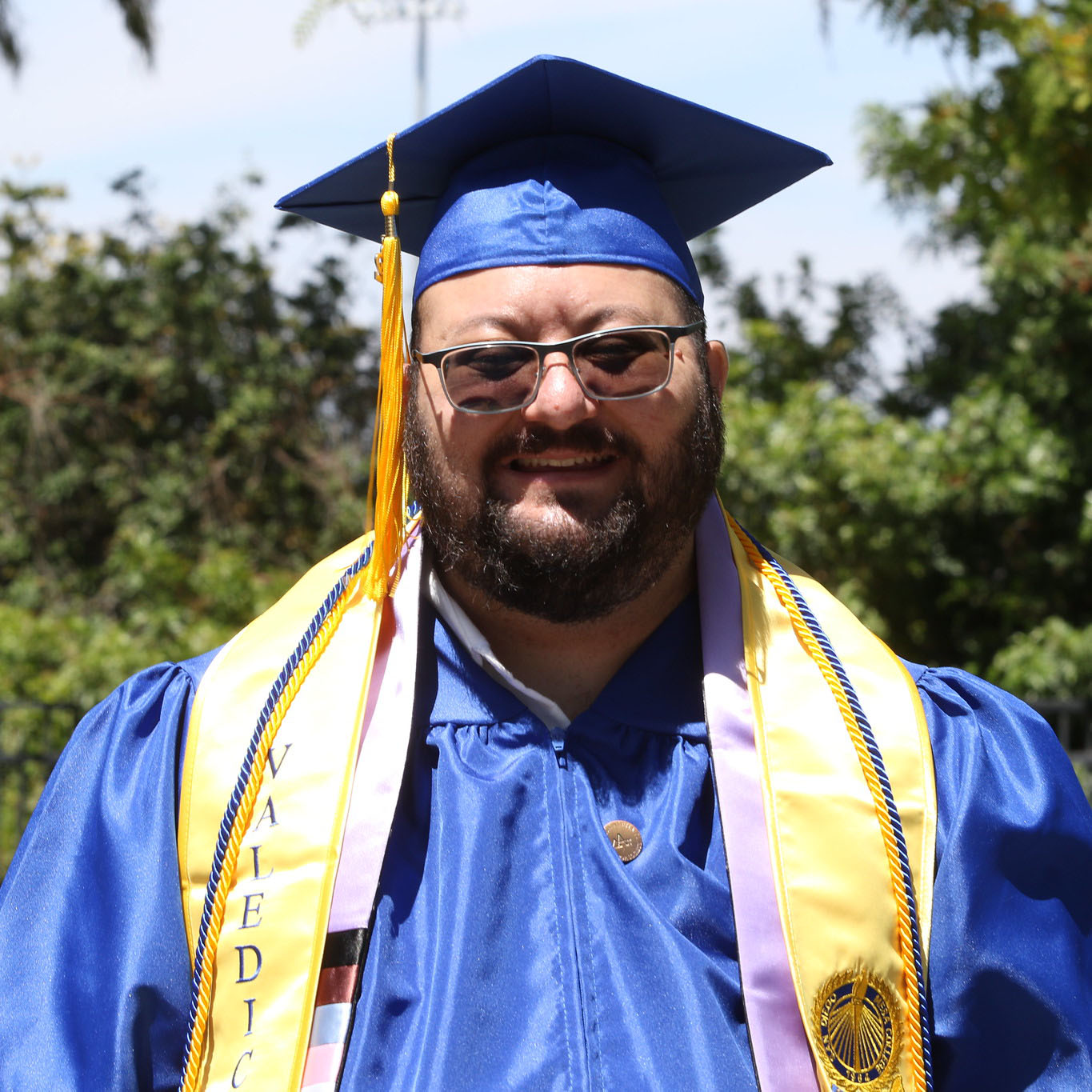 Falling asleep in class isn't always indicative of a late night or a dull lecture. For students like recent San Diego Mesa College graduate Danny Dunn, involuntarily dozing off in school and other public places is the reality of living with idiopathic hypersomnia, a rare disease similar to narcolepsy.
"Most of my professors have been really understanding about it, once we figured out what was going on," said Dunn. "It took me 16 years to get a diagnosis for that [disability], so we just thought I was lazy for about half my life! It's been a great relief getting diagnosed."
Dunn, who lives with multiple disabilities, is no stranger to bucking stereotypes, especially when it comes to his higher education journey at SDCCD.
After completing the Mental Health Work Certificate program at San Diego City College, Dunn returned to his studies at Mesa, earning his Associate's degree in Health Information Technology and graduating this May as a 4.0 GPA valedictorian and a member of Delta Alpha Pi Honor Society/disAbility Club.
"Having a disability makes me different, but not less," he said. "I can still excel at my classes, but sometimes it's a lot harder to focus or get things done quickly than it would be if I didn't have a unique brain wiring."
Despite his record of academic excellence, Dunn's interactions with others are often tainted by ableist assumptions and general stigma surrounding the disability community. He described this experience in detail last March while speaking as a guest panelist at a Districtwide Zoom discussion on Neurodiversity:
"One of the things I'm realizing is that people don't always think of me as an adult because I'm neurodivergent. There's this thing about treating people with disabilities like they're children, when really we grow into adults, too. We just are different. It doesn't make me less of an adult.
Dunn also shared how attending classes with his now-retired service dog, Sheldon, often resulted in one-dimensional dialogues with those around him.
"I love my service dog dearly," he said, "but if everybody I meet only wants to talk about my dog, that means almost all of my conversations are about my dog. I love it when I get to have real conversations with people about the things we're learning about in class, my special interests, or something philosophical."
During his time at SDCCD, Dunn sought out the intellectual discussions he craved through participation in virtual Disability Support Programs and Services (DSPS) offerings such as the aforementioned Delta Alpha Pi Honor Society/disAbility Club, whose Eta Delta chapter is facilitated through City College but open to all SDCCD students with disabilities.
"I love being around other people with disabilities that are so supportive and encouraging about school and life," he said, referring to the club's biweekly Zoom gatherings.
Dunn also attends "Heart Chats," a weekly virtual support group for students with disabilities facilitated by Heart in Mind, a Districtwide collaboration between DSPS and Mental Health.
"I wanted to get involved with the Heart in Mind program because I live at the intersection of disability, chronic illness, neurodivergence, and mental health challenges," he said. "I love that I have a place to discuss what it's like to experience ableism in everyday interactions and the effect it has on my mental health. It's a safe space with friendly people, and it's an important part of my week."In addition to finding support through DSPS, whose staff he described as "some of the nicest people on campus,"
Dunn recommended the following tools to help prospective students with disabilities stay on track and navigate the systems that so often neglect the needs of neurodivergent folks:
Otter.ai

: "I record the audio of the class to make sure I don't miss anything. But if someone is having a side conversation in class, my transcription/audio recording might pick you up instead of the professor! So please, resist the urge to have a side conversation in class!"


ADHD Hive: "A great resource for neurodivergent people who need body doubling to focus on homework during the pandemic."


Time Timer: "[They] help me keep track of time during tests, and they have some free resources available at their website. They also have a hands-free handwashing timer, if you're obsessing about proper handwashing and are at risk of washing your hands for too long (or can't tell how long 20 seconds of scrubbing is)."
Dunn's advocacy for safe, supportive, and accessible spaces extends beyond academia into personal and political realms. When asked what kind of improvements he would like to see advanced in support of disability justice, he called for an end to marriage penalties for people on Supplemental Security Income (SSI) and Social Security Disability Insurance (SSDI).
"[The penalties] are extremely ableist and single out the people who are least likely to have the resources to survive if they lose their benefits," said Dunn, whose husband is also disabled.
Dunn's willingness to share his keen perspective and lived experiences with others ensures that ableism will be challenged and inclusion will be championed wherever life takes him. Luckily for the SDCCD community, life is currently taking him right back to us! Dunn is scheduled to begin working this summer for the District's Human Resources department, and he also hopes to return to Mesa this fall to begin pursuing his Bachelor's degree in Health Information Management.
Thank you, Danny, for sharing your story, and best wishes as you continue your SDCCD journey!
---
Student Spotlights, presented by Disability Support Programs and Services, feature success stories from ambitious SDCCD students and alumni whose participation in DSPS has helped them reach meaningful education and/or employment goals.