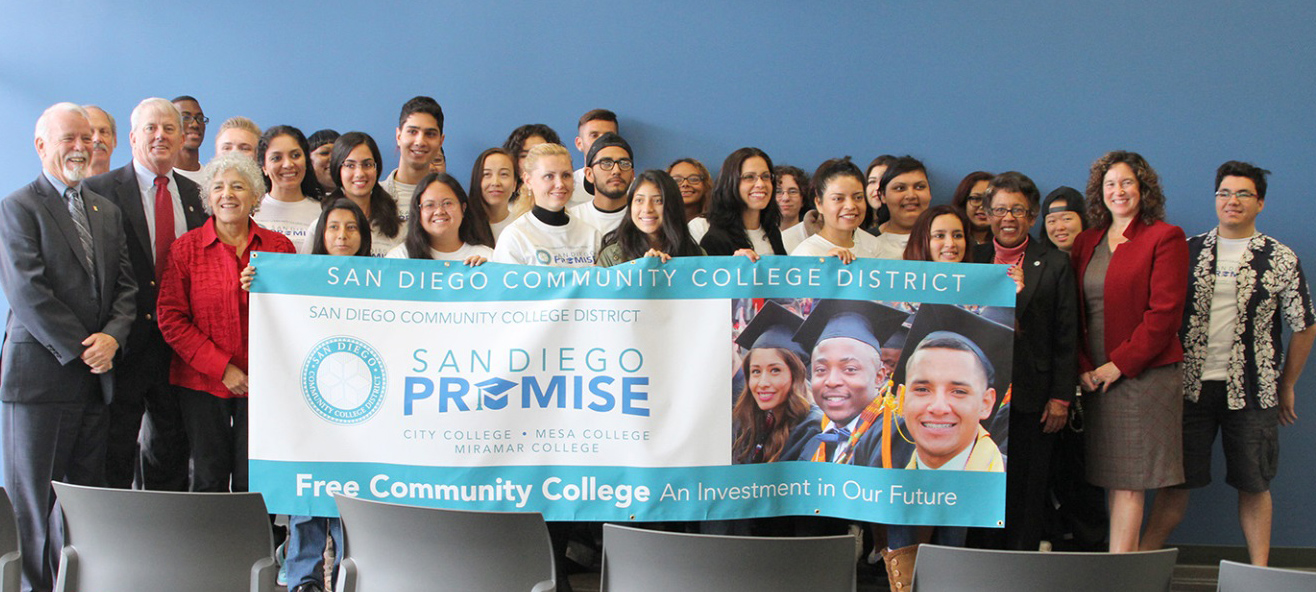 San Diego Promise a lifeline to students in need
January 26, 2017

|
In fall 2017 the San Diego Community College District will quadruple the number of students who will receive free tuition through the San Diego Promise program to nearly 800 students. The program's expansion means up to 600 incoming freshmen will be eligible this fall at San Diego City, Mesa, and Miramar colleges. Applications for the program's second year of the pilot program are being accepted through Feb. 10. Applications for San Diego Continuing Education students are due by Feb. 15.
Students already in the program describe what the opportunity has meant to them:
Hilda Arreola
"The Promise is a fantastic program," said Arreola, a mother of two children and who is in the Paralegal Program at Miramar College. "Even though community college is not really, really expensive, the expenses can add up, and when you're a parent going back to school, you don't want to take money from your child's education."
"The whole system, the whole network they have to support you really helps you adjust," Arreola said. "It makes the transition really smooth."
The transition began when Arreola, who moved her from Mexico, was taking ESL classes at San Diego Continuing Education. "An instructor at Continuing Ed encouraged me to apply for the program so I could go to college."
Arreola said the scholarships for Continuing Education students are especially impactful. "There are a lot of scholarships available for kids in high school," she noted. "But not so much for people who are older and are going back to school."
Philip Kist
With family finances sometimes a struggle, Philip Kist wasn't sure college was an option after graduating from University City High School this past summer. But when he heard about the San Diego Promise program, his plans changed. With educational expenses covered through the San Diego Community College District's groundbreaking effort, Kist is thriving at Miramar College, where he is laying the groundwork on a career as a civil engineer.
"They're paying for just about everything," said Kist, who plans to transfer to San Diego State University for his bachelor's degree. "I couldn't be happier."
Kist just wrapped up his first semester in the program by completing 18 units, six more than the minimum required. "They're giving me an incredible opportunity, so I decided to do the best I could and stock up on classes." said Kist. "This program has helped a lot and provided the motivation to succeed."
Dillon McIntire
The timing couldn't have been worse. Shortly before he was set to begin college, Dillon McIntire learned his parents had lost their job and would be moving to the Midwest. That's when he heard about the San Diego Promise.
Now he's at Miramar College studying to become a firefighter.
"This financial support is everything to me right now," McIntire said. "To be able to get financial aid and still be able to pursue the career I wanted is so much to me. All I have right now is my education. It's a huge weight off my shoulders to know I have some kind of financial security. This is more than a promise. It's my future."
Romelia Turner
Turner, 43, was in the process of earning her high school diploma at San Diego Continuing Education when an instructor encouraged her to apply for the San Diego Community College District's San Diego Promise program in the fall of 2016. With no tuition or fees, and with no textbook costs to fret over, the choice was easy.
"The Promise program is giving me an opportunity to not only get a college education, but get a college education for free," said the former high school dropout who is now thriving at City College, where she is president of the Umoja Program and is preparing to transfer to UC San Diego as a psychology major. "Because of the San Diego Promise, I have a better future."
Turner, who was living in southeastern San Diego when she enrolled at City College but has since moved to Spring Valley, said she is thankful for the support and guidance she has received from the district since she returned to school. "The teachers at Continuing Education kept telling me to apply for the Promise Program, and they gave me nothing but encouragement every step of the way," said Turner. "Once I got to City College, everybody has treated me like family. Everybody has made sure I have everything I need to succeed."
Quintin Wortham
Madison High School graduate Quintin Wortham couldn't believe his good fortune. After learning he couldn't attend architecture school because for lack of financial aid, he found the San Diego Promise.
Now the 18-year-old Serra Mesa resident is studying at San Diego Mesa College, all expenses paid, with plans to transfer to a four-year university upon earning an associate degree.
"The Promise program is wonderful," said Wortham. "Not only is it paying for my classes, but it's also paying for my books. All in all, my first two years of college are entirely paid for."
"I highly encourage high school students in San Diego to apply for this program," Wortham said. "You can't beat a free college education."