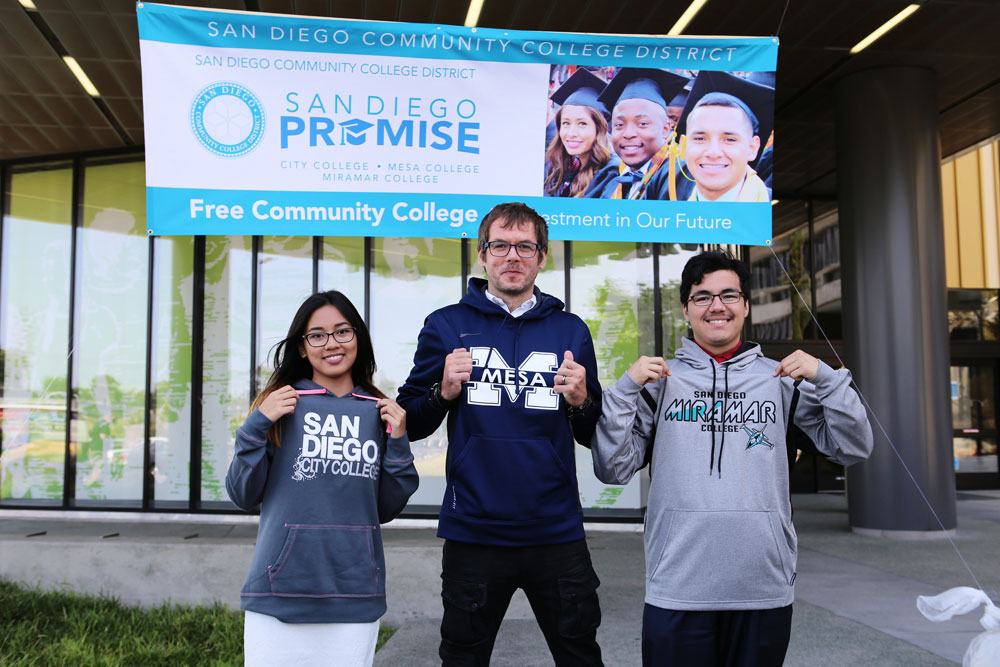 San Diego Promise students financially needy, diverse
October 20, 2016

|
An analysis of The San Diego Promise – the free community college pilot program rolled out this fall in the San Diego Community College District – finds that the first 186 participants come from diverse backgrounds and bring significant financial need.
Nine of 10 San Diego Promise students are from underrepresented communities, including 61 percent who are Hispanic and 12 percent who are Asian/Pacific Islander. Approximately half of San Diego Promise students come from families with a household income of less than $40,000 annually, and 15 percent of Promise students come from families making less than $10,000 each year, according to the district's analysis.
Nearly 70 percent of San Diego Promise students say they intend to
Learn more about the San Diego Promise
secure an associate degree and transfer to a four-year college or university. An additional 5 percent say they intend to transfer without securing an associate degree.
Margarita Novelo is among them. Novelo was without skills, without a job, and without hope when she enrolled at San Diego Continuing Education, which is where she heard about the San Diego Promise.
"Applying for the Promise scholarship was the best decision I ever made in my whole life," said Novelo, who is now studying computer science at San Diego Mesa College. "Not only had it felt like I won the Lottery, it felt like I had a new purpose in life."
Dillon McIntire shares those feelings. He enrolled at San Diego Miramar College for its Fire Protection Technology program as he pursues his dream of becoming a firefighter.
"This financial support is everything to me right now," McIntire said. "Both my parents recently lost their jobs right before I signed up for Miramar, so to be able to get financial aid and still be able to pursue the career path that I want is so much to me. I mean, education's really everything to me right now fresh out of high school, so I'm really glad that I received this opportunity."
In fact, the total unmet financial need of San Diego Promise students comes to $1.5 million or about $10,000 for each student with unmet need.
The San Diego Promise, adopted by the SDCCD's Board of Trustees in February, pays for enrollment fees that are not covered by financial aid, along with book grants, for recipients at City, Mesa, and Miramar colleges during the 2016-17 academic year. The district started with a pilot program this fall in preparation for broader implementation in the fall of 2017. Pilot program participants are required to be enrolled in at least 12 units for both fall and spring, participate in eight hours of community service, and maintain a minimum GPA of 2.0. The estimated cost of the program this year is $216,734.
The San Diego Promise is intended to ensure that no deserving local students are denied the opportunity to go to college due to lack of resources. Students who receive some state or federal financial aid will have the balance of the cost of their enrollment fees paid, ensuring free access. Students who do not receive state or federal financial aid will have their enrollment fees paid outright. Additionally, students will receive up to $1,000 in grants for textbooks and related instructional supplies.
"Because of the financial challenges faced by the majority of the students who attend City, Mesa, and Miramar colleges, and because the majority of jobs require some level of college preparation, the San Diego Promise is a perfect means of addressing both of these realities," said Chancellor Constance M. Carroll. "We are encouraged by the initial response to the pilot program, and look forward to expanding the effort in 2017."
San Diego City College Promise student Marquise Paris praised the district for launching the program.
"How are you going to be successful in life without having an education?" asked Paris, who is studying criminal justice with hopes of transferring to San Diego State University and launching a career in law enforcement. "I don't want to be out living under a bridge asking for change every day."