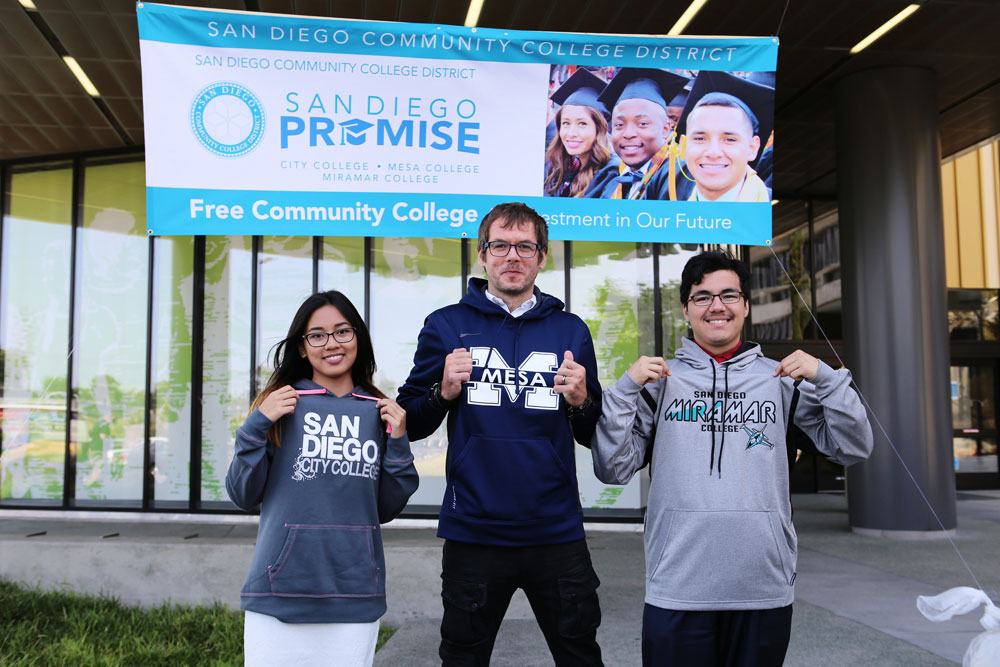 District employees can support San Diego Promise with payroll deduction
September 26, 2016

|
The new San Diego Promise initiative was launched at the San Diego Community College District (SDCCD) with the beginning of the fall semester. Now faculty and staff in our district can support the future of the program by signing up to make a payroll deduction.
Tuition-free community college has been discussed nationally for several years, gaining momentum with President Barack Obama's America's College Promise. Our district announced its own promise program earlier this year. The program enrolled 186 college freshmen this fall, with hopes of expanding in coming years through philanthropic support from the community.
Chancellor's office assistant Giovanni Garcia, said he thought giving employees the opportunity to contribute to the San Diego Promise was a great idea. "It emphasizes our district's commitment to support higher education. We're here to serve students, what better way is there to do that by help them further their educations."
San Diego Continuing Education Counselor, Lola Gaona is one of the two dozen SDCCD employees who have contributed to the San Diego Promise. "We're all into helping students. We see the results in the outcomes. If students have the support, they will succeed."
Employees wishing to make a monthly contribution to the San Diego Promise fund can fill out the Voluntary Deduction Form online. Completed forms can be sent electronically to the SDCCD Human Resources Payroll Department and a confirmation email will be sent to the employee's district email address verifying the submission.
"I was glad when the chancellor told us that this would all be going directly to the program, not administrative costs. We know exactly what the money's going to." said Gaona.
The first payroll deductions will begin September 30, 2016. Employees may contact the Payroll Department at 619-388-6582 with any questions about signing up for voluntary deductions. Members of the community can also donate on the San Diego Promise web page.