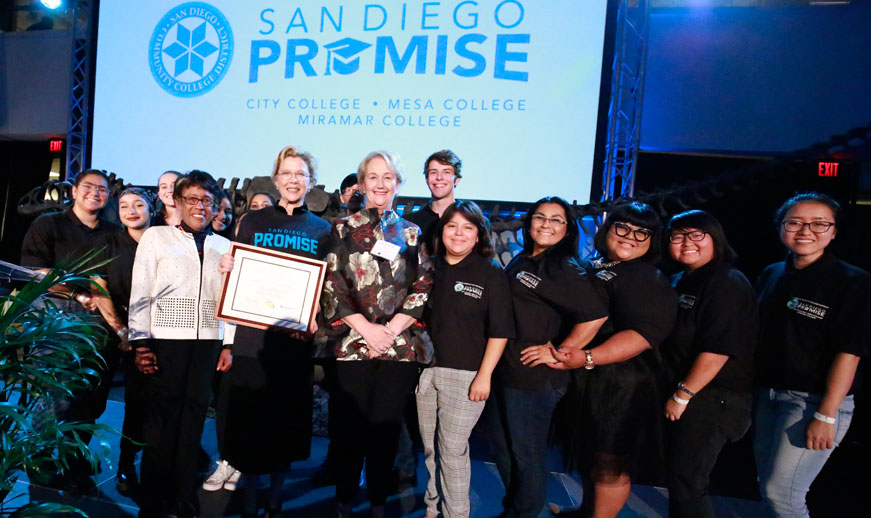 'An Evening With Annette Bening' raises over $200K for San Diego Promise
September 21, 2018

|
San Diego Mesa College alumna Annette Bening provided plenty of star power at the San Diego Community College District's first-ever fundraising gala. "An Evening with Annette Bening to Benefit the San Diego Promise," held September 20 at the San Diego Natural History Museum, raised over $200,000 to support the district's free community college program.
Speaking at the sold-out event, Bening shared with the audience how the education she received at Mesa College helped prepare her for a highly successful acting career.
A four-time Academy Award nominee, Bening has won numerous awards and played critically acclaimed roles in films such as "Being Julia," "The American President," "American Beauty," and "The Kids Are All Right." Her newest film, "Life Itself," opened in theaters this week.

A San Diego native, Bening has stayed connected with Mesa College over the years including serving as the commencement speaker in 2002. She is currently honorary co-chair of the San Diego Promise fundraising campaign along with San Diego Mayor Kevin Faulconer.
"When I went to San Diego Mesa College, it was basically free and now it costs a lot of money and there are a lot of people who want to go to college who can't afford it," said Bening. "So the San Diego Promise program is trying to rectify that. That's why I'm here, because I care and I want to give back and I want to say thank you and pass it on to other people who want the same opportunity that I had to go to a good community college."
In recognition for her many contributions, SDCCD Chancellor Constance M. Carroll made a surprise announcement that the district will establish the Annette Bening Promise Scholarship to be awarded to a district student who demonstrates academic excellence and a commitment to service.
"All of our students have the capability of becoming distinguished alumni like Annette Bening," said Carroll. "When they succeed, I hope that they will emulate her by providing opportunities for future students to excel. The San Diego Promise is an excellent gift to our community and we are grateful to Annette Bening and to all of our donors who have made this possible."
Chancellor Carroll says the success of the fundraising gala and other fundraising efforts will allow the district to ensure any full-time student who wants to complete a two-year program at City, Mesa, and Miramar College can do so regardless of his/her financial situation.
The historic program waives tuition and enrollment fees for the two years of full-time study toward an associate degree and provides other support, including textbook grants. While state funding is available to cover each student's first year, the district is raising funds to provide tuition for each student's second year as well as to support eligible students with the cost of textbooks.
Approximately 2,200 local students are enrolled in the San Diego Promise for the 2018-19 school year, up from 661 students during 2017-18.
In addition to Bening and Carroll, featured speakers included San Diego Promise students Rosemary Leyva (City College), Harley Sobreo (Mesa College), and John Warner (Miramar College) who shared stories about how the San Diego Promise has enabled them to attend college. Other event speakers included SDCCD Board of Trustees President Maria Nieto Senour, San Diego Regional Chamber President/CEO and Miramar College alumnus Jerry Sanders, Mesa College President Pamela Luster, and NBC 7 San Diego Reporter/Anchor and City College alumnus Artie Ojeda who served as emcee.
Presenting sponsors of "An Evening with Annette Bening to Benefit the San Diego Promise" included Seidler Equity Partners and Roger Frey. Other event sponsors included Dr. Constance M. Carroll and the San Diego Community College District, United Way of San Diego County, Northern Trust, The San Diego Foundation, Bob and Ann Parode Dynes, U.S. Bank, UC San Diego, National University, California Coast Credit Union, Manpower, Monarch Group, Monarch School, Rene McKee Family and Marlee Ehrenfeld, San Diego State University, San Diego Unified School District, Sycuan Band of the Kumeyaay Nation, San Diego City College, San Diego Mesa College, San Diego Miramar College, San Diego Continuing Education, and SDCCD/District Office Executive Administrators.
To learn more about the San Diego Promise, visit: sdccd.edu/promise.