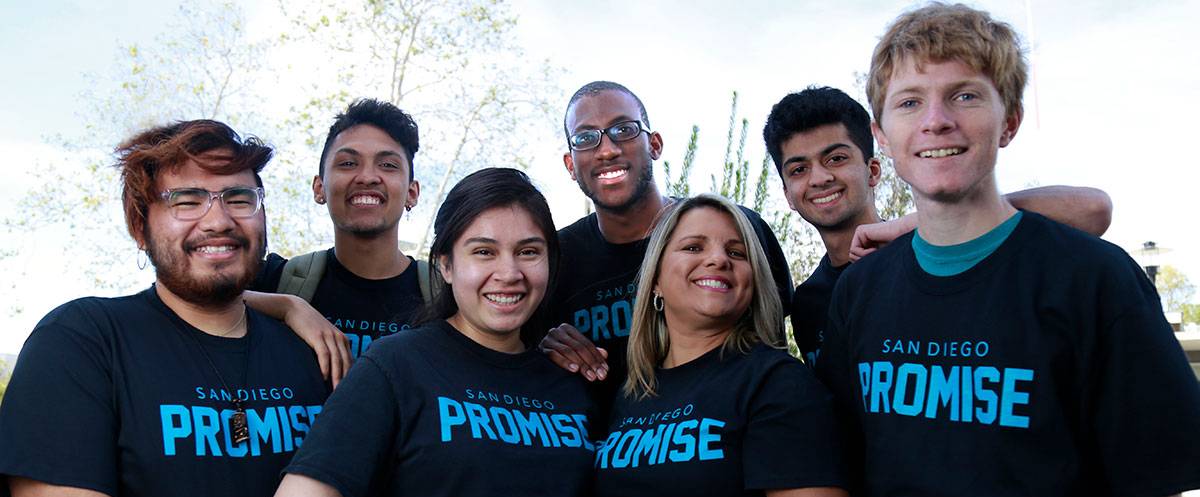 Applications open Jan. 13 for tuition-free Promise program
December 17, 2019

|
Students interested in attending San Diego City, Mesa, or Miramar College next fall without having to pay tuition can sign up for the San Diego Promise program beginning January 13.
The San Diego Promise provides up to two years of free tuition and health fees, book grants for eligible students, sessions with peer mentors, and guidance from academic counselors to ensure educational and career goals are met. Promise participants must be a first-time college student and a California resident who will graduate from a California high school or earn the equivalent of a high school diploma in 2020, or who are San Diego Continuing Education students transitioning to City, Mesa, or Miramar. Undocumented immigrants also are eligible under Assembly Bill 540 guidelines.
Promise students are required to enroll in at least 12 units each semester while maintaining a 2.0 GPA.
The tuition-free San Diego Promise has served nearly 4,400 students since it was introduced as a pilot program in the fall of 2016. Participants say the Promise program makes them feel more focused, supported, and connected. In addition, because of the extensive support services available, promise students are more likely to earn better grades and less likely to drop a class or leave school.
"This was an opportunity I never had before in my life," said Yolanda Granados, who seamlessly transitioned from Continuing Education to Mesa College, graduated from Mesa last spring, and transferred to Cal State Long Beach in fall, 2019. "I didn't have to worry about books or tuition. You get one counselor assigned to you who is keeping track of you and your progress, and you get your school paid for. Yes, I'd say the Promise is pretty cool."
Besides completing a Fall 2020 Promise application, students interested in the tuition-free program must complete a Fall 2020 admissions application for City, Mesa, or Miramar College; a 2020 FAFSA (Free Application for Federal Student Aid) form or Dream Act application; meet with an academic counselor; and attend an on-campus Promise orientation during the summer.
For additional information on the San Diego Promise program, contact the City College First Year Services Office at 619-388-3998 or email sdpromisecity@sdccd.edu; the Mesa College Outreach Office at 619-388-2230 or sdpromisemesa@sdccd.edu; or the Miramar College Outreach Office at 619-388-7357 or sdpromisemiramar@sdccd.edu.