College Service Officers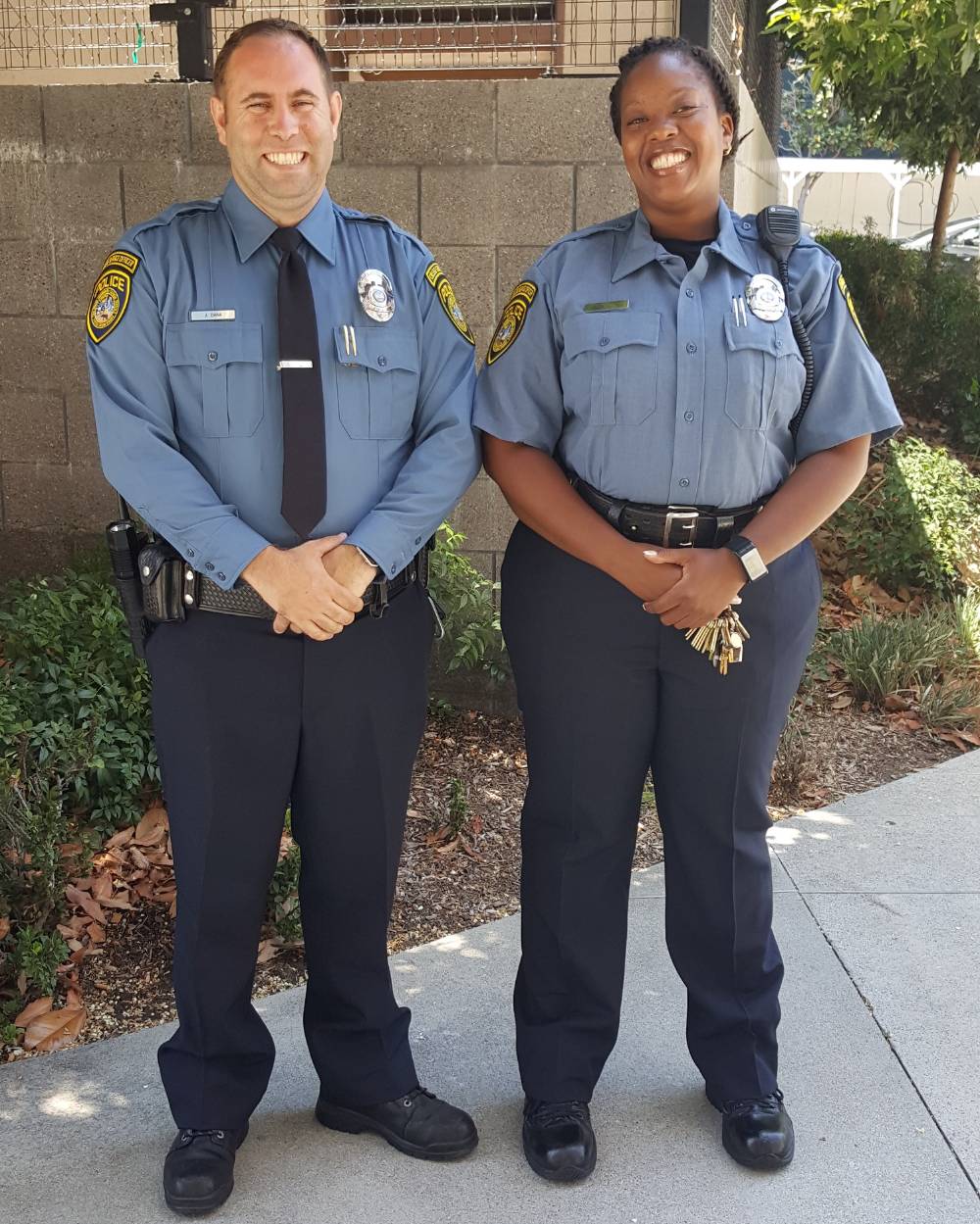 The College Service Officers (CSO's) are an integral part of our Department, assisting sworn officers with multiple tasks that result in more efficient police service to the community.
College Service Officers handle parking enforcement, traffic control, motorist assists, safety escorts and take reports to assist police officers when needed. The San Diego Community College District Police Department has 16 College Service Officers who serve all of our main campuses.
Contact: 619-388-6405
Safety Escort Services
The San Diego Community College Police Department provides a safety escort service, available to all students, staff, and visitors to the College. The service is available 24 hours a day, every day of the year, and furnishes an escort to and from any point on campus. The purpose of the safety escort is to assist students and others in getting safely to their intended destination on campus. Safety escorts can be arranged by calling our Police Dispatch at 619-388-6405.
When calling for an escort, you should provide the dispatcher with the following information:
Your current location and your desired destination
Your name
A callback number in the event you must be notified of a delay for your escort.
The dispatcher will attempt to have an officer escort you as soon as possible. However, at times, situations can and do arise that delay your escort. Your escort may be on foot or in a car, depending on availability.
SDCCD Parking Services Motorist Assistance
GENERAL INFORMATION
College Service Officers are trained to provide motorist assistance in the form of automobile:
battery jumps
lock-out service
College Service Officers are located on every campus where parking permit requirements are enforced. These services are available free of charge to students, staff, faculty and visitors on those campuses (currently City College, Mesa College, Miramar College and ECC) when a CSO is available. For service, call our College Police Dispatch Center at 619-388-6405, use the College Police button on any District phone, or use any Emergency Call Box on campus or in the parking lots.
ELIGIBILITY
The vehicle must be parked on campus, in a valid parking space and unless a visitor, must display a valid SDCCD parking permit or valid, state issued disabled placard. Off-campus services will be provided, within a three block radius of campus, to owners of a valid staff/faculty parking permit or a student semester parking permit only. Off campus services are not provided to non-students or students without a valid semester parking permit. Daily permits are not valid for off-campus services.
CSO AVAILABILITY
There may be times when a CSO is not available; beginning of semester activities sometimes preclude CSOs from responding to motorist assistance calls for example. There are also times where there are no assigned CSOs because of vacation, sick calls, training, etc... Services are not available in these cases and CSOs cannot be dispatched from another campus, however upon request, Dispatch will call a tow company or lock-out service of your choice to perform these services. Services performed by a tow company or lock-out service are at motorists' expense.
FUNDING
The SDCCD Parking Services Motorist Assistance Program is funded through the Parking Services Vehicle Immobilization Program. Motorists who accumulate five or more unpaid parking citations risk having their vehicle immobilized (or "booted") and must pay a vehicle release fee (currently $45) in addition to any outstanding parking fines. Vehicle release fees are deposited in a special account earmarked for Motorist Assistance training and equipment purchases.