Parking Permits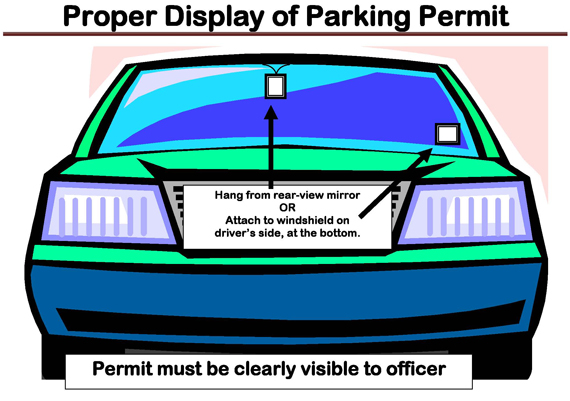 Permits are required to park on all campuses of the San Diego Community College District, Monday through Friday, 7a.m. until 10 p.m. Permits are not required on Saturdays, Sundays or College Holidays. Parking is only allowed while actually attending or participating in campus sponsored classes or events and no overnight parking is allowed without prior approval and a permit from campus police. Each parking lot entrance is posted with information regarding whether a staff permit or student permit is required for that lot. Parking violations are enforced by campus police and violators may be cited and/or towed at owners expense per California Vehicle Code section 21113(a).
Visitors may obtain permits from campus police offices or from the administrator they are visiting. In addition, most campuses have visitor parking and have daily permit machines.
Parking for owners of valid, state-issued disabled placards is available in almost all lots at all campuses. In addition disabled plates and placards are honored in any student, staff or administrator parking space. Disabled plates and/or placards being used by anyone other than the legal owner may be confiscated and the vehicle cited and/or towed at owner's expense.
San Diego City College
City College has approximately 1,100 parking spaces spread between ten on campus surface lots, two multi-level parking structures, and a surface lot located at the Fitness Center.
Visitors obtain permits from the college police office (room V-100) or from the office/ administrator you are visiting, or utilize permit machines located in parking structures. The cost of a daily permit is $1.00 per hour, $5.00 per day maximum.
Designated disabled parking spaces are available in lots 1,2,3,5,7,9,10 and the Fitness Center lot.
Mesa College
Mesa College has 3,236 parking spaces distributed between nine surface lots and a five story parking structure.
Visitors may obtain permits from the campus police (building Q-100) or from the office/administrator you are visiting. Visitors may also use daily permit machines located in lots 1,2,3,4 and all floors of the parking structure to park in designated student parking (Carpool parking requires an additional permit.) for only $1 per hour up to $5 per day maximum. Visitor 1 hour parking spaces are located in front of Student Services and in front of the A (Administration) building.
Convenient carpool parking located in front of the I-400 building, the tennis courts, and the administrative offices is available to motorists with a special carpool designated stickers. Carpool information, applications and stickers are available in campus police.
Motorists with state issued disabled placards may park in any student, staff or administrator parking. Designated disabled parking is available across the street from the "H" buildings, and in lots #1, 2, 3, H and A.
Mesa College Map (PDF)
Miramar College
Miramar College has approximately 1,700 parking spaces in five surface lots and a brand new parking structure opening Summer 2011.
Daily permit machines, located at the Black Mountain Road entrance to the campus, lot 2, and each floor of the parking structure, allow students and visitors to park in student lots, for only $1.00 per hour, $5 per day maximum.
Motorists with state issued disabled placards may park in any student, staff or administrator parking. Designated disabled spaces are located in all lots as well as all staff areas.
Student Parking Permits
Student parking permits may be purchased before the beginning of each semester online, through mySDCCD or at the accounting office at any campus. If purchased before school starts they will be sent by mail to the address that the student has on record with admissions. Permits purchased after the first day of the semester must be picked up in campus police. SDCCD student identification is required to pick up a permit.
Only one permit per student may be purchased.
Faculty/Staff Parking Permits
Faculty/Staff must print and complete a Faculty/Staff Permit request form. Hard copies of forms may be picked up from any college police office. Once it is complete and the appropriate signatures are on the request, return it to the college police office at the campus of employment. You may also e-mail the completed application to PARKING@SDCCD.EDU. Generally, depending on number of requests, processing of the permit may take 5-10 working days. Once the permit application is processed the employee will be notified and they may pick the permit up at the college police office. Employees must pick up their permit in person and show identification (SDCCD ID card, Driver's license, California ID card etc ... are examples of valid forms of identification).