Student Information

mySDCCD portal
San Diego City, Mesa and Miramar Colleges and Continuing Education use a single point-of-entry portal (called "mySDCCD"), which consolidates all crucial student information on admissions, enrollment, financial aid, payment, counseling, records, and more.
"mySDCCD" provides easier access and better service for most student services including:
My Classes - Students can view their registration appointment, Enroll, Drop, Change grading basis to P/NP, Swap classes, view their class schedule, grades, and unofficial transcript.
My Financial Aid - From Application to Award, check this area and the To-Do items for the status on your Financial Aid and Veterans Benefits.
My Finances - Students can view the amount of fees owed (if any), pay for classes, health fees and parking permits, and sign up for Payment Plans.
My Success Path - Access your education plan, milestones (English and math skill levels) and your transfer credit report.
My To-Do-List - Make sure you resolve any pending items.
Message Center - Important communications are sent to students email address on file and also stored here in the message center.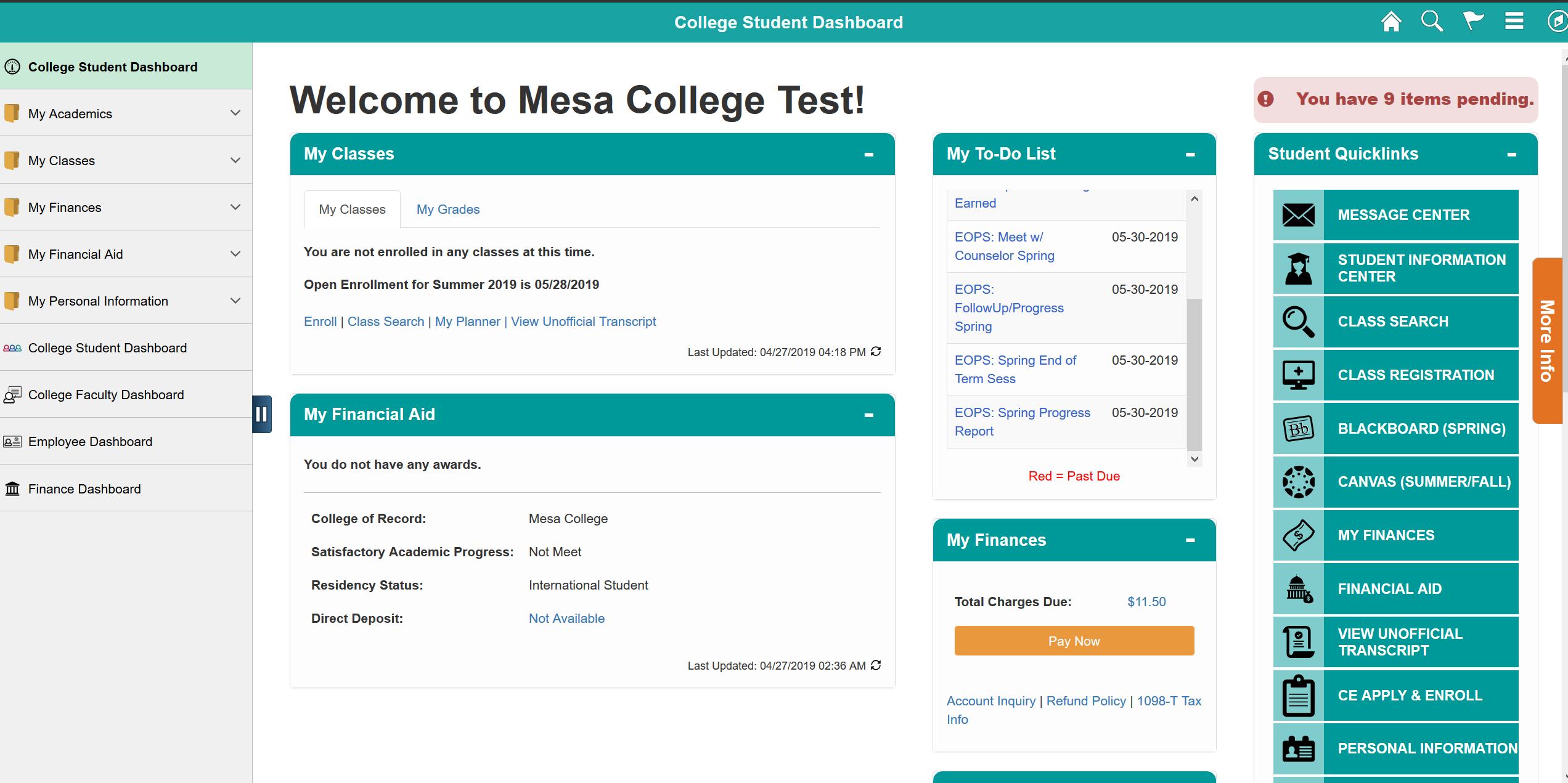 For more information on mySDCCD please visit: https://mysdccd.atlassian.net/wiki/spaces/MYS/pages/281903176/mySDCCD+Portal+Basics
The mySDCCD portal requires the following for optimal use:
An up-to-date browser (Chrome 58+, Firefox 65+, Internet Explorer 11, Safari 10.x +)
'Pop-Ups' enabled for our domain site: "sdccd.edu"
To ensure your browser or devices meet these requirements, go to mySDCCD Portal Guide for step by step instructions. You can also contact the Student Support Center.
We are strongly encouraging all students to log into the new portal and access their account well in advance of your registration date and time, to make sure you do not have any issues with your devices that could delay registration.


Accessing mySDCCD
To gain access to the mySDCCD, students will need to have an active application and create their mySDCCD login credentials (security questions and password.) For instructions on how to create your mySDCCD account, please click here.
Please visit mySDCCD Support Hub for information on how to navigate the portal and be sure to follow us on Twitter @mySDCCD.

Check your financial aid status in mysdccd
Don't wait in line! Did you know you can view your financial aid awards on mySDCCD? You can also view any additional steps (To-Do items) that you will need to complete in order to finish processing your financial aid.
Your To-Do list will show any items that are pending for your financial aid or EOPS application.

Students must complete these items in order to finish processing their financial aid application.

Please note, the earlier you complete these items, the faster we can process your file.

Your Financial Aid pagelet will show you what awards or waivers have already been applied to your account.

Additionally you can check your College of Record, Financial Aid SAP status, Residency (In-State or Out of State), Cost of attendance and more.

Please continue to check this page as when your award has been posted, you will see it listed. Students can also see awards for future semesters by clicking on the appropriate term.