Student Information

Summer 2019 class schedule live
We are pleased to announce that the NEW student portal at mySDCCD now has the summer 2019 class schedule available. This is an important milestone for City College, Mesa College and Miramar College as we transition to a new system to provide easier access and better service for students.
The mySDCCD portal requires the following for optimal use:
An up-to-date browser (Chrome 58+, Firefox 65+, Internet Explorer 11, Safari 10.x +)
'Pop-Ups' enabled for our domain site: "sdccd.edu"
To ensure your browser or devices meet these requirements, go to mySDCCD Portal Guide for step by step instructions. You can also contact the Student Support Center.
We are strongly encouraging all students to go to the new portal and access the class schedule well in advance of your registration appointment time to make sure you do not have any issues with your devices that could delay your registration.
May 3: View your Summer Registration Date & Time on mySDCCD
May 20-24: Summer Registration Appointments on mySDCCD
May 28: Open Registration for summer
Thank you for your patience as we make this important upgrade in our technology and systems for students.
Important Update
The district announced that the transition to the new Student Information System for students – mySDCCD would go live for Summer 2019 registration.
The new student portal: mySDCCD has been live for financial aid students since April 2018. Throughout this time, the Financial Aid staff at City, Mesa and Miramar Colleges have been working tirelessly processing over 20,000 financial aid applications and awarding over $20 million in financial aid.
What this means for students
All new and continuing students will still use Reg-e to register for classes, search the online class schedule, view grades and pay enrollment fees. Students who have applied for Financial Aid will continue to use mySDCCD to view their financial aid status and awards.
To assist students with this transition, please consult the infographic below for key dates: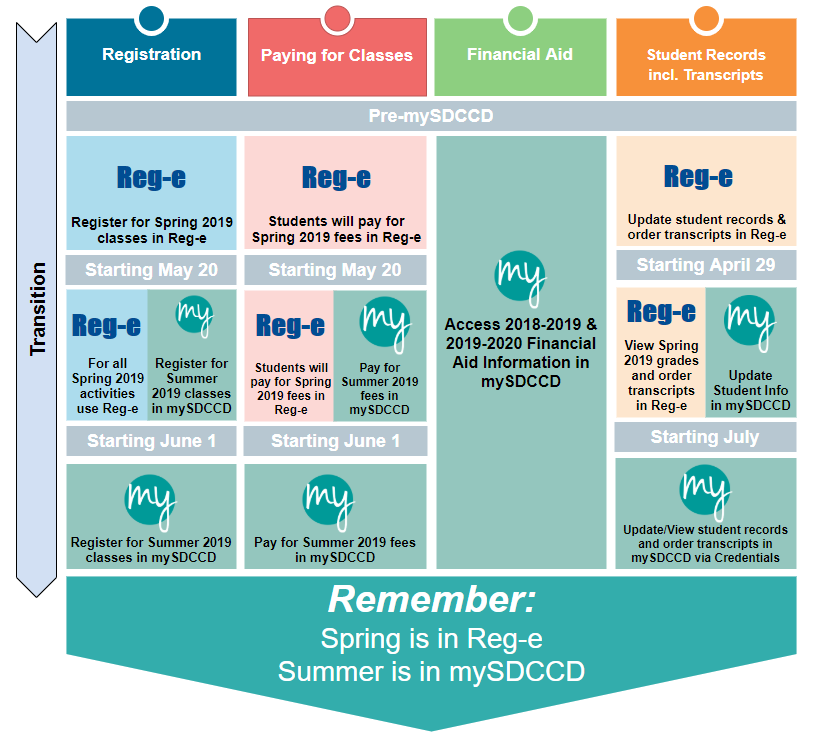 Check your financial aid status in mysdccd
Don't wait in line! Did you know you can view your financial aid awards on mySDCCD? You can also view any additional steps (To-Do items) that you will need to complete in order to finish processing your financial aid.
Your To-Do list will show any items that are pending for your financial aid or EOPS application.

Students must complete these items in order to finish processing their financial aid application.

Please note, the earlier you complete these items, the faster we can process your file.

Your Financial Aid pagelet will show you what awards or waivers have already been applied to your account.

Additionally you can check your College of Record, Financial Aid SAP status, Residency (In-State or Out of State), Cost of attendance and more.

Please continue to check this page as when your award has been posted, you will see it listed. Students can also see awards for future semesters by clicking on the appropriate term.
Fall registration in reg-e, financial aid in mysdccd
Fall 2018 registration begins on July 16th. Students will still use Reg-e to register for Fall 2018 classes using their 7-digit CSID and PIN. Only financial aid information for Fall 2018, Spring 2019 and Summer 2019 will be available in mySDCCD. All other student transactions will still be in Reg-e.
For more information on the transition to mySDCCD, please visit this page for more info.
Countdown to mysdccd - T-Minus...
Starting July 10th, students will be able to login to mySDCCD to access their 2018-2019 financial aid information including viewing their financial aid awards, communications and any remaining "to-do" items that need to be completed regarding their financial aid application.

mySDCCD will eventually replace our current student system Reg-e by the end of Fall 2018. Currently, only students who submitted a financial aid application will be invited to create their mySDCCD account. Other students will be invited as we approach Spring 2019 registration.
To get access to the portal, students will need to create their mySDCCD account. On or after July 10th, financial aid students will receive an email with instructions inviting them to create their mySDCCD account. For instructions on how to create your mySDCCD account, please click here.
Please be sure to visit our mySDCCD Support Hub for information on how to navigate the portal and be sure to follow us on Twitter @mySDCCD.
other instructional guides
Big Changes Ahead
San Diego City, Mesa and Miramar Colleges and Continuing Education are excited to transition to a new student information system called Campus Solutions. Campus Solutions will consolidate all crucial student information on admissions, enrollment, financial aid, payment, counseling, records, and more. Beginning Fall 2018, students will access all key student information through a single point-of-entry portal called:mySDCCD