Admissions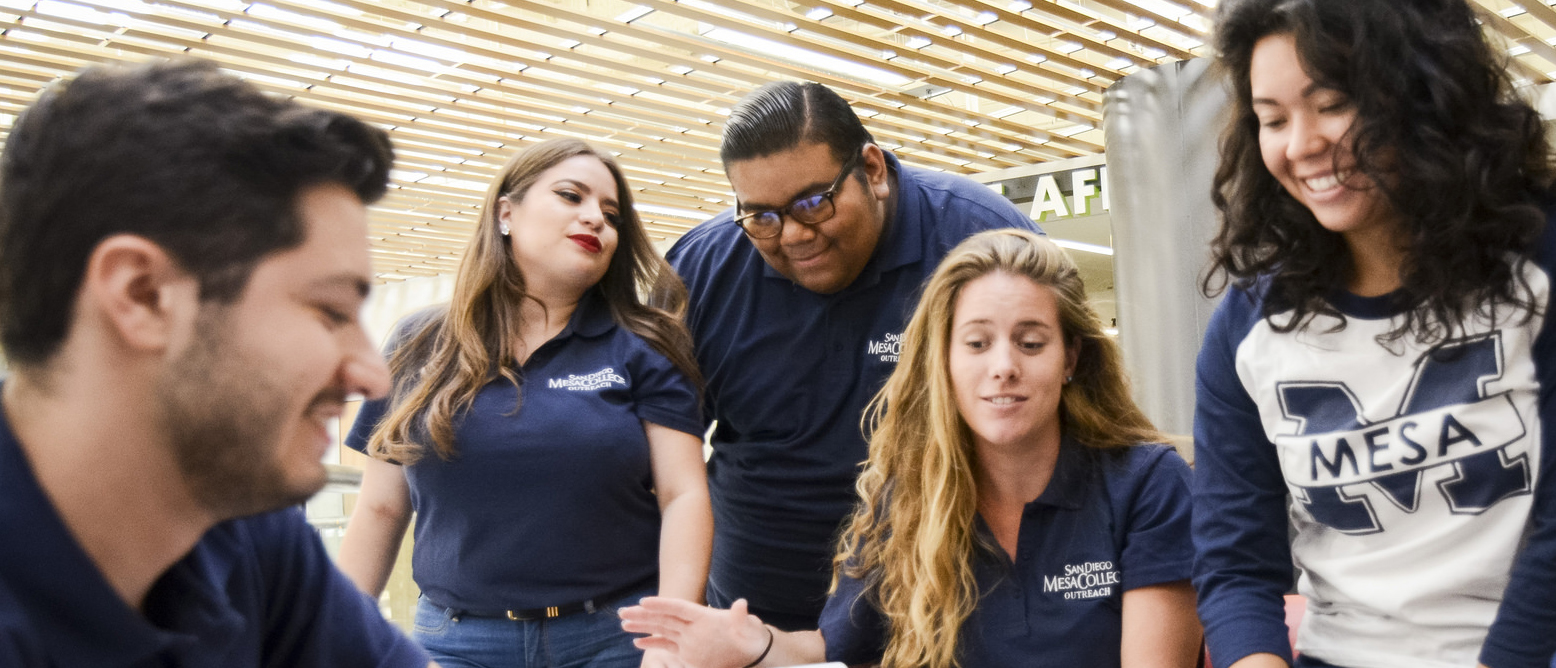 The San Diego Community College District serves approximately 100,000 students annually at its three, credit colleges, San Diego City College, Mesa College, Miramar College, and seven campuses of San Diego Continuing Education.
The colleges offer associate degrees, and Continuing Education and the colleges offer career technical certificates that prepare students for transfer to universities and/or career pathways with higher paying jobs. In addition, Mesa College now offers a bachelor's degree in Health Information Management as part of California's Baccalaureate Pilot Program.
California College Promise Grant (CCPG) Application
Different Programs for Different Goals
Programs leading to an Associate in Arts Degree
Programs leading to an Associate in Science Degree
Programs leading to a Certificate of Achievement
Programs leading to transfer to a four-year college in a California State University, the University of California, or a private college or university.
Degrees and Programs of Interest
As the second largest community college district in California, we offer over 400 areas of study and programs of interest. To see the full list of majors and programs offered, download the Careers Start Here Comprehensive Guide, or pick one up in the Student Outreach Office on campus.
Three Colleges That Offer Unique College Experiences
Visit the college websites to discover which college offers the right college experience and education for you.
Once you've decided on which college you want to attend, follow the steps below to begin the enrollment process.
High School Students – There are special requirements for high school students. Go to the High School Students page for details.
International Students - There are special requirements for international students. Go to the International Students page for details.
ADMISSION REQUIREMENTS
You may apply for admission if any of the following apply to you...
Have graduated from high school
Have passed the California High School Proficiency Exam
Did not graduate from high school, but have attained a Certificate of Completion
Have passed the GED exam with an average score of 450 or higher.
Did not graduate from high school, but are 18 years of age or older, or an emancipated minor (may be admitted under a provisional admission status)
Are a high school student who has satisfied the concurrent enrollment admissions requirements (Go to the High School Students page for details.)
Are an international student who has satisfied the international student admissions requirements (Go to the International Students page for details..)
All new students must file an Application for Admission online or in the Admissions Office.
Students who have not attended for one year must file a new Application for Admission.
Contact the Admissions Office on campus if you have any questions.
Steps for Admission
Download the Quick Guide to Admission & Registration:
Fall 2022 Quick Guide to Admissions and Registration


Step 1 – Apply for Admission
Apply by the Deadline
Apply by the semester deadline date to ensure you receive critical services in time for the start of the semester.
Visit the Application page for deadlines. Only ONE application is required to apply for City, Mesa and Miramar College.
Declare Your Major
You will be asked to select a major, or your intended area of study, from the list provided.
Download the College Catalog for complete details on the programs available.
| | | | |
| --- | --- | --- | --- |
| CITY COLLEGE | MESA COLLEGE | MIRAMAR COLLEGE | COLLEGE OF CONT. ED. |
| | | | |
If you don't know what your intended area of study will be at this time, you can select "Undecided" or "Undeclared." Be sure to schedule an appointment with a counselor to develop your educational plan.
Apply Now
To apply, go to the Online Application for Admission website and follow the instructions to Start A New Application.
Receive a Confirmation and Your Student ID Number
You'll receive an email confirmation that your application has been submitted. You'll receive another email within 48 hours which will provide your Student ID Number.
NOTE: Be sure to keep this number in a secure location. It will be required to access your student records, access online services and to conduct all business with the college.
Step 2 – Request official transcripts
Transcripts are the official document of the student's academic work at a college or university.
Official Transcripts are required for the following:
To validate prerequisites completed
To receive credit for courses completed at another institution
To develop your Student Education Plan
Students receiving financial aid or veterans benefits must have transcripts on file within one semester
Guidelines for submitting Transcripts
Students are responsible for requesting official transcripts from each institution attended.
Official transcripts must be received in the original, sealed envelope from the college or university.
Transcripts from foreign institutions are not required.
Opened, faxed or emailed transcripts will not be considered official.
Transcripts are only accepted within one year after issuance.
Transcripts should be submitted to the SDCCD office:
San Diego Community College District
Transcripts Department
3375 Camino Del Rio South, Suite 100
San Diego, CA 92108-3883
Submit a Request for Transcript Evaluation
Visit the Counseling Office to submit your request for Transcript Evaluation. You will be notified when the evaluation is complete. Allow up to 30 days.
For more information go to SDCCD Evaluations.
Step 3 – Apply for Financial Aid
Financial Aid in the form of grants, scholarships, fee waivers, work study and student loans are available. Go to Financial Aid for details.
Start by completing the Free Application for Federal Student Aid (FAFSA) to determine eligibility for financial aid.
Step 4 – Student Success and Support Program (formerly Matriculation)
The goals of the Student Success and Support Program (SSSP) are to ensure that all students complete their college courses, persist to the next academic term, and achieve their educational objectives through admissions, orientation, assessment, educational planning with a counselor, and student follow-up.
Once you have completed your Application for Admission, you will need to register for an assessment and orientation appointment with the college you plan to attend. Visit the college website for specific instructions.
B. Assessment (Math & Engl Placement)
Your success as a college student depends, to a large degree, on enrolling in courses that match your abilities and skills. Assessment includes testing, as well as other measures, and is intended to assist students in determining the best fit between your skills and class requirements. In order to ensure proper Math and English course selections, students applying through CCCApply are assigned Milestone/Skill levels that will assist with choosing the right course. If you have graduated more than 5 years ago from High School you may take a Placement Assistance test at the college Assessment Center. New students to college should attend orientation.
Past Educational Achievements in Mathematics or English
Students are exempt from the English and math placement tests if they have earned an Associate degree or higher, have completed English and math courses, or have received a qualifying score on an SAT, ACT, EPT, ELM or EAP test taken within the past two years. Students should bring or send official copies of their SAT, ACT, EPT, ELM or EAP test scores directly to the District Student Services office to determine readiness for English 101 or 105 and for courses with a Math 096 prerequisite. All tests must have been completed within the past 2 years.
Test
Minimum Score Required
SAT - ENGL
500
SAT - MATH
560
ACT - ENGL
22
ACT - MATH
23
EPT
151
ELM
50
EAP
English and/or Math College-Level Ready
Conditionally College-Level Ready does
NOT meet the criteria
EAP status can be determined using a CAASPP Student Score Report.
| | |
| --- | --- |
| Overall CAASPP Score | EAP Status |
| Standard Exceeded | English and/or Math College-Level Ready |
| Standard Met | Conditionally College-Level Ready* |
*Students with Conditionally-Ready status can obtain College-Ready status by taking an approved English and/or math course in high school and earn a grade of 'C' or better during their senior year.
High School English Courses:

High School Math Courses:

Expository Reading & Writing Course (ERWC)
AP Literature/Composition
Weighted Honors English
IB English

Trigonometry
Math Analysis
Pre-Calculus or Calculus
AP Calculus AB or BC
AP Physics
AP Statistics
A qualifying score from the College Board Advanced Placement English or Math Exam may be taken directly to the college Counseling office for consideration. Please refer to the College Catalog for AP exam score requirements.
Assessment Tests
Placement Assist Test are offered at City, Mesa and Miramar colleges.
Placement Assistant
While most students will be assessed at the time of college application, some students may need to take the Placement Assistant. The Placement Assistant determines your English and Math skill level based upon your performance in high school. Students who are already assessed through CCCApply cannot re-assess through Placement Assistant, those student may go through the challenge process.


English Placement Test for Non-Native English Speakers (English Language Acquisition - ELAC)
The ELAC Program is designed to prepare students to read, write, speak and listen at a level that enables them to succeed in college courses. If you are interested in taking ELAC classes, please take our self-guided assessment tool: ELAC Go at https://bit.ly/sdelacgo. This test is appropriate if English is not your primary language, you are not very comfortable with English, or if you speak, read, and write your native language most of the time. The program consists of four levels and the student is assigned a level based on the results of his or her placement test.
Understanding the Results of the Placement Tests
Depending on the tests you take, you will receive a Milestone/Skill level ranging from 30 to 50 in one or more of the following areas:
Reading (R)
Writing (W)
ELAC (L)
Math (M)
Use the following resources to determine what classes you are eligible to take based on your skill level:
Reading and Writing Skill Levels: https://www.sdccd.edu/future-student/placement/english.aspx
Mathematics:

ELAC (L)
| | |
| --- | --- |
| ELAC Skill Level | Eligible Courses |
| L19 | ELAC 015 or ELAC 015 & 016 |
| L20 | ELAC 023, 025 or ELAC 023, 025 & 026 |
| L30 | ELAC 033, 035 |
| L40 * | ELAC 045 |
* At L40 skill level, you have the option to take the English test for native English speakers.
C. Student Education Plan
An education plan is an important tool to assist students in successfully attaining their goals without wasted time and effort. Counseling and career planning services are available to help students make informed choices concerning the programs and courses available.
The education plan is an agreement which contains the official requirements for graduation and/or transfer. All official transcripts of prior college work must be on file and evaluated before an official education plan can be prepared. Transcripts from foreign institutions are not required.
Education plans outline a suggested pathway for a student to take based on their major, transfer plans or other pertinent objectives. These plans allow students to determine how long it will take to complete a program of study and to be sure that all program requirements can be met within a particular period of time. The student should review their education plan periodically with a counselor as goals or objectives change.
Career, interest and aptitudes assessments are available for students who wish to explore other options or who are undecided on their educational goal.
Step 5 – Register for Classes and Pay your Fees
Once you have completed the above steps you are ready to enroll in class. Go to the Registration page for information on how to proceed.
All mandatory fees must be paid by the deadline as stated in Reg-e or you will be dropped for non-payment, this includes the mandatory student health services fee for all students.
Student Guide to College
The Student Guide to College provides the detailed information you need to know while attending college. It includes information on admissions, fees, registration, wait-lists, changing classes, grades, financial aid, parking permits, books, contact information, other resources and more.
Download the Student Guide:
Fall 2022 Student Guide to College
The guide does not replace the information found in the college catalog and schedule of classes. Each student is responsible for knowing the information provided in the college catalog and schedule of classes pertaining to student rights and responsibilities, instructional programs, enrollment, fees, transfers, degree requirements and the policies and procedures of the San Diego Community College District. You may download a copy of the college catalog or purchase a copy in the bookstore.
| | | | |
| --- | --- | --- | --- |
| CITY COLLEGE | MESA COLLEGE | MIRAMAR COLLEGE | COLLEGE OF CONT. ED. |
| | | | |
Class Schedules
Go here to view the class schedules for upcoming terms: Online Class Schedule
This online version of the Class Schedule displays new classes, cancellations, and changes after the printed schedule has been distributed. Students can search for classes by academic subject, time and day, or key words.
HONORS PROGRAM
The Honors Program serves self-motivated and qualified students by providing exceptional and intense learning experiences in classes that are usually highly interactive. The Honors General Education Core Curriculum consists of a group of courses already approved for transfer to campuses of the University of California and the California State University. In this curriculum, students encounter a range of historical, technical and cultural points of view.
The emphasis on interactive classroom settings, critical thinking, library research, strong writing skills, group presentations, and critiques anticipates the rigor and intensity of the university experience. At the same time, the personal attention extended by committed and caring professors, counselors and classmates guarantees a supportive atmosphere.
For more details and the list of Honors classes, download the Honors Program below.
Fall 2022 Honors Program Information
Please note there is no Honors Program during the Summer.
For more information contact the Honors Program on campus or visit the college websites:
Student Support
The colleges offer many services to help students succeed. Below are just a few of the services offered:
Counseling Services - provides academic advising (occupational and transfer) and career and personal counseling
Learning Services - provides high-quality academic tutoring to help students excel
Transfer Success Programs - offers resource information about attending the four-year university of your choice
Disability Support Programs and Services (DSPS) - offers access to a variety of specialized support services and assistive equipment to assist students with disabilities to more successfully participate in regular programs and activities
Interpreting Services - provides communication access accommodations for deaf and hard-of-hearing students
Extended Opportunities Programs & Services (EOPS) - provides State-funded student support services program for educationally disadvantaged students
For details on these and other services, go to Student Support.