San Diego Promise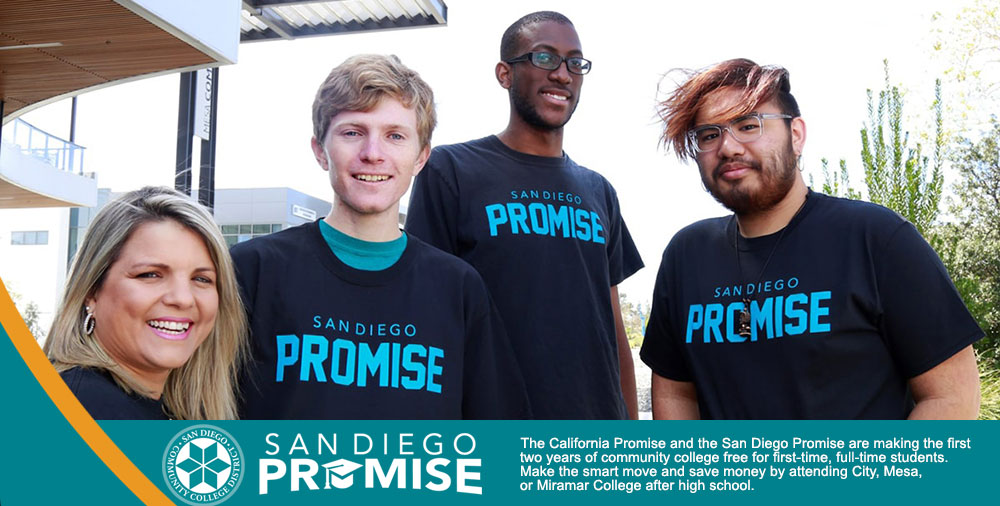 Future Promise Students

Donate Now

The San Diego Promise provides two years of tuition at City, Mesa and Miramar colleges for first-time, full-time students. Leveraging funds provided by the state of California through the California College Promise, and with support of generous donors, the San Diego Community College District is ensuring that no deserving student is denied access to quality higher education due to lack of resources.
OVERVIEW
The San Diego Promise started as a pilot program in 2016 with 186 students. The following year, the program expanded to include nearly 700 students.
In October 2017, Governor Brown signed Assembly Bill 19. This bill created the California College Promise, a program providing free tuition for one year at California community colleges for full-time students. This funding significantly bolstered our existing San Diego Promise program. As a result, the San Diego Promise dramatically expanded in fall 2018, welcoming more than 1,700 students.
Today, the San Diego Promise serves as a completion program – one that provides funding for two years of community college education for participating students.
Facing the Financial Challenges
Students in the SDCCD have access to the most affordable, high-quality higher education in the nation, but earning a degree or certificate remains a steep financial challenge for far too many. In fact, most college students who have left college without a degree say financial reasons are a key cause.
Many local students are the first in their family to go to college. Nearly 7 in 10 District students are working to support themselves or their family while going to school, and the vast majority receive financial aid to help them pay for their tuition and registration fees.
Many students in the District are homeless, living in their car, living in a shelter, or on the street. A large percentage of students live in poverty, experiencing many challenges.
Housing, food, and transportation are not the only costs that students must overcome. Approximately 1 in 4 students in the District say they have had to drop at least one class because they could not afford the required textbooks. More than 1 in 10 students say they have been forced to borrow a textbook from a friend to get by.
Not surprisingly, an analysis of the students participating in the San Diego Promise pilot program found that most come from diverse backgrounds and bring significant financial need. In fact, nine of 10 San Diego Promise students are from underrepresented communities, including 61 percent who are Hispanic and 12 percent who are Asian/Pacific Islander. Approximately half of San Diego Promise students come from families with a household income of less than $40,000 annually, and 15 percent of Promise students come from families making less than $10,000 each year, according to the District's analysis.
More than a promise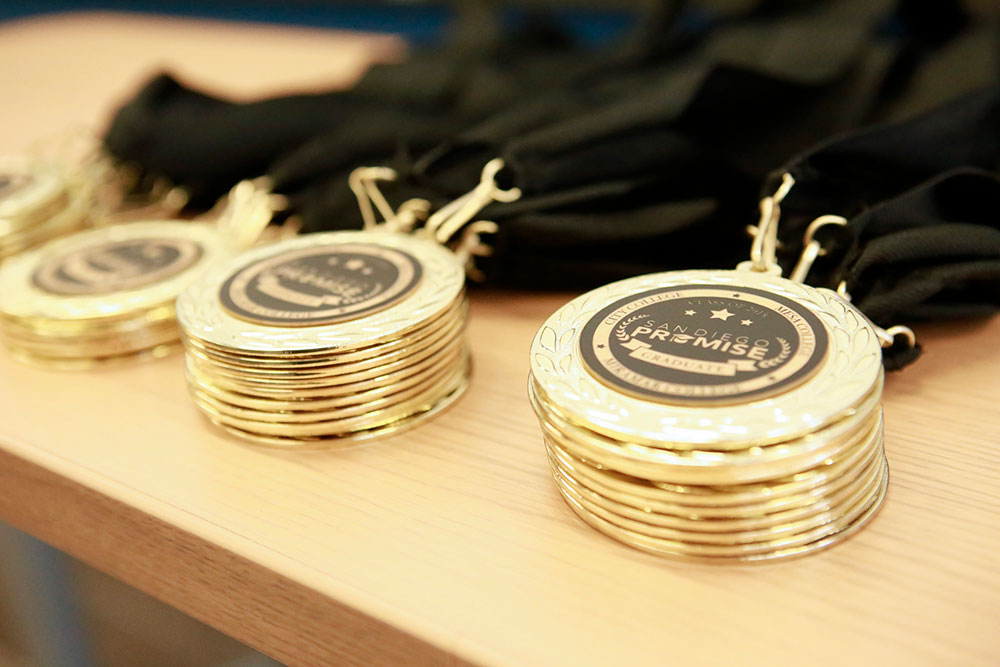 From specialized counseling to help with creating a comprehensive educational plan, and guided educational pathways, the San Diego Community College District is committed to making sure that students participating in the San Diego Promise reach their educational goals.
Another important component of the program is all San Diego Promise students participate in at least one transition program at City, Mesa, or Miramar College, which include the First Year Experience, Student Success Day, Summer Bridge, and other cohort-based programs designed to engage students and provide support.
San Diego Promise participants also receive a variety of support services, including regular meetings with a counselor, participation in workshops, and frequent email reminders to assist them in remaining on track.
Such services are playing a key role with the District having some of the highest student completion rates in the California Community Colleges system and a 45 percent increase in degrees conferred since 2014.
How to Support the San Diego Promise
The San Diego Promise has the potential to transform lives. You can support this effort by making a tax-deductible gift to assist students with the cost of attending college. The District, City, Mesa, and Miramar colleges, and Continuing Education want to ensure that no one is denied access to higher education because of financial need. The San Diego Community College Auxiliary Organization, which is a 501(c)(3) organization, Tax ID 33-0428972, is serving as the fiscal agent for the San Diego Promise initiative. If you would like to make a donation:
By check, please make checks payable to: San Diego Community College Auxiliary Organization or SDCCAO
Mail to:
San Diego Promise
c/o Lisa Cole-Jones, Development Coordinator
San Diego Community College District
3375 Camino del Rio South
San Diego, CA 92108
Donate Online Here

Call Lisa Cole-Jones, Development Coordinator, at 619-388-6692, or email lcole@sdccd.edu.
Include the San Diego Promise in your estate plans. Click here for more information.
SDCCD: Committed to the Region's Success
The San Diego Community College District is among the leading community college districts in the nation and is the second-largest in California, serving more than 100,000 students annually at San Diego City College, San Diego Mesa College, San Diego Miramar College, and six noncredit San Diego Continuing Education campuses that provide adult education classes.
As San Diego County's largest provider of workforce training and education, the San Diego Community College District takes its role seriously as a key driver of the local economy. Ninety-eight percent of our students remain in the area after graduation, enriching San Diego's workforce and strengthening the region's future.
The San Diego Community College District is a model of innovation. City College, the District's flagship campus, has been hailed by local, state, and national groups for its many groundbreaking efforts aimed at boosting equity and student success. Mesa College was the first community college in California to offer a four-year degree. Miramar College, which offers more than 120 certificates, associate degrees, and comprehensive transfer programs, is home to the Southern California Biotechnology Center. Continuing Education is one of the state's largest providers of adult education, giving adults the opportunity to renew their learning experiences through noncredit career technical, basic skills, life skills, and enrichment classes.
What our colleges and Continuing Education share in common is a deep commitment to student success. Districtwide, student completion rates are well above the state average and SDCCD colleges send more students on to San Diego State University and UC San Diego than any other district in California. The San Diego Promise will both build on this success and benefit from it. We invite you to join us in this important work of transforming lives.