History of SDCCD Police
1972-Present
Early Years
Prior to 1972, San Diego City Schools operated and provided security for its two post-secondary institutions, San Diego City College and the eight year old San Diego Mesa College. Miramar was then a satellite of City College operated as a training facility for police and firefighters.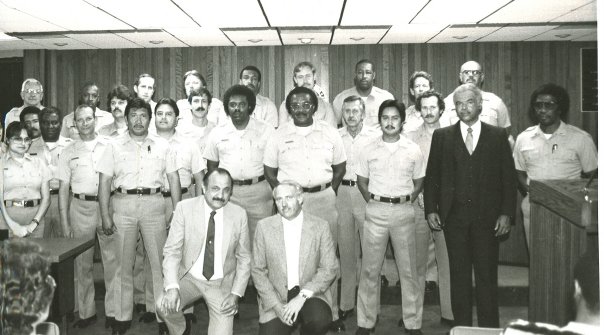 In 1972, the San Diego Community College District was formed and separated from the K-12 system. Over the next few years, City College, Mesa College, Miramar College and the Educational Cultural Complex (ECC) (built in 1976) each created their own separate security departments.
Each department was staffed with Security Officer I (SOI) and Security Officer II (SOII) positions. There were three security managers, one at each of three campuses: City, Mesa and ECC.
The SOis wore tan uniforms and were mainly responsible for parking enforcement. The SOiis wore black pants, white dress shirts and blazer style jackets. The jacket color was different at each campus. Each campus also has its own distinct uniform shoulder patch and badge.
In 1978, the San Diego Community College District consolidated the separate security operations into a single district security department. Don Johnson was appointed as the District Chief of Security and moved to an office at the District Offices, then known as Stadium Plaza. Robert Taylor was the Southern Regional Security Manager and Gilbert Garcia was the Northern Regional Security Manager, with offices at City and Mesa Colleges, respectively. Permanent (non-hourly) security officers were issued new, star shaped badges and patches identifying them as San Diego Community College District Security Officers.
The security department had a variety of vehicles during the early years, including 3- wheeled carts, a Ford Bronco, a Toyota truck with an amber light bar, a Toyota Tercel with a red light bar, a Chevy Chevette, a Ford Fairmount and a Ford LTD.
From Security to Police
On May 20, 1987, the San Diego Community College District Board of Trustees signed and adopted a resolution to authorize the formation of the San Diego Community College District Police Department.
Chief Don Johnson
Chief of Security Don Johnson, who had been a San Diego police officer prior to working for the college district, was selected as the first.
chief of police and served in that capacity for eleven years. All officers were sworn in by the Board of Trustees as peace officers. Officers were issued new, shield shaped badges and new uniform patches identifying them as the San Diego Community College Police. The department headquarters was moved to the District Service Center on Frazee Road in Mission Valley.
In 1988 the Department applied for and was certified as a California Peace Officer Standards and Training (POST) agency. This same year and over the next several years, all officers received training through the San Diego Police Department's academy at Miramar College.
In 1989 a parking program was established to implement state legislation separating student parking fees from the District's general fund. Debra Picou, an SDPD Parking Program Supervisor, was picked to lead the new program. Parking enforcement was centralized and worked from a base at the District Services Center. A lead parking enforcement officer position was created with one assigned to the Northern region and one to the south.
During his tenure, Chief Johnson improved the standards, training and equipment for all officers in the department. After the original employees were sent through the police academy, all newly hired police officers were required to have POST academy certificates and experience with another law enforcement agency to apply for police officer positions.
Officers in the SOii classification who completed the police academy became Community College Police Officers. Officers who did not complete the academy remained in the SOii classification. The SOI position was eliminated and the Parking Enforcement Officer classification was created. (PEOs would wear blue uniforms with light blue shirts and dark blue pants.)
Johnson established a centralized police communications facility and began centralized alarm monitoring. Previously radio communication was via a radio base station at campus police offices. Alarm monitoring was handled through private alarm companies. Bud Black became the first dispatch supervisor. Larry Johnson (no relation) became the first police department alarm technician. In 1995, the old 900 megahertz radio system was replaced with new 800 megahertz system.
After Chief Johnson's retirement, Assistant Chief David Worden of the San Diego Police Department was selected as the new chief of the San Diego Community College Police beginning his service on February 12, 1998.
Chief David Worden
During the Worden era the Department sought to become a truly professional police agency. Adopting a new statement of mission, vision and values the Department set out to maintain a "safe learning environment" for the college community and become "a recognized leader" for "policing in an educational environment." It adopted the motto "Serving with Integrity" and began a series of changes, a few of which are listed below.
- Increased the vehicle fleet, standardized the vehicle specifications, replaced all the vehicles, and established a replacement schedule.
- Initiated 24 hour field supervision. Previously the Department utilized "on call" supervisors after hours.
- Reorganized the central dispatch: new positions, new, expanded facility with modern technology, training, policies and procedures
- Established a bicycle patrol program on all campuses; bike coordinator position.
- Developed and implemented crime prevention programs: Crime Prevention through Environmental Design (CPTED), Rape Aggression Defense (RAD}, Bicycle Licensing, Child Restraining Seats and the specialized coordinating positions responsible for the programs.
- Initiated the development and delivery of Active shooter training for many agencies through the Regional Training Center.
- Adopted less lethal weapon (bean bag shotgun} program.
- Developed a District-wide Automated External Defibrillator (A.E.D.} program.
- Developed an internal discipline manual and provided related supervisor and manager training.
- Developed board approved, district wide security standards - everything from multi-media projectors to the access and control locks and video surveillance.
- Upgraded and improved Field Training Officer (FTO} program bringing it into conformance with new POST standards.
- Began a technology upgrade program including improved Computer Aided Dispatch, Records Management and Automated Field Reporting Systems.
- Made the case for new police facilities and initiated planning for new police stations funded by Prop S (2002) and Prop N (2006).
Chief Charlie Hogquist
In July of 2006 San Diego Police Lieutenant Charlie Hogquist became the Department's third Chief of Police. Chief Hogquist built upon the foundation of earlier chiefs. While keeping the same organizational trajectory, he reorganized the Department, initiated new programs and oversaw the completion of three new police stations. His signature accomplishment was initiation of a career development and succession planning program which provided officers experience as acting sergeants, sergeants experience as administrative sergeants, and opportunities for all sergeants to complete the POST Sherman Block Supervisory Development Institute (SU}. Among his other accomplishments were the following:
- Brought three new police stations on line with associated parking structures: Mesa (Dec 2009), City (Summer 20011), and Miramar (Nov 2012).
- Continued development of Communication systems including Computer Aided Dispatch (CAD), Records Management System (RMS) and change to the 700 MHz.
- Introduced the patrol rifle program (2008) and changed to .40 caliber handguns (Fall 2009)
- Standardized uniform patches for officers and CSOs; created a commemorative badge to be worn at the beginning of each semester; commissioned a new badge to replace the SDPD style gold shield worn for over two decades.
- Expanded focus on Emergency Management, sending personnel to become Campus Community Emergency Response Team (C-CERT) instructors, then developing a C-CERT teams of over 450 faculty and staff members.
- Began training other agencies in active shooter response including one federal agency and community colleges in other parts of the state.
- Expanded the Bicycle Patrol program.
- Established a Retired Senior Volunteer Patrol (RSVP) Program (2007) Began offering LiveScan services (2008)
Chief Hogquist retired in June of 2013. Sergeant Ed Headtke served as acting Chief of Police from June 15, 2013 to March 2, 2014.
Chief Raymond Aguirre
San Jose-Evergreen Community College District Police Chief Ray Aguirre was named the SDCCD Police Department's Chief of Police in December of 2013 and assumed the new position on March 3, 2014. Under Chief Aguirre's tenure to date, he has thus far instituted these developments for the Agency:
- Implemented a Body Worn Camera program and policy for all sworn police officers.
- Enhanced transparency with the District leadership and community with timely information on all daily police-related calls for service.
- Directed all supervisors (Sergeants and above) to become proactive and skilled in patrol and investigative supervision.
- Started a pilot program with City College on adopting LIVESAVE, a safety app for students and staff with a direct link to Police Dispatch.
- Reoriented the Investigations Unit to concentrate on investigating and solving crimes on the campuses, especially those which would have normally been overlooked.
- Established a team of police officers primarily tasked at recruitment of new police officer candidates. The team is composed primarily of Field Training Officers who attend job fairs, and participate in the physical agility testing process.
- Supported the Communications and Dispatch equipment and radio upgrades.
- Established strict training requirements for officers in the areas of sexual assault and Title IX investigations, general criminal investigations, patrol tactics, among others.
- Established the multi-disciplinary and District-wide Emergency Management Resource Team (EMRT).
- Created the ALICE (Alert, Lockdown, Inform, Counter, Evacuate) program and implemented a training schedule to all District staff and students.
- Continued on police vehicle fleet improvements with the addition of the marked patrol SUVs and unmarked vehicles.
- Created the Police Records Supervisor position.
- Supported the POA on gaining approval for the Public Safety Retirement formula of 2.7% @ age 57.
- Gained membership to the San Diego County Chiefs' and Sheriff's Association.